Tales for Troubled Times
Traditional tales, fairytales and folklore online
~ A gift to you from Tom and Rhonda ~
(Tales especially for the bairns are here.)

~ Tales for everyone ~

The Dead Wife Among the Fairies
A story of lost love from the Orkney island of North Ronaldsay

The Mill that Grinds at the Bottom of the Sea
Showing how stories develops, this is a version of a story that I recorded earlier, but collected 1,000 years after the first one.

The Green Man of Knowledge
This is an epic Scottish Travellers tale which follows the adventures of Jack the Fool, who seeks his fortune ... and finds it.
The story is nearly two hours long, so you might want to listen to it in bits.

The Bride of Ramray
A strange selkie story from the Orkney island of Graemsay

The Three Pieces of Advice
A Scottish folk tale showing that good advice can be worth far more than money


~ Tales especially for the bairns ~

Clever Kitty

A Scottish folk tale about a clever girl who must outwit a giant

The Hedgehurst
A Scottish Traveller tale from Duncan Williamson about a creature who is half man and half hedgehog

The Three Billy Goats Gruff
A much loved, classic Norwegian folk tale

Jack and the Beanstalk
A well known classic English fairy tale about a boy, some beans and a giant

The Three Little Pigs
An English folk tale ~ be careful what you beg for when building a house!

The Hobyahs
An English folk tale and the first story that I ever told, 50 years ago
›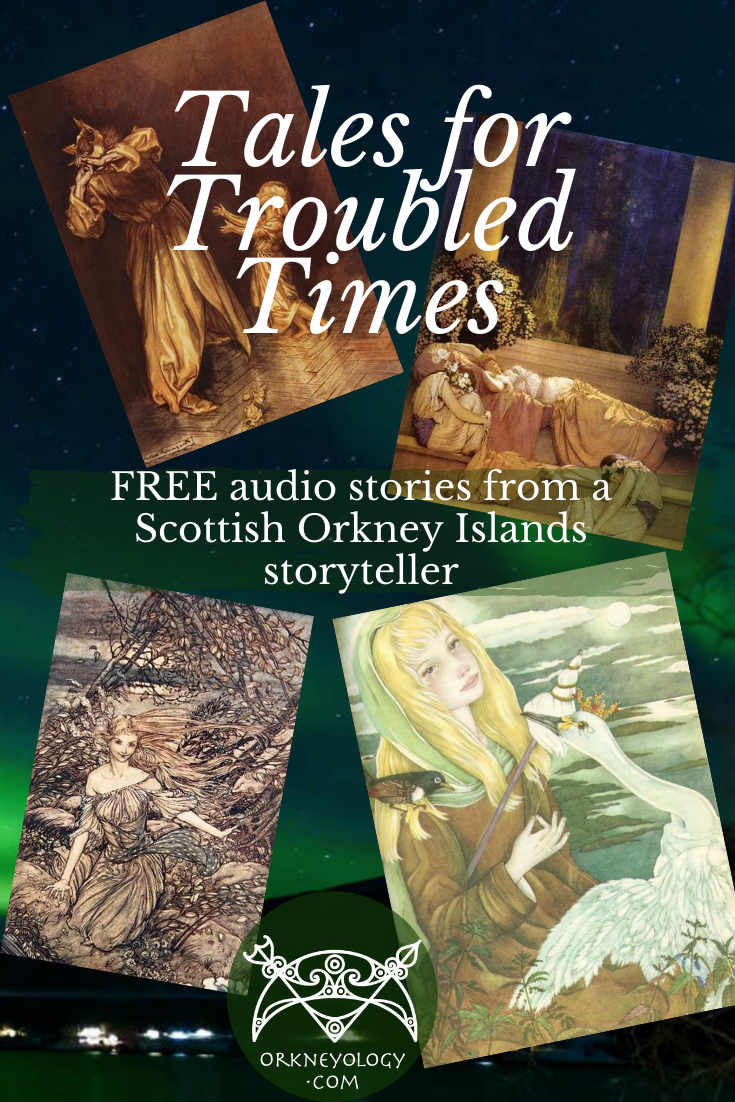 Mermaid image (Rhonda's pages) and storyteller image (Tom's pages), and all other illustrations except where noted are here by the courtesy of our dear friend - Stromness author, artist and historian, Bryce Wilson MBE, who owns all copyrights. Thanks, Bryce!