Tales for Troubled Times
Traditional tales, fairytales and folklore online
~ A gift to you from Tom and Rhonda ~
(Tales especially for the bairns are here.)


~ Tales for everyone ~

2019 Orkney Storytelling Festival Highlights

The Selkie's Revenge
A Scottish Traveller's story of terrible retribution

Fated to Drown
A wee, macabre tale from the Orkney island of Stronsay


The Three Wishes
An Irish tale about a lazy lout


The Battle of Summerdale
Orkney folklore springing from a famous battle
Illustration by Bryce Wilson


The Building of the Walls of Asgard
The Nordic myth

Two Orkney Stories of Selkie Men
A selkie story from the island of Sanday of an unexpected guest and another from Yesnaby about a missing woman

The Sheep Thieves
A "true" story from the Orkney island of Westray, told to Tom by his mother



The Theft of Idun and her Apples
A Nordic Myth, where Loki betrays Idun and her apples of youth

Wayland Smith
A Germanic legend of the master of all smiths, and his terrible revenge on his abductor
~ NOT suitable for children ~


The Goita Skerry
A Shetland selkie story from the late, great Lawrence Tulloch

The Three Princesses in the Blue Mountain
A Norwegian folk tale of how a brave young soldier saves the princesses from trolls

A Tale of Two Jarls
A Viking tale from the Orkneyinga Saga, showing that Vikings are not good at sharing


The Fair Isle Beacon

A tale from the Orkneyinga Saga about those tricksey Vikings
(Apologies for the abrupt ending - technical difficulties)

The Storm
A ghostly Irish tale

The Nightingale and the Rose
A wonderful, tragic story written by Oscar Wilde
* Dedicated to Tom's daughter, Josie, who made the stories happen again


The Princess in the Chest
A traditional folktale from Denmark

The Kelpie
A traditional Highlands Scottish kelpie tale

The Blacksmith and the Njugle
A Shetland water horse tale

The Queen's Necklace
A tender-hearted queen tries to help her people in this story by Helena Nyblom from Sweden

The Nucklavee
A traditional, creepy Orkney folktale from the island of Sanday. Probably not a good story for young children, but older kids will love it.
* Illustration by Bryce Wilson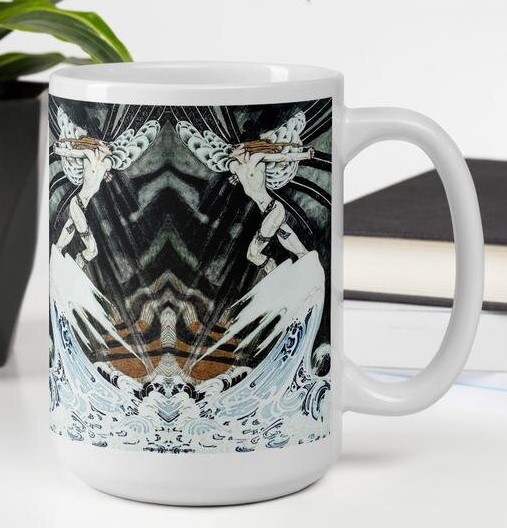 Kay Nielsen's North Wind - Imagine drinking your morning coffee from this mug! Buy it here.

~ Tales especially for the bairns ~

The Princess and the Pea

A classic fairy tale by Hans Christian Andersen

The Emperor's New Clothes
Another Andersen classic story


Rumplestiltskin
The classic fairytale


The Elves and the Shoemaker

A classic tale of kindness


Cinderella
The French version of this classic story


Aschenputtel
A different version of Cinderella collected by the Brothers Grimm


The Three Princesses of Whiteland
A classic Norwegian folk tale

The Three Peas
A Slovenian folk tale about a poor boy trust who trusts to luck

Jamie Freel and the Fairies
A tale I heard from my friend, the great storyteller Audrey Parks from Northern Ireland.
This is my favourite story from her enchanting CD 'On the Tip of my Tongue', which I highly recommend.


The Three Kingdoms -
Copper, Silver and Golden
A Russian wonder tale of a hero's quest to save his mother

Tatterhood
A Norwegian folktale that feminists will love
* Dedicated to Rhonda's mother, Cindy


The Twelve Dancing Princesses
A haunting folktale from France
* Dedicated to Rhonda


The Two Sisters
A folktale from the Faroe Islands
Art by Anna Anglemark

The Hedgehog
A Slovenian folktale showing that beauty is more than skin deep

The Companion
A Norwegian folktale about a mysterious servant

How Jack Went Out to Seek His Fortune
A Jack story showing why everybody needs a few good friends

The Dog and the Peacock
A Scottish Travellers' Christmas tale


Mermaid image (Rhonda's pages) and storyteller image (Tom's pages), and all other illustrations except where noted are here by the courtesy of our dear friend - Stromness author, artist and historian, Bryce Wilson MBE, who owns all copyrights. Thanks, Bryce!