Chasing the Merry Dancers

by Amanda Ruddick
We are happy to offer a peek into the passionate pastime of folk in Orkney who lose a lot of sleep chasing after the Merry Dancers, elsewhere known as the Aurora Borealis or Northern Lights.
Even though these intrepid souls lose sleep, they gain priceless encounters with nature.

Our deep thanks to Amanda for sharing her love of the Merry Dancers and for her beautiful images.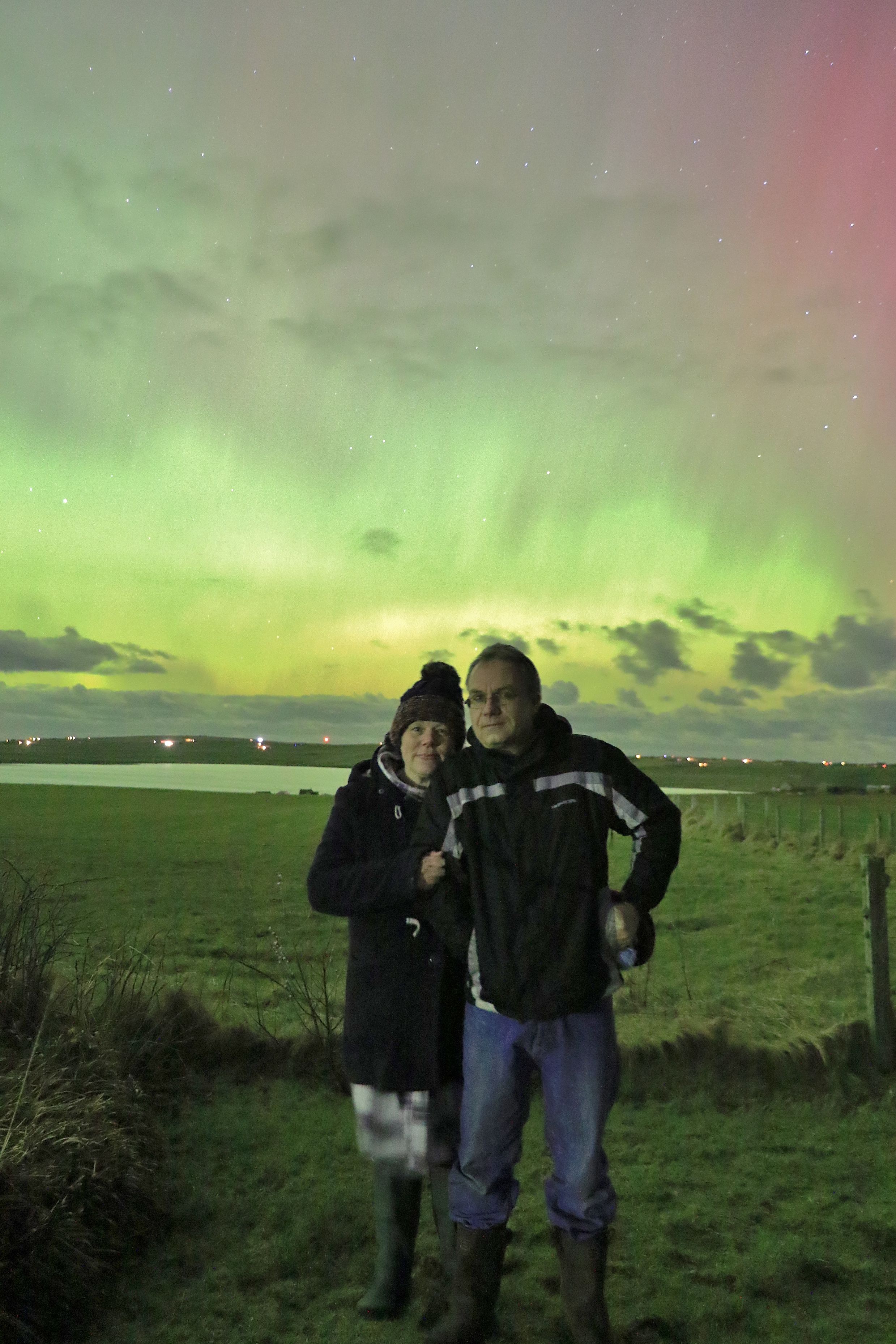 All the photos on this page are copyrighted to Amanda Ruddick. We're so grateful that she's allowed us to publish them here.

Warm fireside or cold outside?
Sitting at my computer, cosy by the fireside, my faithful dog at my feet, I divide my attention between the aurora stats online, the Orkney Aurora facebook page or occasionally peeking through the drawn curtains at the window where my view looks down towards Deerness.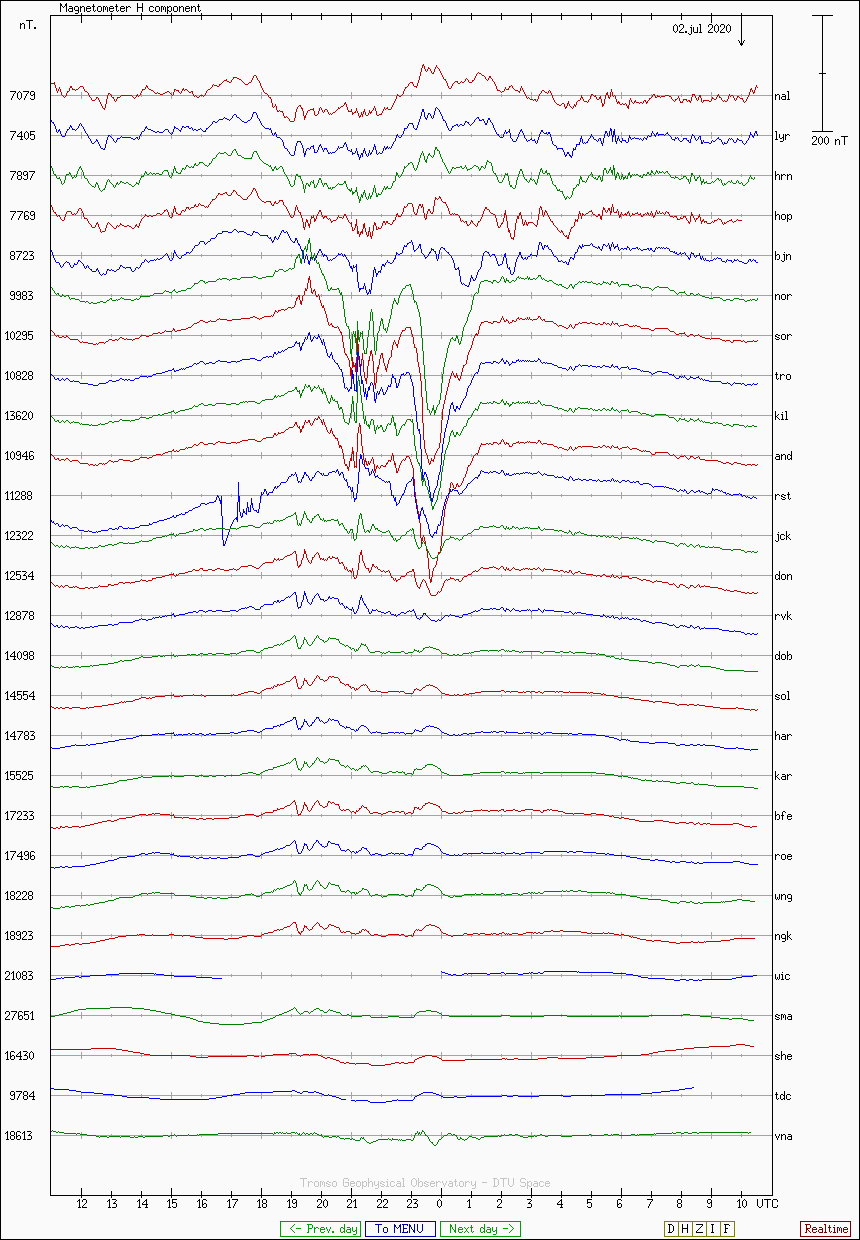 I stare at my computer screen and see that the stackplot is beginning to fall.
I read the alerts on the facebook page and upon pressing my nose up close against the cold glass of the window I can see a familiar glow to the north.
My blood pressure begins to rise and I swear my heart skips a beat. For some folk here comes a dilemma, the warm fireside or the cold outside, but not for me.
The next few minutes are a flurry of activity...
I throw on my coat (often over my goonie), slip my bare feet into wellie boots and pull a woolly hat onto my head. I feel like I don't have enough arms or legs for this and I am often in a raffle.
I grab my camera and tripod heading for the back door, stumbling in my panic.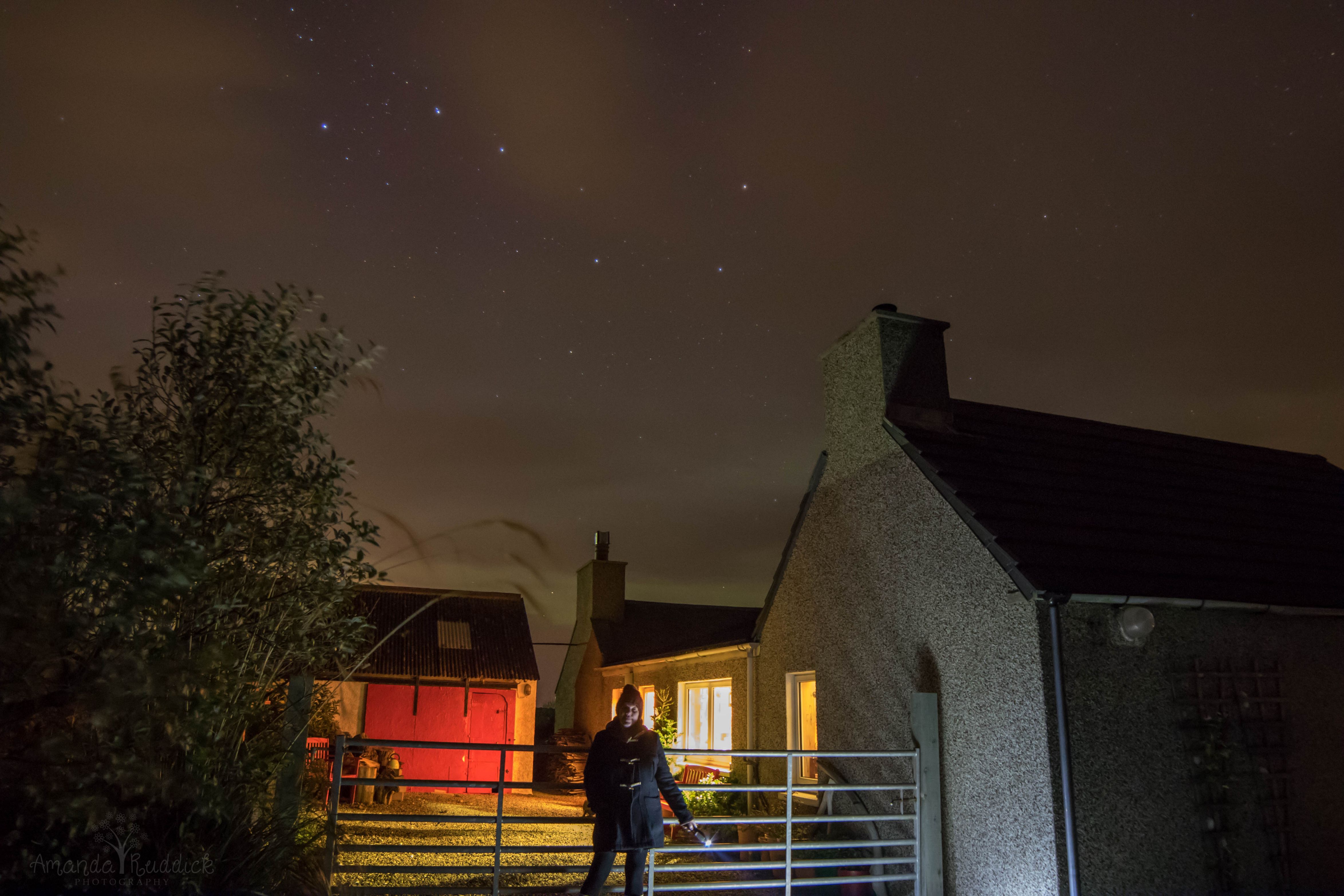 Sometimes luck walks with me and I step outside to a beautifully clear, calm night, the ink black sky dotted with the twinkles of millions of stars and distant planets.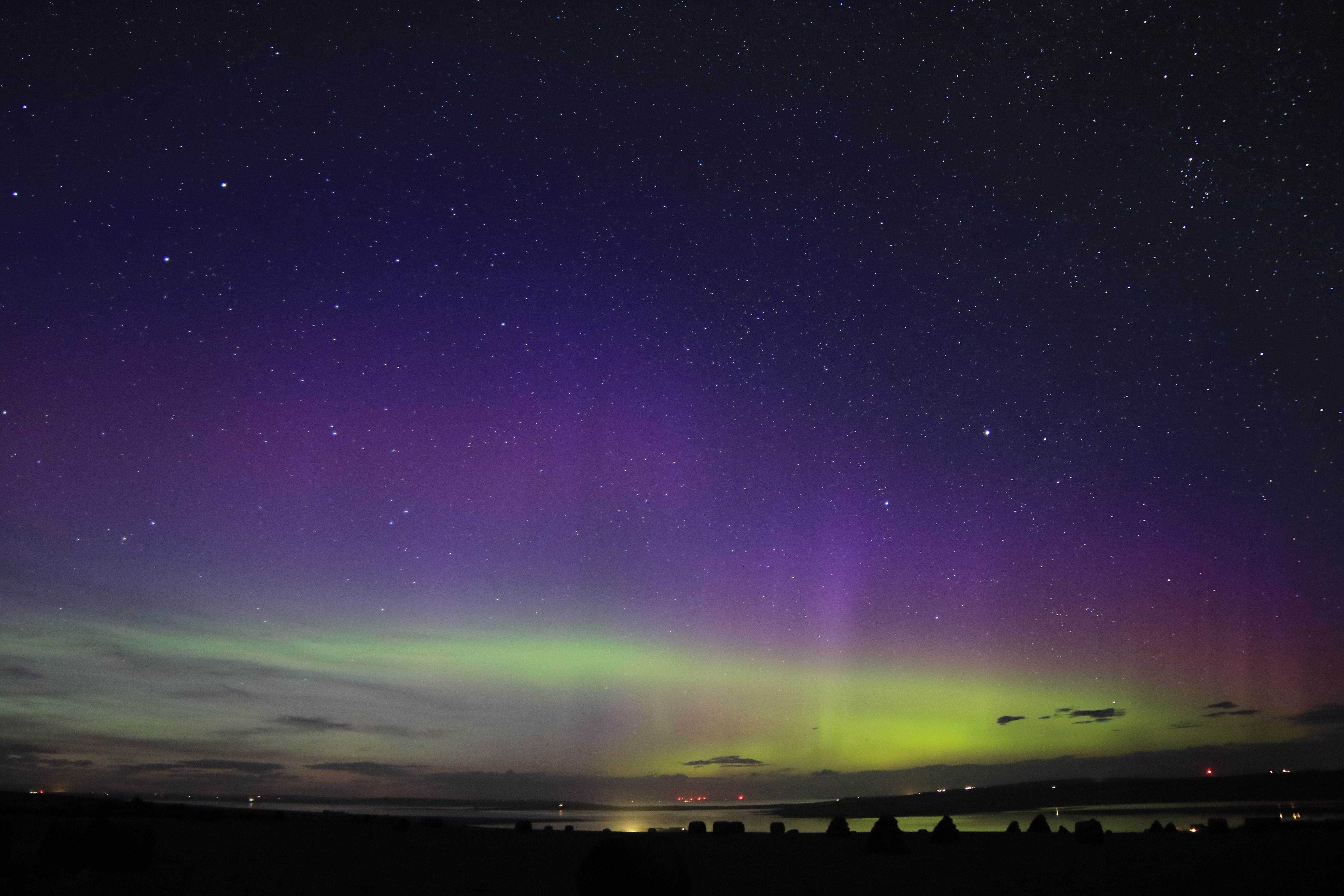 To my delight the sky is already starting to ripple and pulsate with ghostly green waves that resemble my grannie's old translucent net curtains.
They concertina in and out giving the impression that the sky is learning how to play the accordion.
The waves that appear are like the sheets of delicate tissue paper, layered gently on top of each other, the edges wafting in the cold breeze.
I have long learnt how to set my camera and tripod up blindfold and the camera settings are set solid like concrete in my head.
In my excitement I grapple with my tripod as successfully as I would with the eight slippery tentacles of a giant octopus and I am dismayed at the wonky horizon in my initial test shots.
I feel like a child on Christmas morning.
Where do I point my camera? Where's the best of the display at? Flip, I should have worn socks.
You will often hear the expression here in Orkney that West is Best. For me, however, the West brings the light pollution of Toab Village, so my camera is pointed towards the North and North East to avoid the orange glow peeking over the brae at me.
I curse as I set up and mutter to myself, "Calm doon, calm doon." Then I begin to shoot.
The sky to me is simply mesmerising. It wiggles and twists, the lights skipping along as if to a musical beat, getting brighter and brighter then disappearing suddenly only for the process to begin all over again a few feet of sky away. It's like watching a Mexican wave at a football match.
I open my camera lens as wide as it is able, in order to capture as much of the display as I possibly can.
I am still worried however that I've clipped off that particularly exciting ray that I've suddenly seen catapult up at the very end of the pale rainbow shaped arc which is glowing brighter by the second.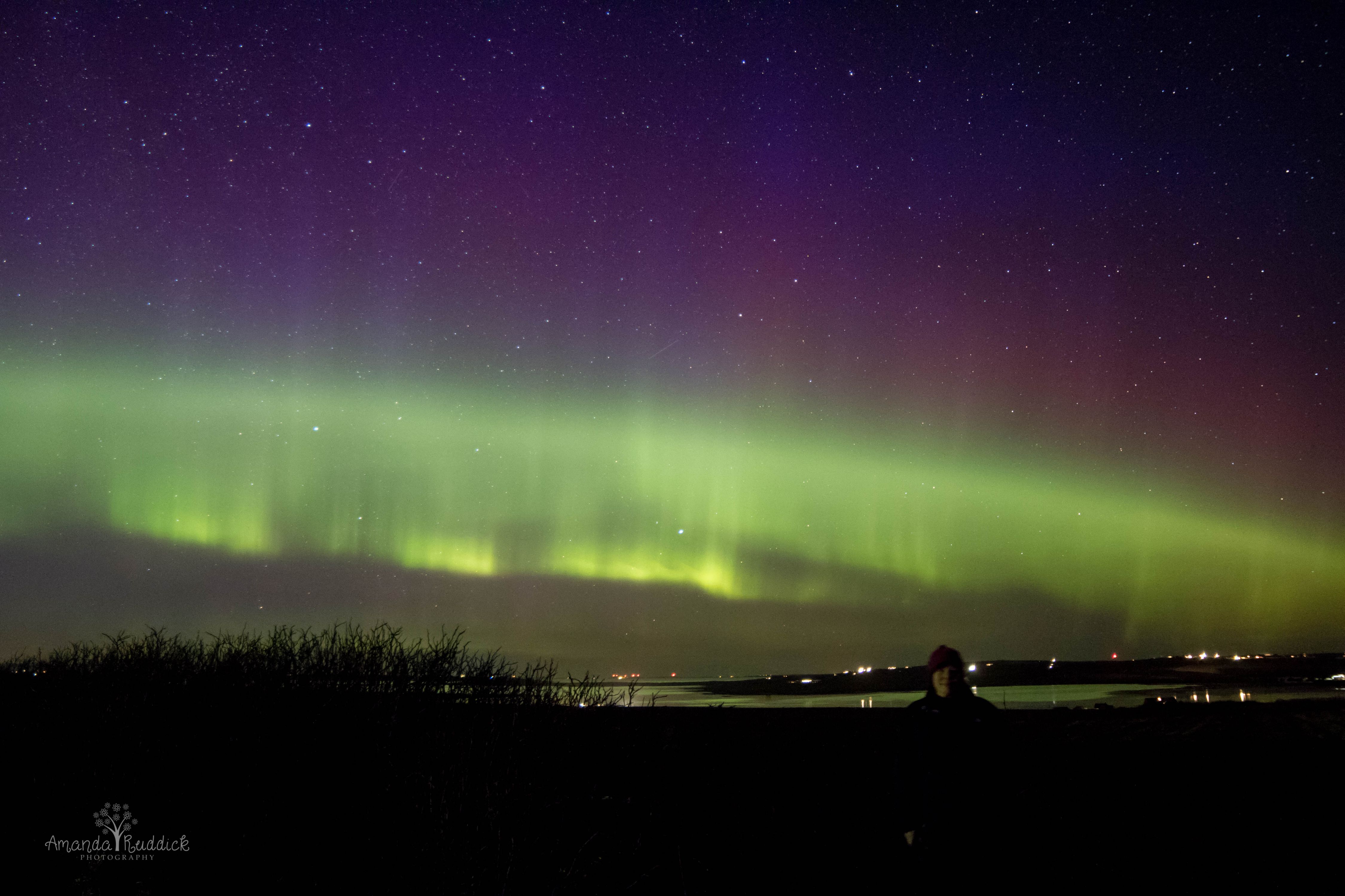 I am usually unfashionably early to the party having to stand and wait and wait and wait watching that green hue on the horizon climbing up the big dipper carrying a pink diffuse on it's back.
Occasionally ripples run and trip along the green strip as it progresses and them BAM she goes into expansion ... 
... and suddenly she is dancing.
I gasp and excitedly click my release cable into action.
More often however she begins her dance with a slow tease, wavering her movements at me, wee turns here and there like the swaying of a long velvet skirt. An occasional ray shoots up like a firework throwing me a thrill each time.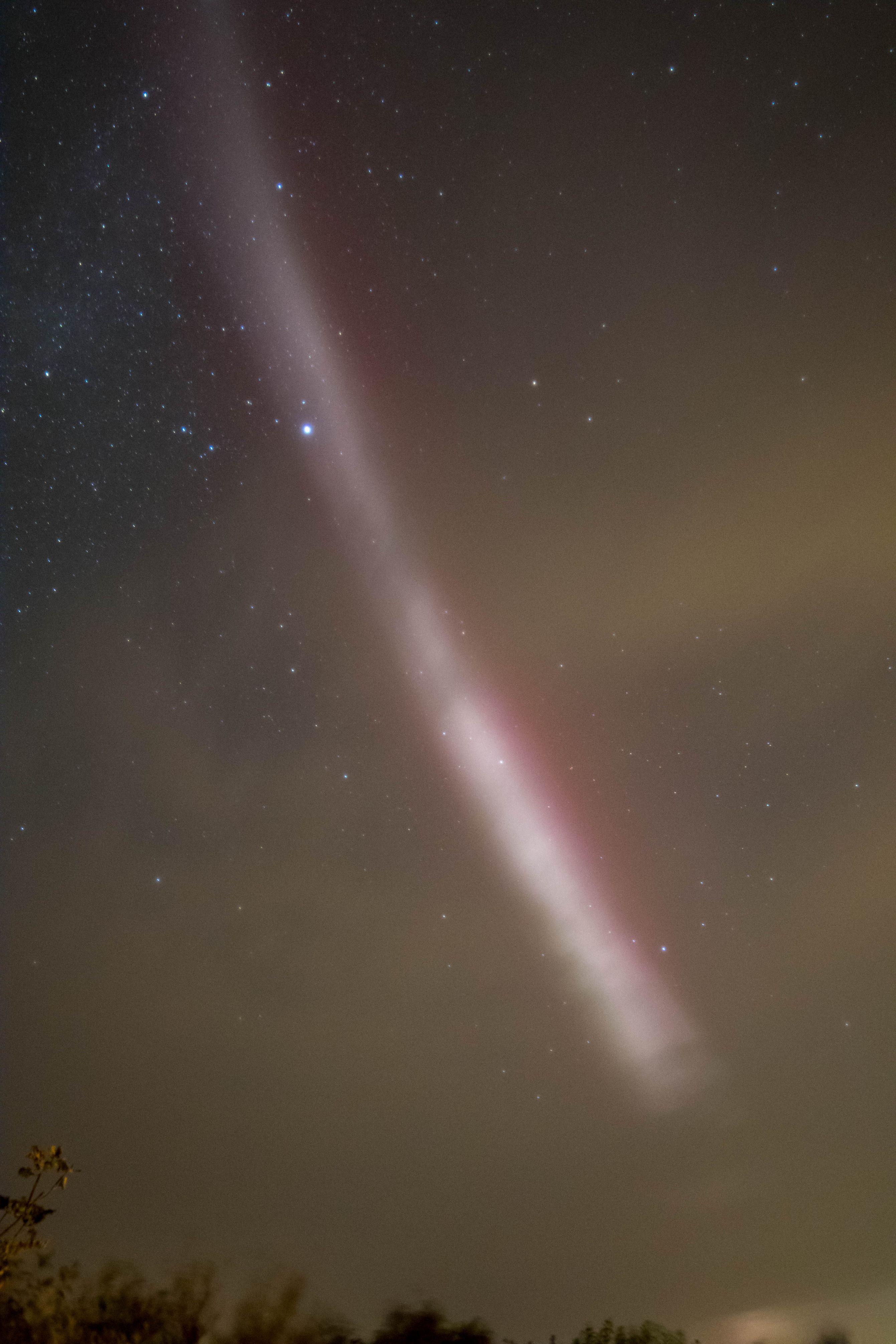 I try to be creative with my photography, but my garden is a vast area of green grass overlooking our green fields. Green! Not very exciting unless it is in the North where I want it to be.
So I turn to my reliable tree.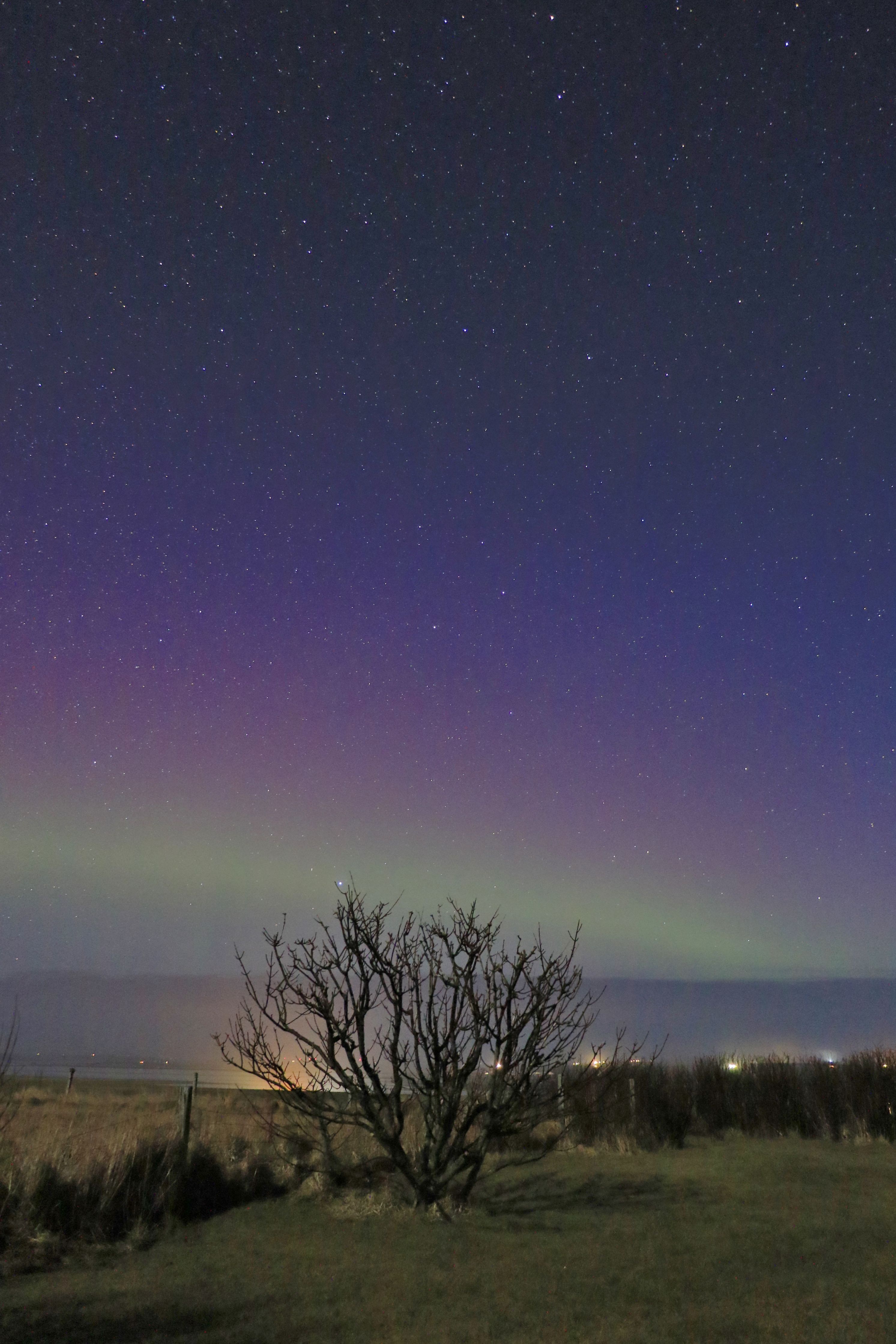 My 60 year old sycamore tree still only stands at 12 foot. My tree never fails me though, and even in a hoolie it's branches stand strong and firm.
It becomes my model for the night, it's branches proudly reaching outwards.
When all else fails my long suffering family are dragged outside to model fir me.
We play around with positions and often the occasional piece of garden furniture gets dragged out.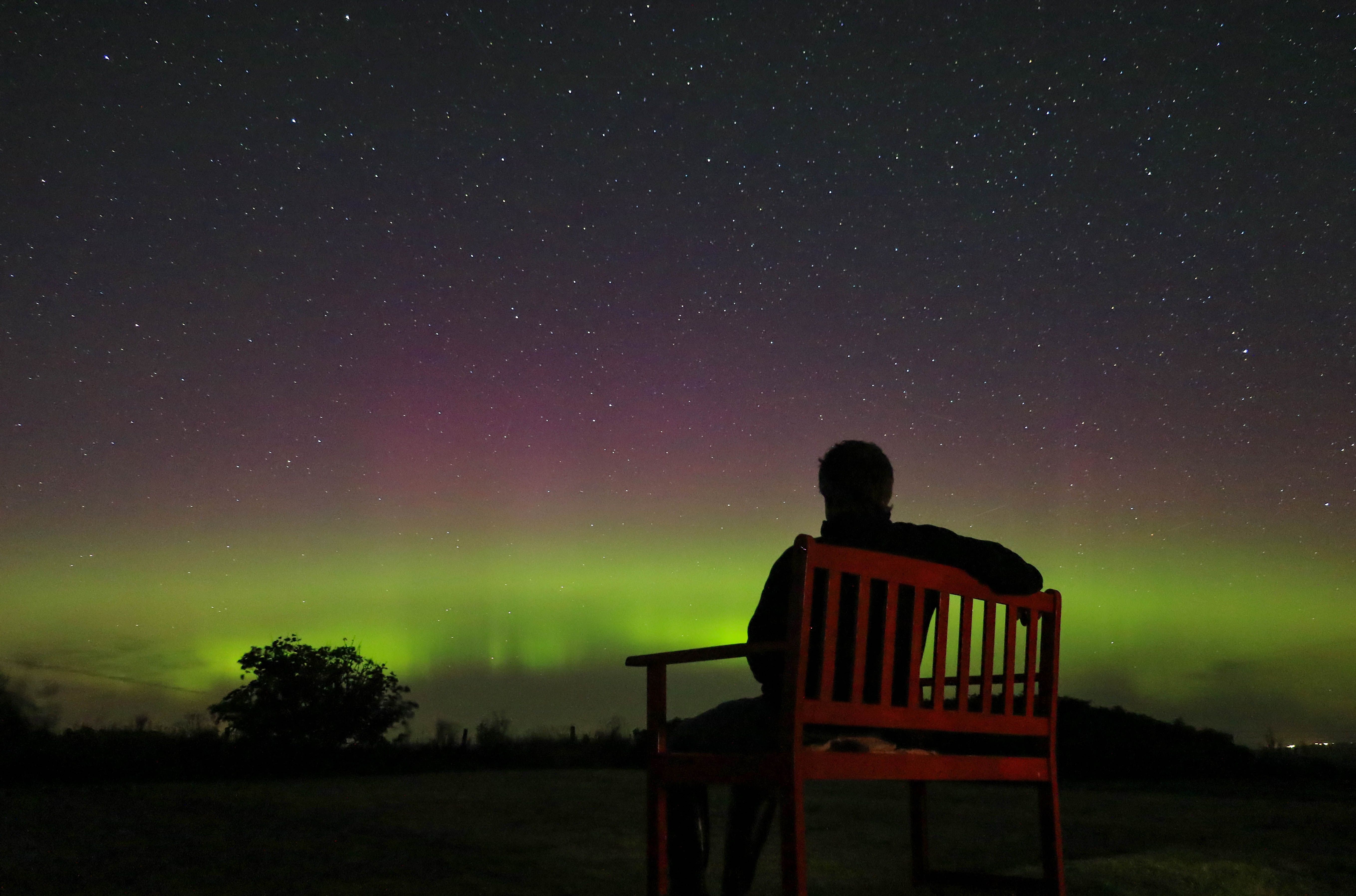 Sadly, though, my models have become too used to the dancers and now they will not venture out for anything less than a red alert.
Me? I'll take a sliver of green and be extremely happy. This really amuses them.
It's difficult to describe the dancers.
She shows so many faces to us, each one completely different to the other but still equally as exciting.
Most times it's this huge pale, almost invisible white hue in the north, a vague hint of pink diffuse showing above. It's almost nothingness, even to a trained eye, but the camera screen plays back a fantastic glow of green with a strong pink/purple roof on top.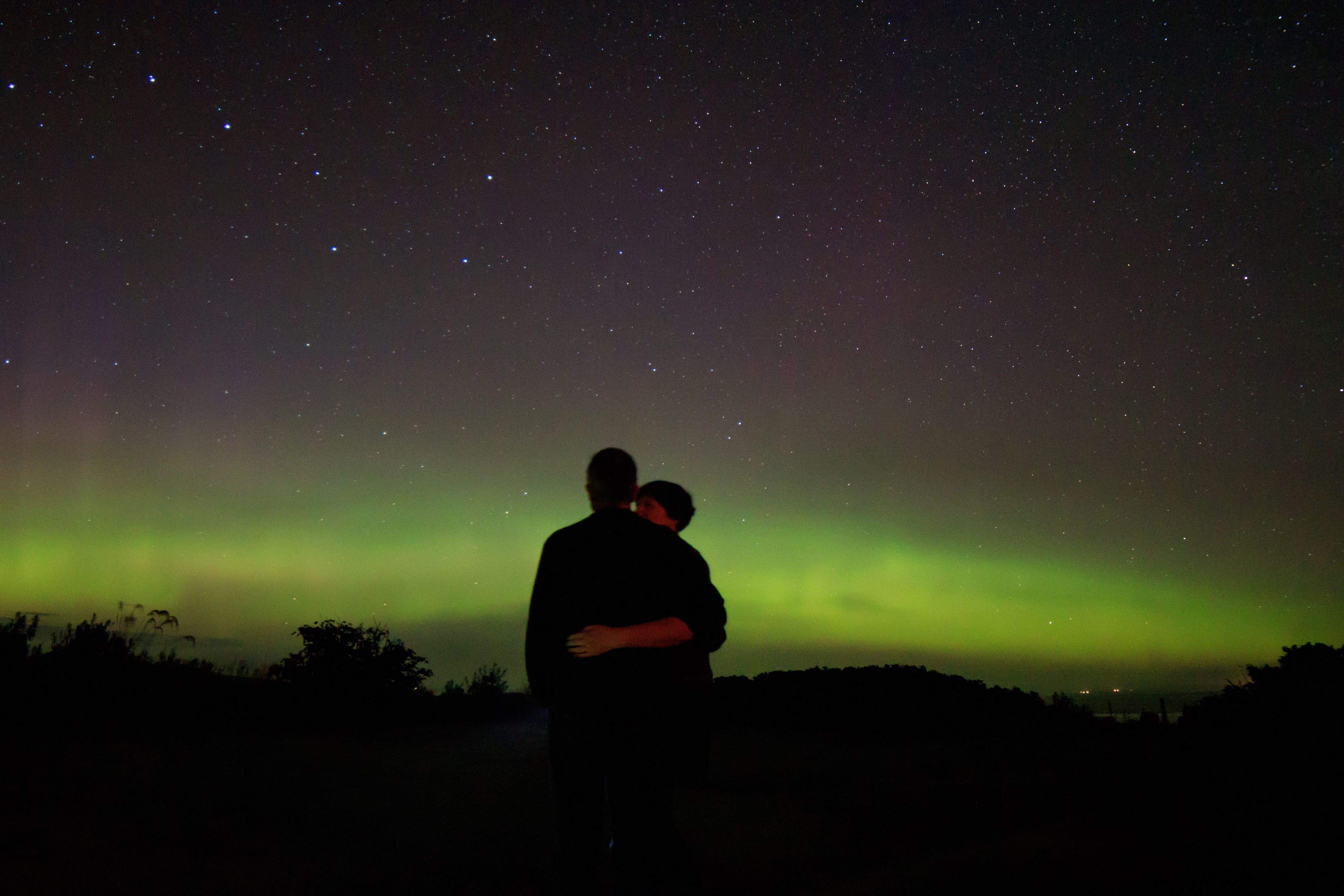 My heart starts to race. I mentally prepare myself for a long night ahead keeping a beady eye on any clouds. If I'm out in a hoolie, hanging onto the tripod despite the sheltered spot that I have chosen.
The dancers are both predictive and unpredictive. We can learn to watch the stats and if conditions stay perfect then we can be fairly confident of a show.
However, conditions can move quickly. We can be treated to an unexpected display which, in a way, delights me the best.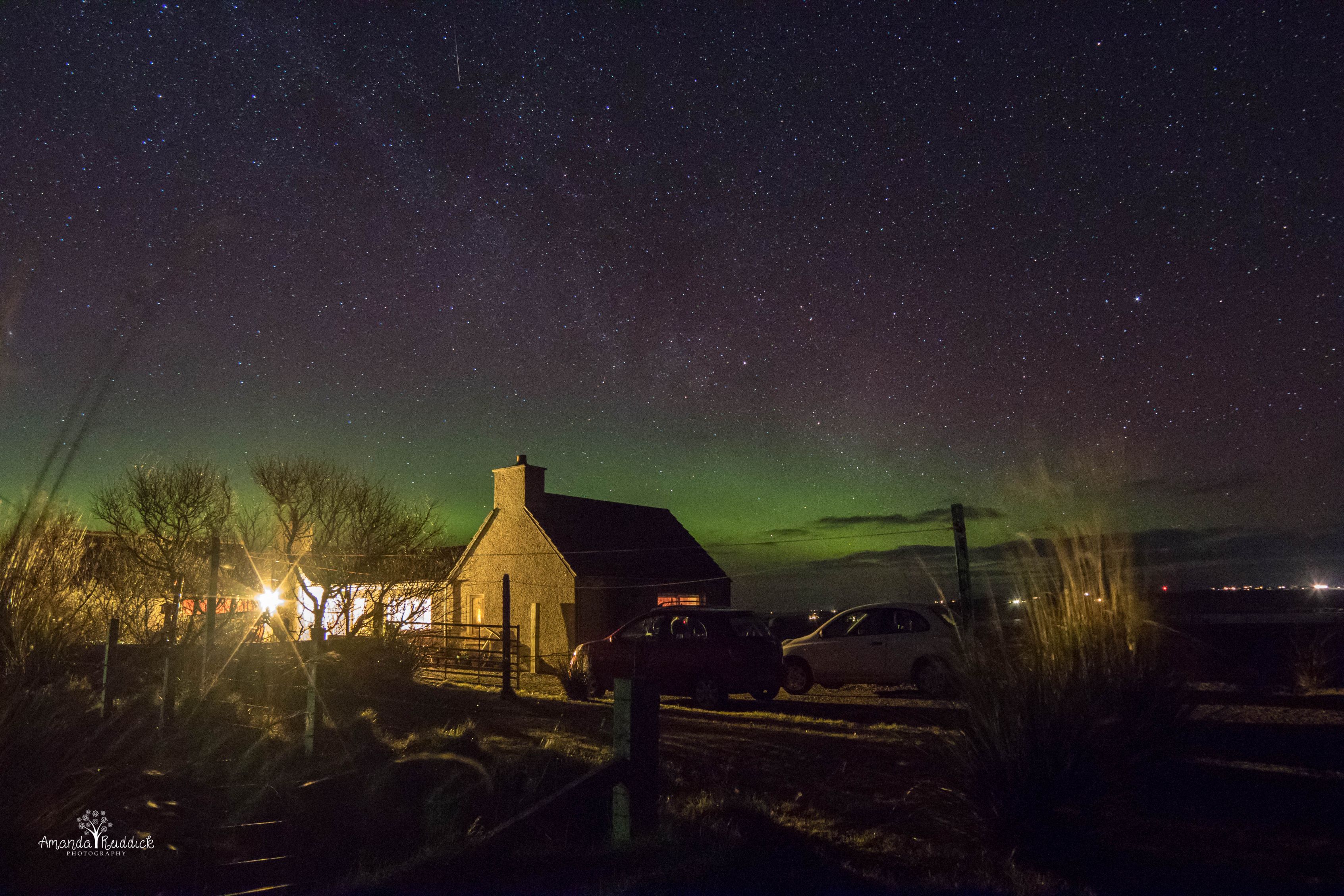 Outside, however, during a display and away fae the computer I cannot see or read the stats to ken which way she is going to go. I stand and wait in the dark fir an arrival of any kind.
There are days when she is very compliant and she will have a burst of activity and dances her heart out for us.
Shimmering across the skies, shooting rays high to the heavens, totally visible to the naked eye. She's here, there and everywhere.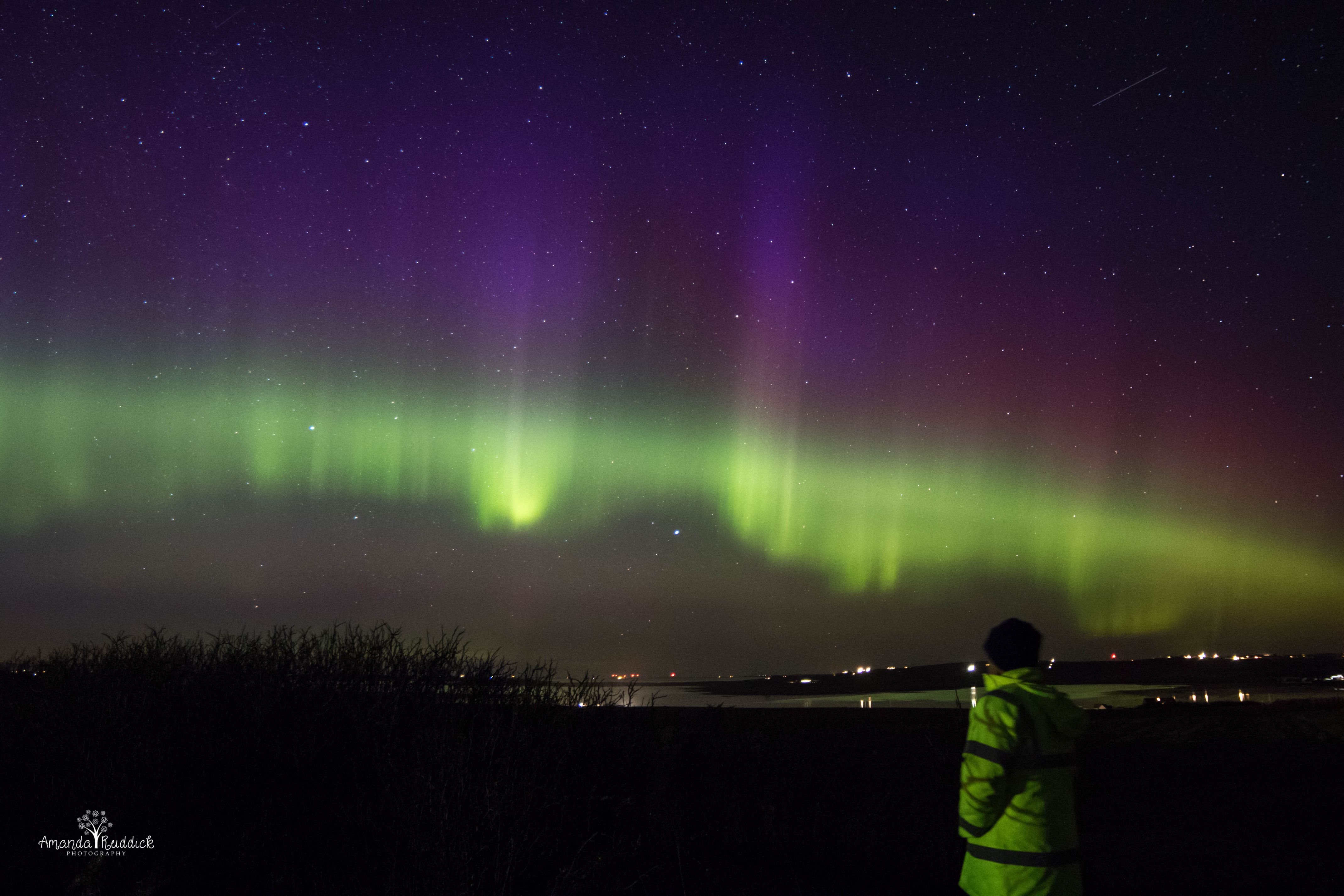 My camera cannot keep up.
I curse that my lens opens only to f/2.8 and I need roughly 10 seconds roundabout to get that perfect long exposure photograph.
While my camera shoots I wait patiently for the image to be processed so that I can catch that other ray that has just appeared in my view.
I have been lucky to see it appear as a corona right overhead of me causing me to lean back, neck bent into a position a yoga teacher would be proud of, my tripod legs splayed wide like a huge star fish.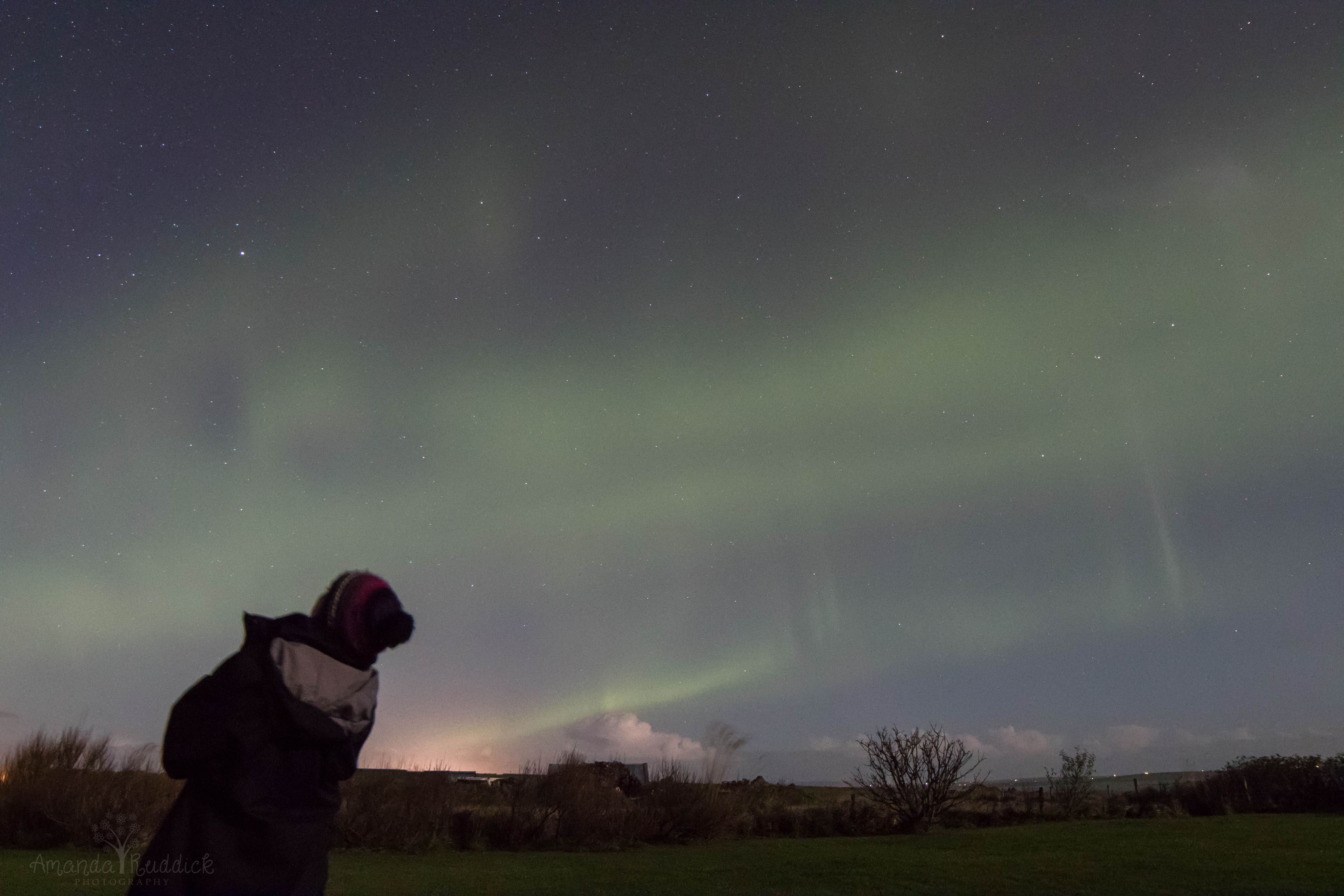 Glancing up inside it's distinct cathedral twisting spire shape, I gaze until my eyes reach the nothingness of black skies.
It's a desperately frustrating challenge to catch the best movements during such an amazing display.

The skies are too huge, too vast and my camera really does begin to feel powerless at capturing it.
I use a remote release cable that allows me to keep my hands cosy warm in my pocket but if I get too excited and move in tune to her jig, I often pull my tripod over accidentally.
I won't say how many times this has happened, it's too frightening to think about considering how much money sits on those three delicate legs.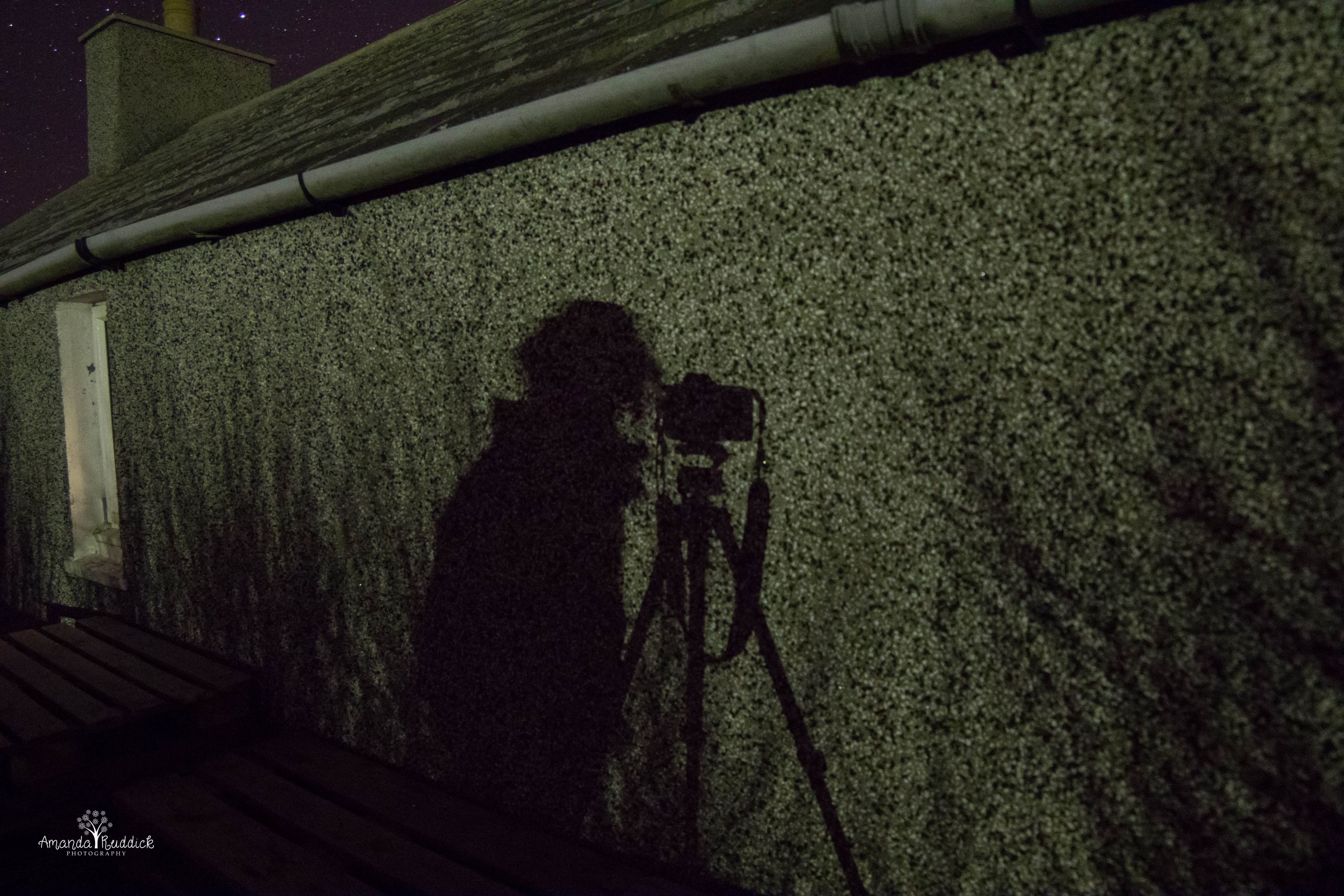 I want to be able to dance and join in with the frenzy that she's creating inside of me. If my heart beats any faster, it will smash my ribcage!
I am in a terrible quandary. I may have forgotten my mobile phone which means I cannot alert other chasers. I contemplate a dash to the computer indoors (not easy on a crutch) to type a quick message on Facebook ...

"She's dancing guys."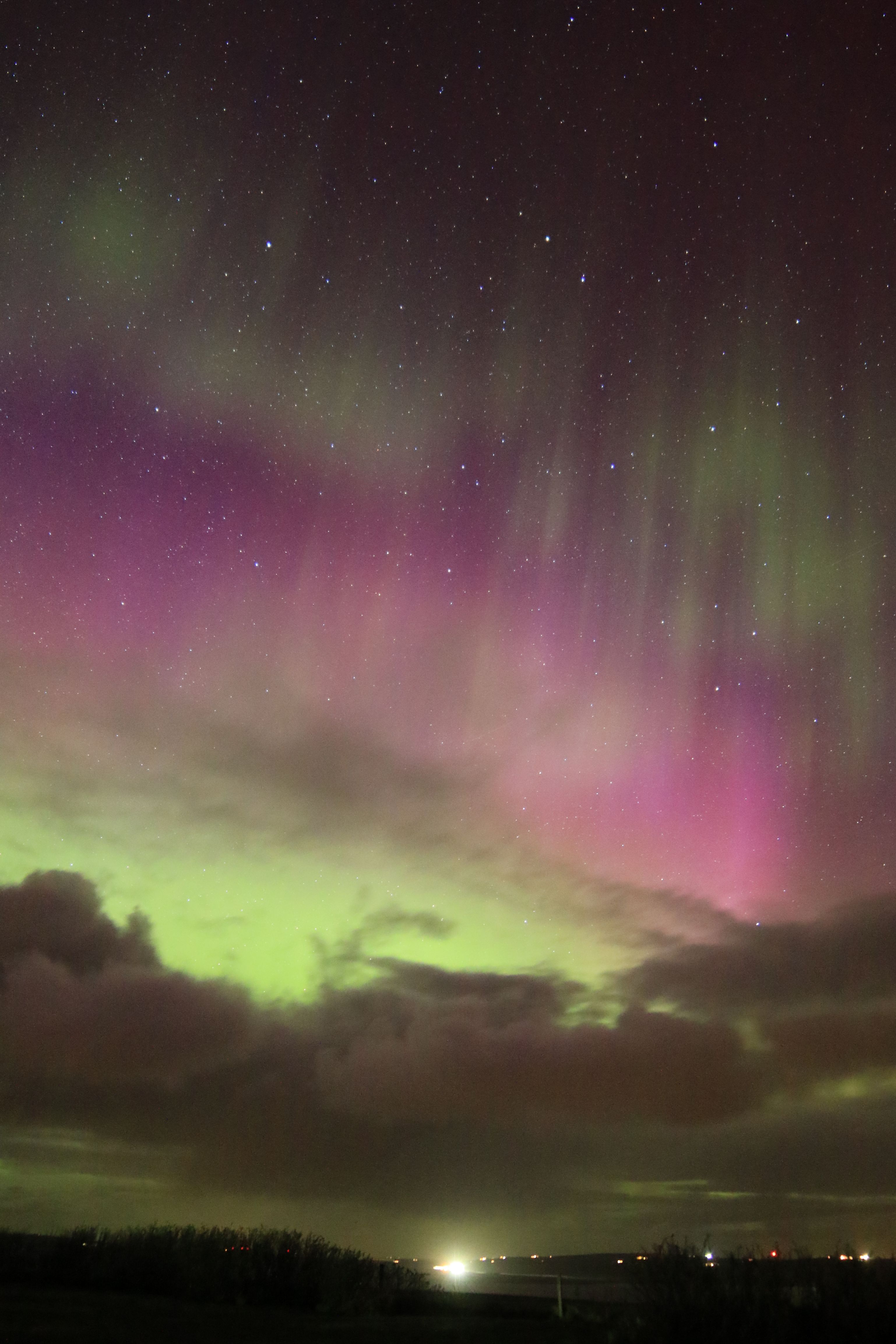 I want to share her, I want others to experience this amazing light show and feel what I feel.
Along the road, I have built up a list of folk to text, people to ring, neighbours to awaken. This can have serious consequences.
I can return outdoors to find she has disappeared, refusing to play ball anymore, deciding to stop, literally just like that. Or I have left my camera turned off thus missing the 20 seconds of the WOW factor that appeared whilst indoors.
A serious disaster for any hunter.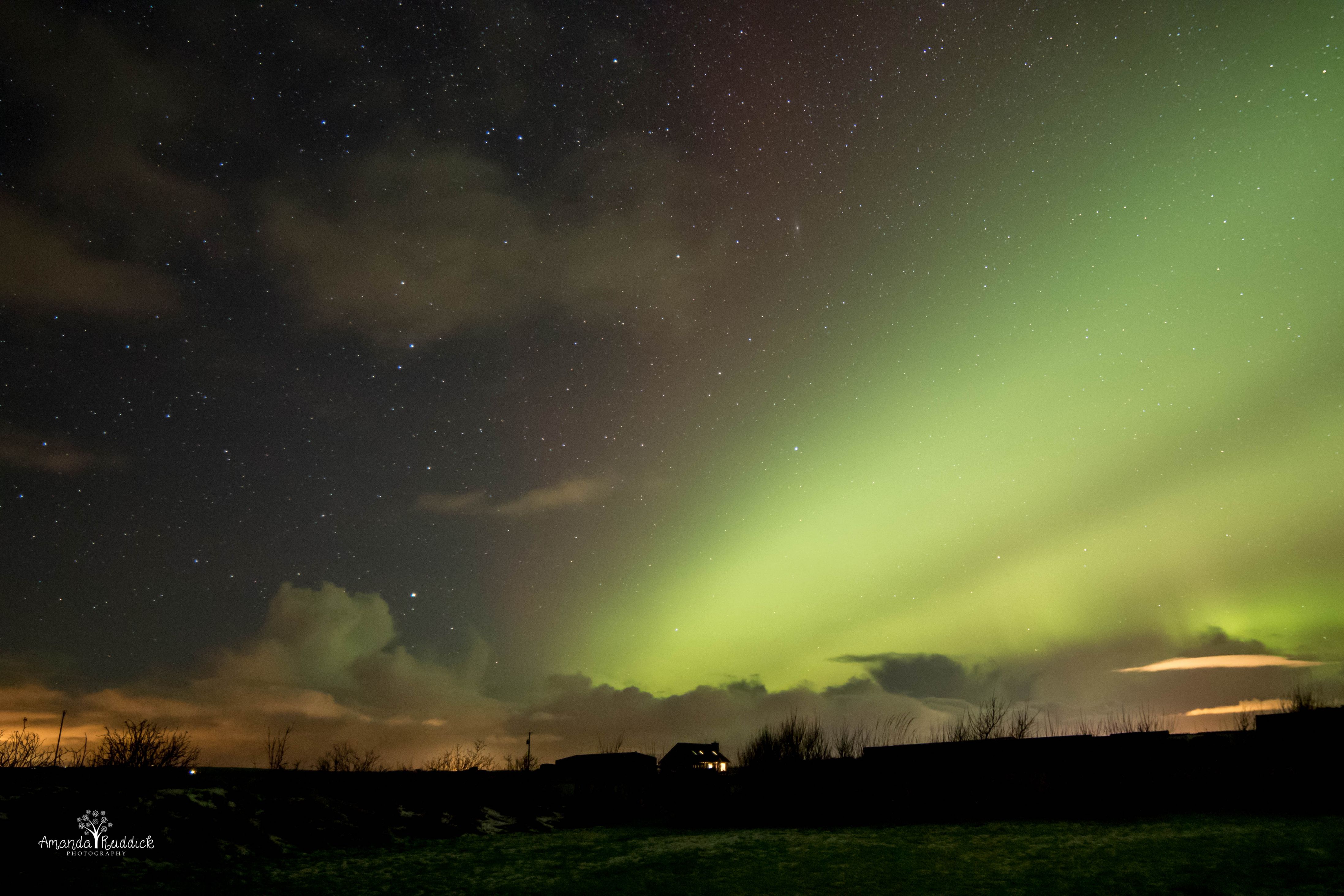 I feel like I am being drawn into a trance when I watch.
I cannot take my eyes off the northern horizon and I anxiously search through the stars picking out peedie satellites that cross over the sky silently, but their trails will appear in my photos later.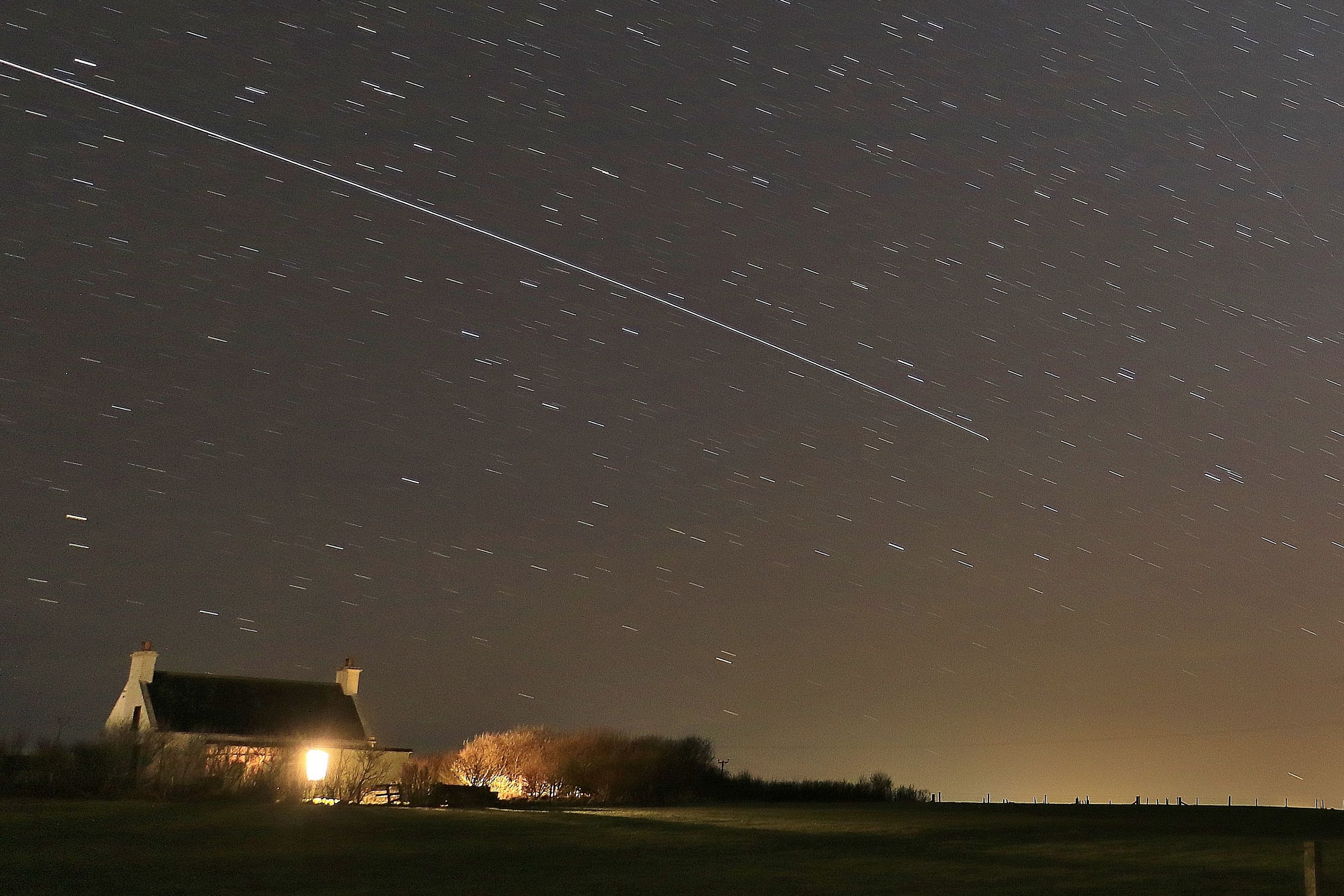 I am lucky to live with a garden facing north with an uninterrupted view across St Peter's Pool towards the north isles.
Very little light pollution tends to affect me across in the north unless a tractor trundles over the hill. This I do not mind, farmers work hard and late at night to produce our food.
For some folk however the obsession means a frantic dash to their cars and a drive out. Some chasers will travel that wee bit further for a more artistic photograph but although I can drive, my mobility ties me to the garden.
So I stay put and keep the tree and my peedie cat company. I have yet to work out if she is as obsessed as me, as our dog stays comfy by the fireside during any alerts.
Our rarest aurora to view is STEVE.
Why Steve you ask?
Well the name apparently comes fae a film called Over The Hedge, an animated comedy fae 2006. It means a benign name for something unknown ... well, according to my online search anyways.
I consider myself to have been so fortunate in having caught him on camera while also watching him begin to form without really understanding what I was actually seeing.
He certainly both confused and thrilled me, especially as he seemed to appear in the south west as opposed to the north where my beloved lady usually displays.
He was born as a twisting, withering column of pale pink ribbon in the sky, which became brighter to the eye as the seconds ticked by. He resembled a tornado lost and confused, but still out to impress.
The column spiraled upwards like a giant screw grinding its way into the stars. He grew in width and height like a pinkish purplish striped stick of seaside candy rock and then he faded away, leaving us clueless, speechless and grappling for answers online.
Apparently he has been around a long time but was only named in 2016. Now he is what I definitely call elusive.
The colours are there despite the questions online.
 The camera finds them and processes them, but do not mistake our photos for real life.
None of us can process an aurora as good as a camera can. My camera's eye can stay open for a very long time. I am jealous at this, to be honest.
We all see differently but a reproduction of Joseph's coat of many colours will never be seen by human eye even in the biggest display. Ghostly pale green with a hint of pink is the usual. Our eyes also need time to adjust to the night sky.
The camera on the other hand sees colours beyond imagination; reds, pinks, green, orange, yellows, purple and even blues.
Height and oxygen play a big part in this.
Some folk claim to have heard the dancers and describe it as a crackly static sound, a feeling that cannot be explained.
I get ten very tingly fingers and toes but I suspect that this is due to the sharp coldness of the night and the reality that this obsession of ours often takes place at an unearthly hour.
I often dream of a warm bed, my electric blanket turned up high, but my obsession and fear of missing something keeps me outside.

"Just 5 more minutes," I promise myself at 1am and again at 2am.
 It's a lonely hobby although the banter online becomes alive, a flurry of people sharing photos, comments and even camera settings.
The likes and loves come pouring in and the group members are so kind in their comments on peoples photos often politely asking to share. It makes the cold toes and fingers feel well worth it.
The decades, years and months pass me by and yet still my love for them grows greater. It's an obsession and it's so addictive.
There are stories and legends all over the world about the aurora.
Down under they are kent as the Southern Lights (makes sense to me).
The Aurora Polaris are recognised by so many different names around the planet. They are, The Aurora Borealis (this their scientific name for the northern hemisphere), The Aurora Australis ( again their scientific name for the southern hemisphere), The Northern Lights, The Southern Lights, The Merry Dancers and the Mirrie Dancers in Shetland.
The Inuit have tales for them. For example The Inuit in Greenland believe that the lights are the spirits of the dead playing celestial games with the skull of a walrus or in some tribes the skull of a human.
It is worth searching online for these wonderful folklore tales that have been written or retold through the different generations of so many countries.
I do not believe that I am not alone in wondering what our own stone age ancestors would have made of this beautiful phenomenon high above them in the heavens.
I imagine that they would have created their own stories for them.
Throughout my life they have never ceased to amaze me, pulling at my thirst for more knowledge and understanding of them.
Some folk dream of seeing them and they appear on many a bucket list. I consider myself to be so fortunate a person being so close to them yet so far away fae them.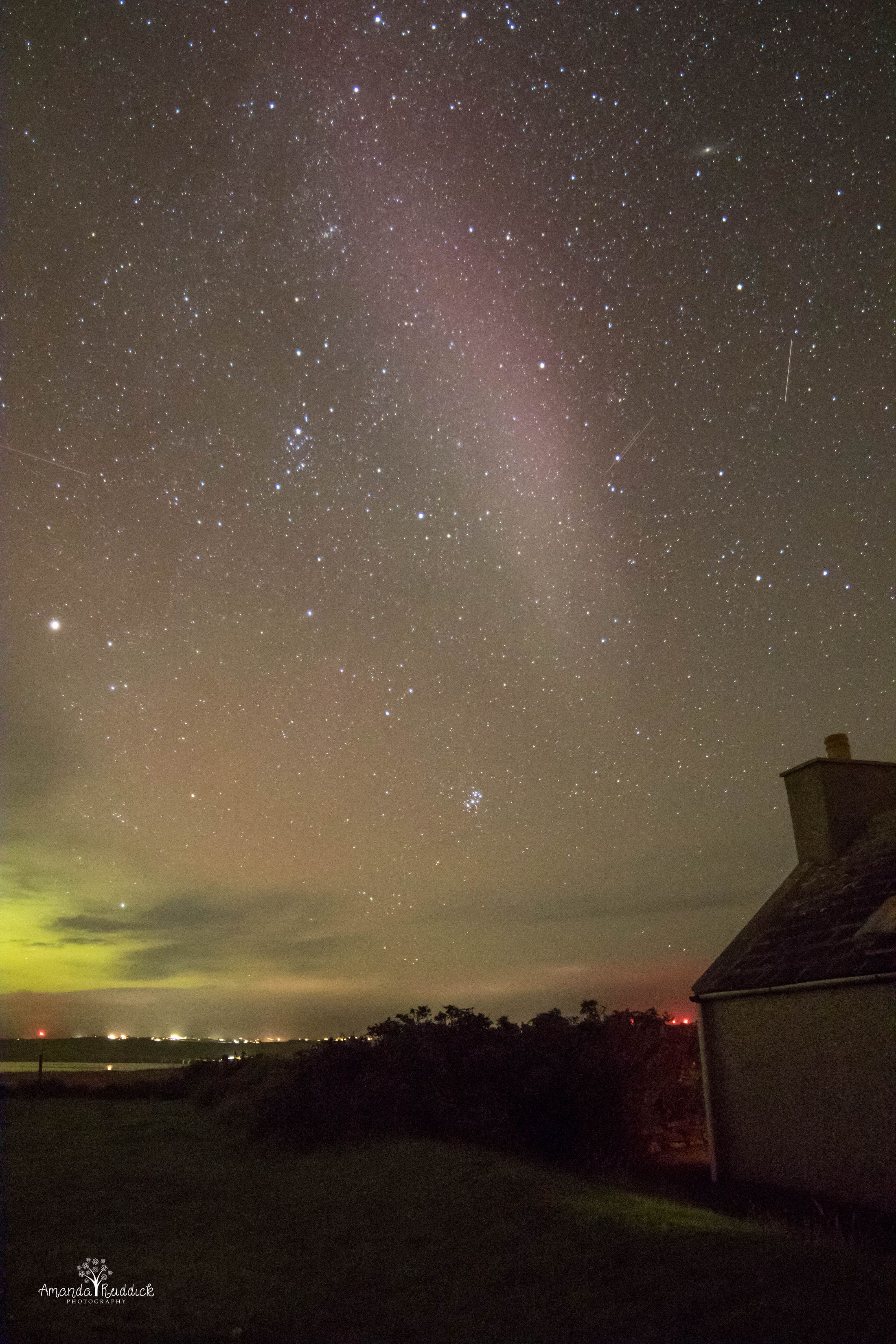 We ken that the dancers are there, we just cannot see them.
Despite my location, my equipment, my vague knowledge and love of the Merry Dancers, we are not short of enemies to prevent our views.

Weather!
Our wonderful Orcadian weather often conspires against us. I think it watches the daily news, keeping an eye on the stats, putting them together to produce a spectacular hoolie or rain during that awaited red alert prediction.
The weather reduces many an aurora hunter/chaser to howling into their tripod, wiping their noses upon their specially bought camera lenses.
We watch online photographs fae other aurora sites down south come in thick and fast and although we feel happiness for them, there's also that wee envy that creeps out as green as the best aurora ever.
We smile through gritted teeth as we love, like and comment on their images.
Cloud!
Our wonderful bonny clear skies that throw off such gorgeous blue colours during the day also watch the stats.
Come the evening when darkness falls, in they wander, onimious, grey and black. I swear that thunder is not really thunder but a laugh at us, a really deep throaty one.
The haar!
Again after a gorgeous day it creeps in apologetically fae the sea and those dancers can just be seen very thinly through the pea soup that lingers "always" to the north.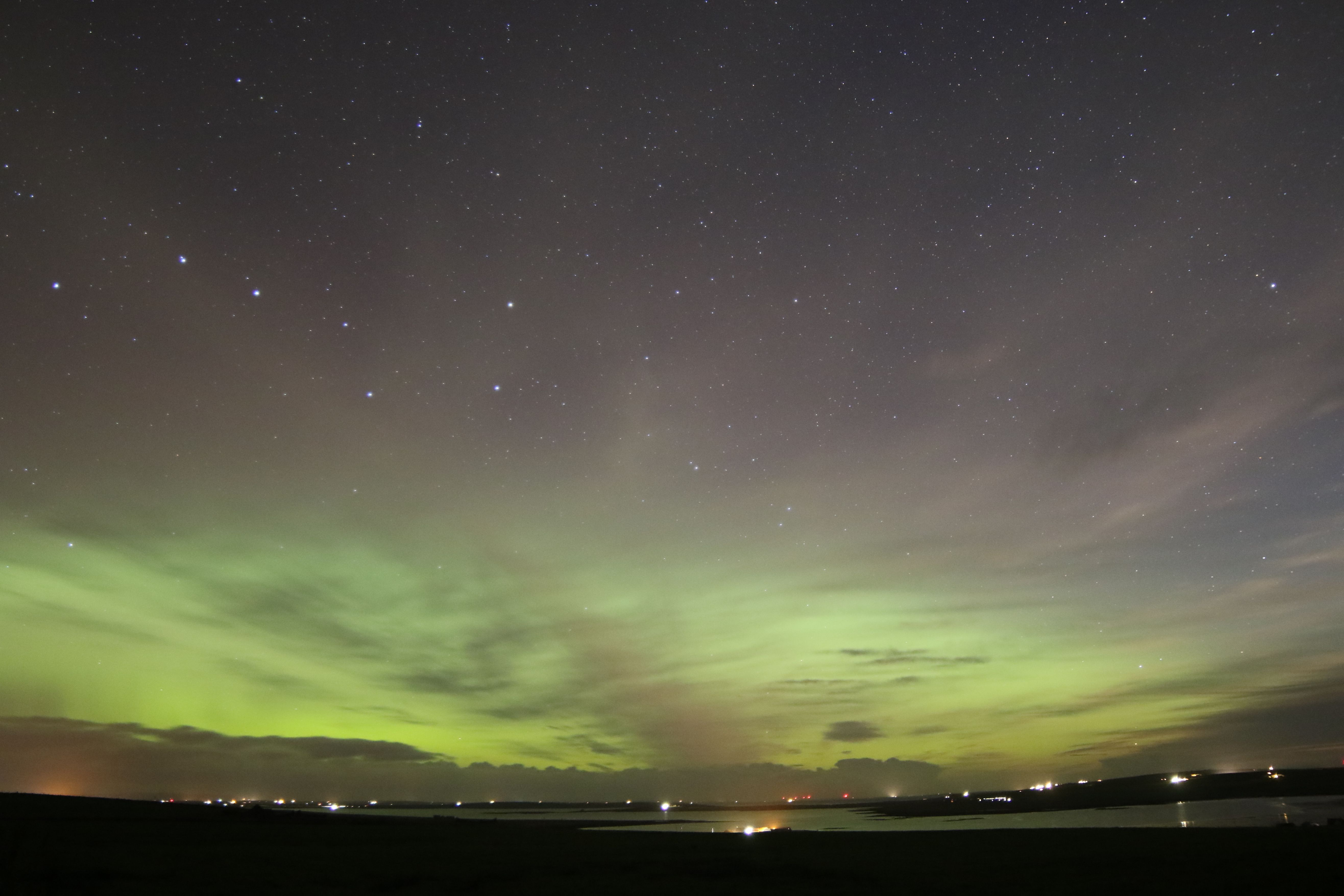 Summer!
I am often more frustrated than rewarded, but my wonderment in this amazing phenomenon never ceases. It walks with me always, even through the summer months when our geographical location creates too long a day.
Sadly tourists do not understand our summer. The aurora's elusiveness is so frustrating at this period of low activity.
The days grow longer and longer until even the brightest star struggles to push it's way through the twilight.
The night is brushed to the side. Where to I do not know, but I do ken that in Shetland it is cursed just that wee bit more.
During summer we chase the noctilucent clouds, those rare night shining clouds consisting of ice crystals that are only visible during astronomical twilight.
We wait up for these too as they are the highest clouds in the earth's atmosphere sitting in the mesosphere even.
We take their pictures as they smile for us but we feel sad that it is not the aurora and her beautiful dance.
We hold tight, try to enjoy what summer we may receive and embrace the clocks going back, although we are often rewarded with a wee treat late August time when she can just about give us a strong display to beat the light.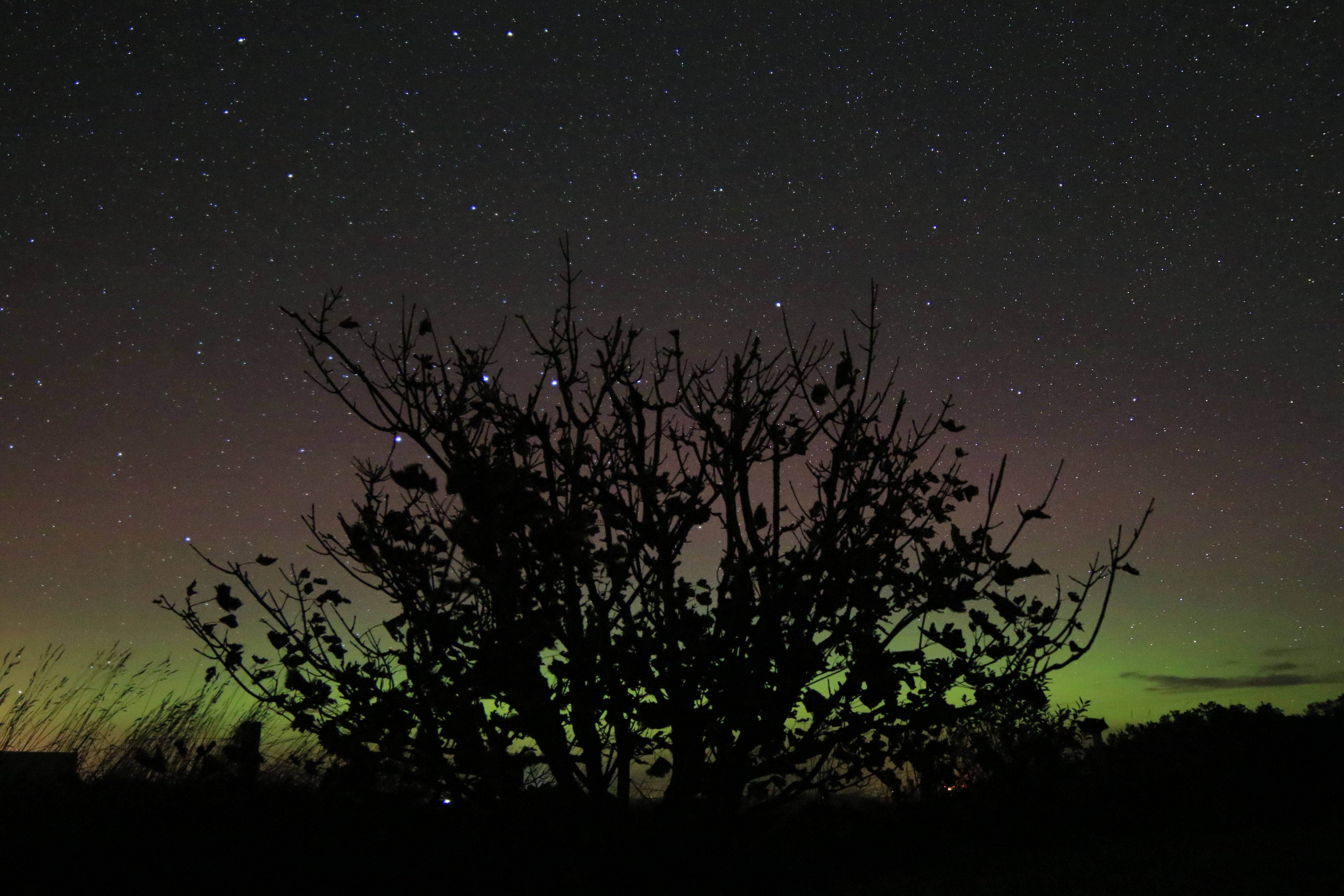 So my obsession with her sticks around and grows stronger as each year passes.
Even as I type I ken that we're on the up and displays may soon become stronger and more frequent. I will wait for her and watch her until my body can no longer physically do it.
My younger son stays down in Edinburgh and each time he's home, off the boat and away fae the bright lights of Hatston Harbour, he's straight into the garden losing himself in the stars.
If the aurora has chosen to shine that night he is so delighted. Memories of staying out all night laid on the trampoline upon towels with his siblings watching Mum shoot away.
"It's good to be home," he says simply and even in the pitch black darkness of the garden I can see the smile on his face by the tone of his voice.