~ Meet Alec Harding ~
Orkney Antique Centre
Alec Hartley Harding, born on St Mary's, Isles of Scilly, 21st August 1959, in a storm. Lifeboat called out, and have been a pain in the ass since!!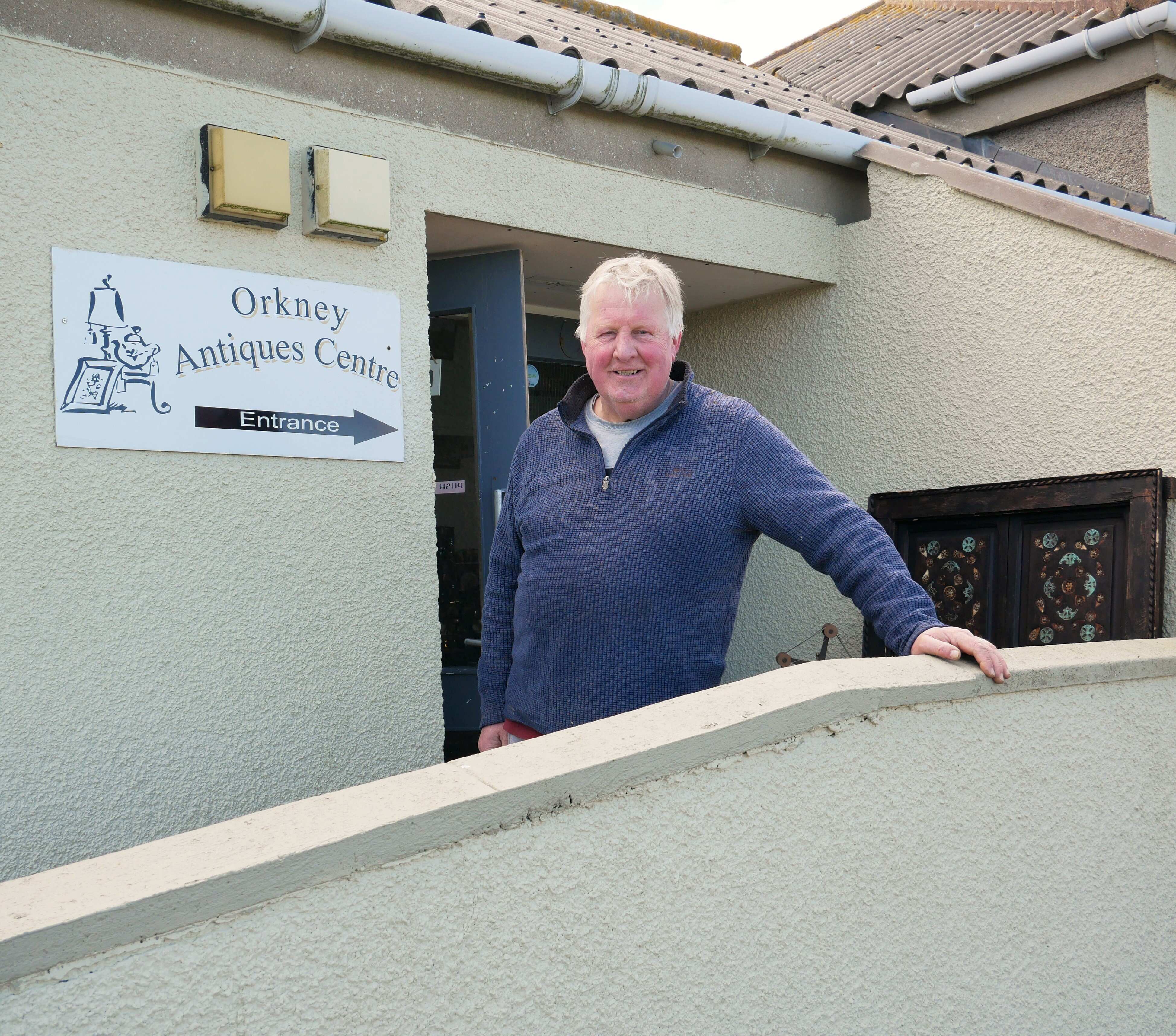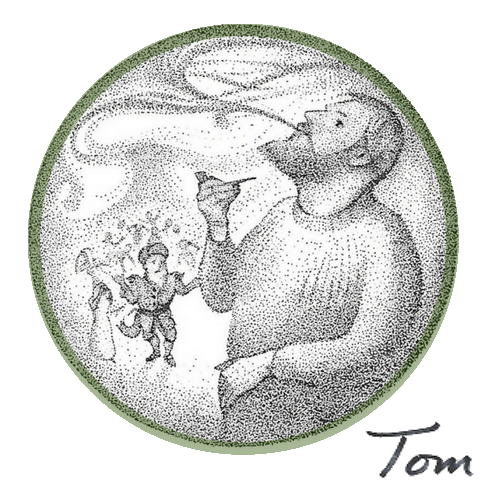 A brief history of the Old Hall in Birsay, where the most interesting Orkney antiques are now found.

The Old Birsay Hall has seen many a dance, wedding reception, harvest home and Burns supper. Many local folk will have cherished memories of the old place.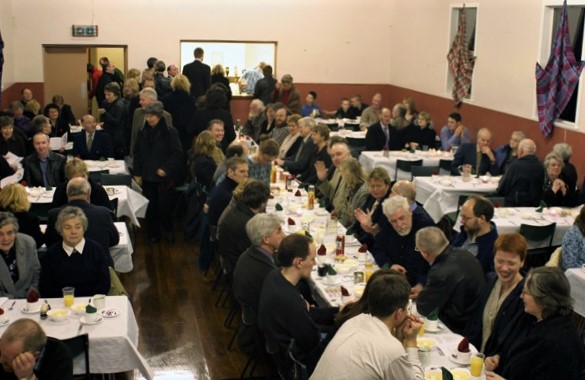 2004 Burn's supper. Alec is keen to know more about the old place if you have memories to share.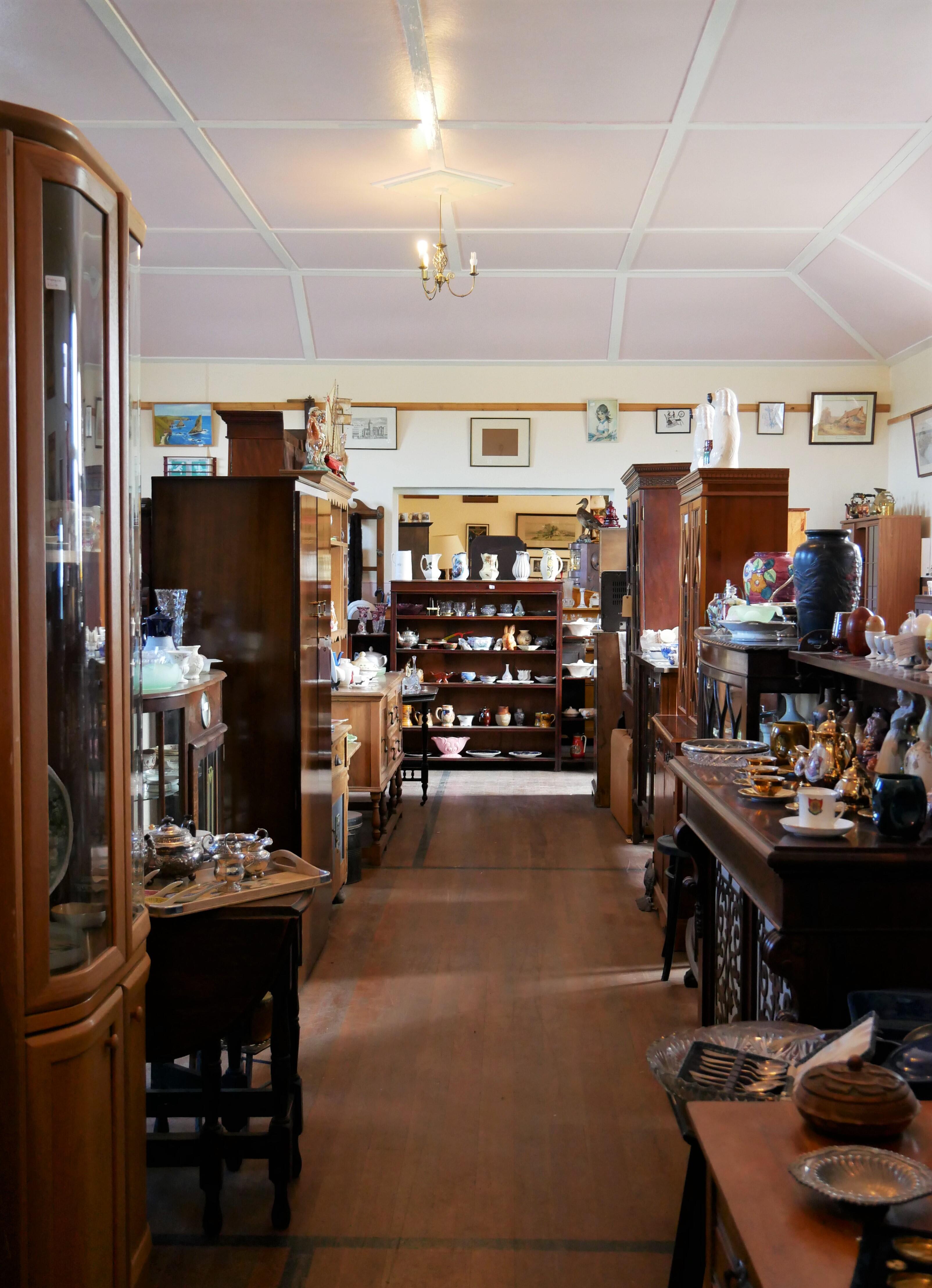 The Old Hall looks a little different today but it still holds memories.
After a new community centre was built just down the road the Old Hall was put on the market. Luckily for us, it was bought by Alec Harding who transformed it into the Aladdin's Cave that is the Orkney Antique Centre.
It is my joint-favourite shop (along with Stromness Books and Prints) and has always had a special place in my heart. I started going there as soon as it opened in 2015. In fact, it was one of the first places that I took Rhonda when she first came to Orkney that same summer.
No, we didn't buy it. But somebody else did!
Now, if you are thinking great slabs of Victorian brown furniture, then think again. The Orkney Antique Centre has many surprising things, apart from antiques.
I have bought ships in bottles made by a lighthouse keeper, carved masks from the Pacific Islands and Tibet, ships lanterns, chairs, prints, clocks, a ceramic elephant plant stand, a wonderfully carved baby carrier from Borneo, old exotic sea shells and even a 19th century lantern that once lighted the way for a stagecoach from Toab to Birsay.
I could go on... But we asked Alec to share his story with us and so here it is. Thanks, Alec!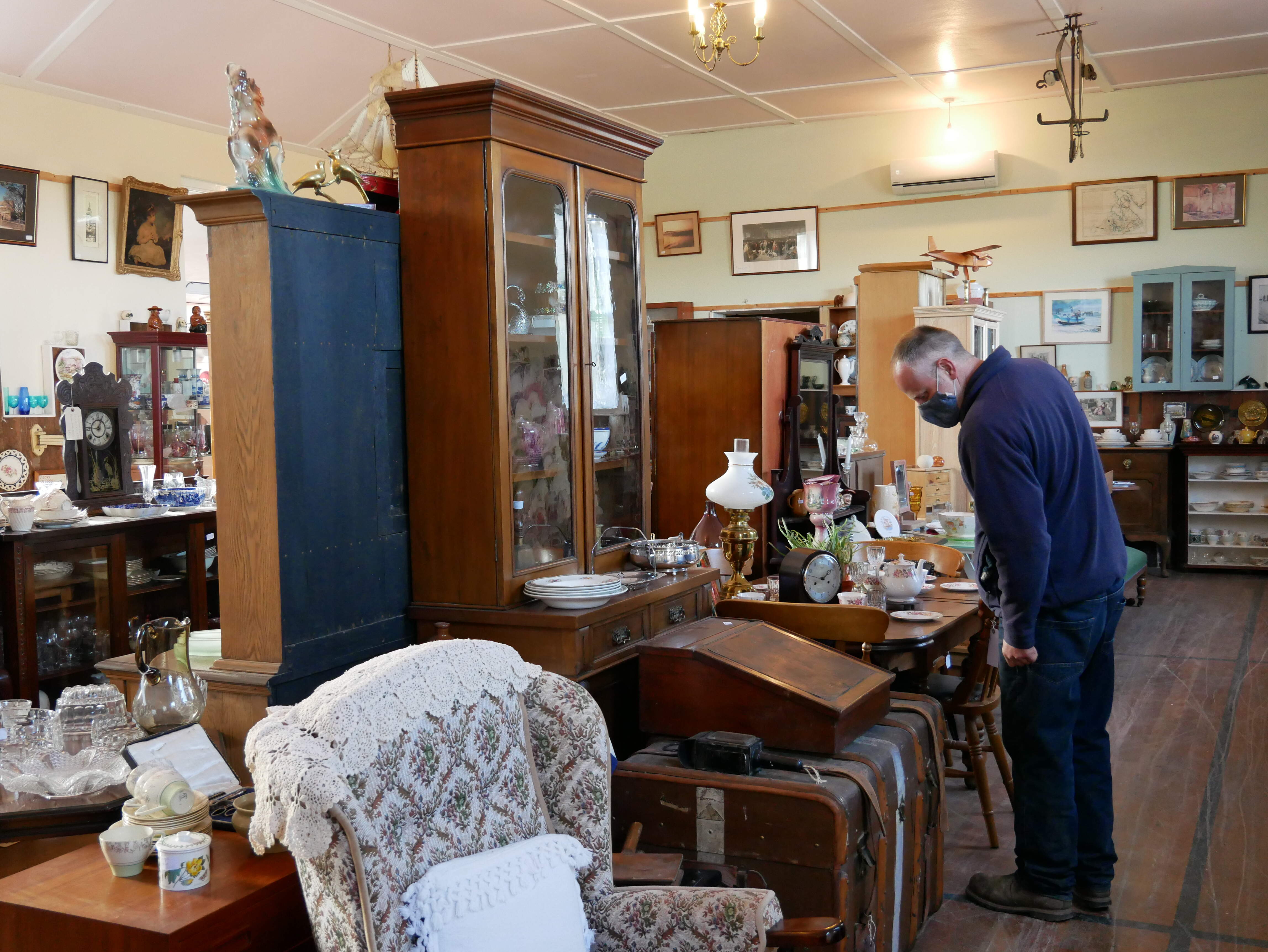 A True Scillonian
Hi there. Here is a brief history of me and how I got to Orkney and Orkney Antique Centre.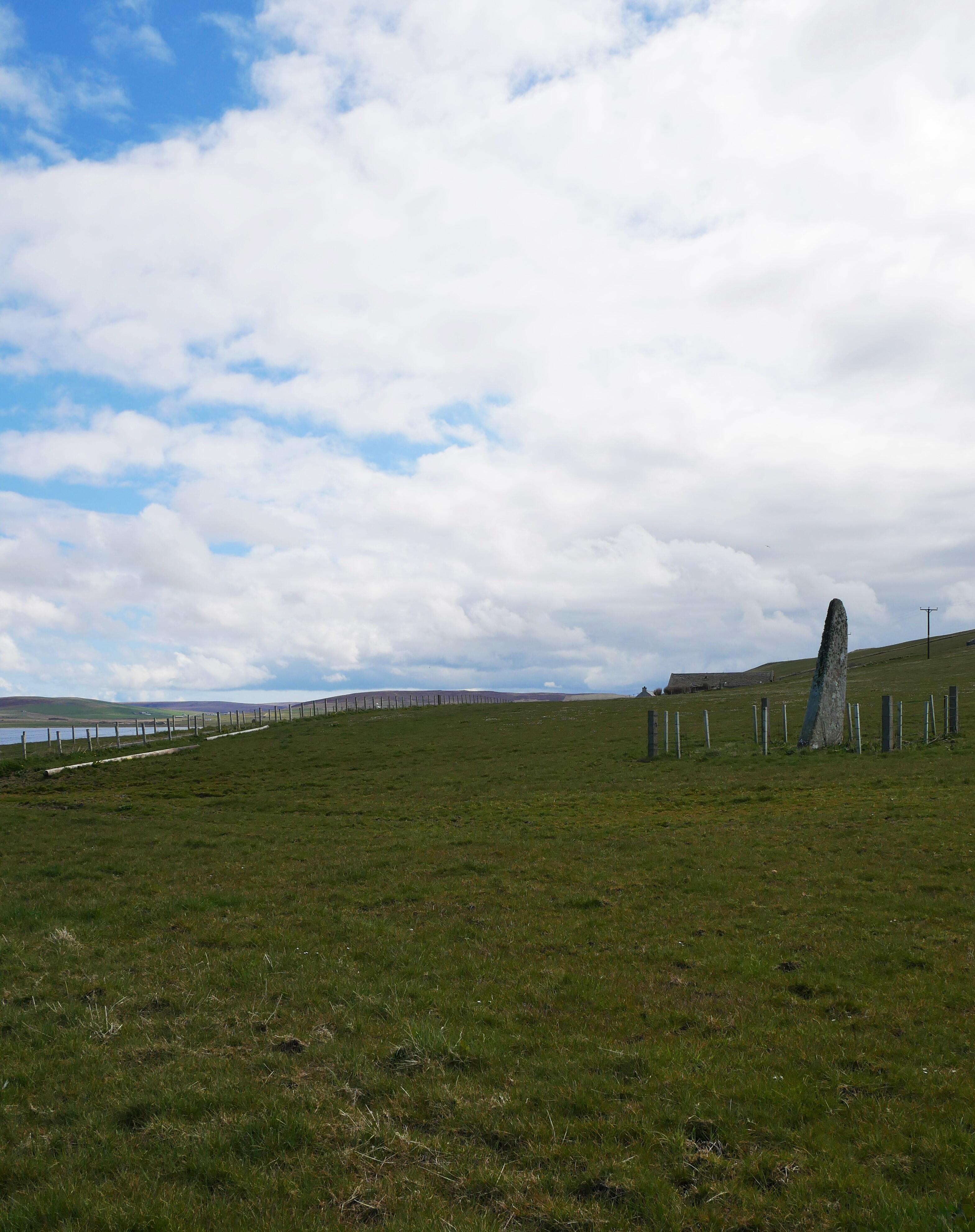 The folkloric Stone of Quoyboon is in Alec's back yard.
This story can be found on the Orkney Folklore Trail free app
~ download here.


Scilly
I was born in Scilly on the main island of St Mary's, schooled there and was really lucky to live in a wonderful place.

When I left school I went into the fishing industry in Lowerstoft, Suffolk, for three years. I enjoyed it but the shore life wasn't great so I left and went back home. There I got into the building trade, met my wife Gill and had three children.

But Scilly was changing - not for the good. The Duchy (i.e. Prince Charles) who own the islands were not making life in Scilly good, so in 1992 we left.
Looking for home

I'd not really lived on the mainland. Yes, I went fishing 1975-78 but spent most of the time at sea. So we settled in Honiton, Devon (Gill's home town). I carried on in the building trade.

But I missed the sea and Cornwall, so in 1999 we moved to St Buryan in Cornwall. This has to be the strangest village in the UK - they hated "outsiders". Gill wasn't welcome as she came from Devon.

I carried on in the building trade, but kept on looking elsewhere - often going on long drives, sometimes for three days or more.
One August Bank Holiday weekend, 2001, I told Gill that I was going for a drive and asked my eldest son, Lee, if he fancied coming. So we threw a couple of bags in the van and set off!  

Ha, ha, 18 hours later we were at John O' Groats (what a dump). But I spied some islands.
Orkney!! Didn't even know they were there. So we put the van on the ferry and that's where my love affair started.
Alec's view
Orkney
Lee and I drove all over Mainland Orkney, even visiting Sanday. I went home and nagged Gill and in 2002 we came to Orkney on holiday. We visited everywhere (apart from Westray) and even went to Shetland for a week.

I was hooked - line - sinker. So I put an advert in the paper "Cornishman looking to come to Orkney".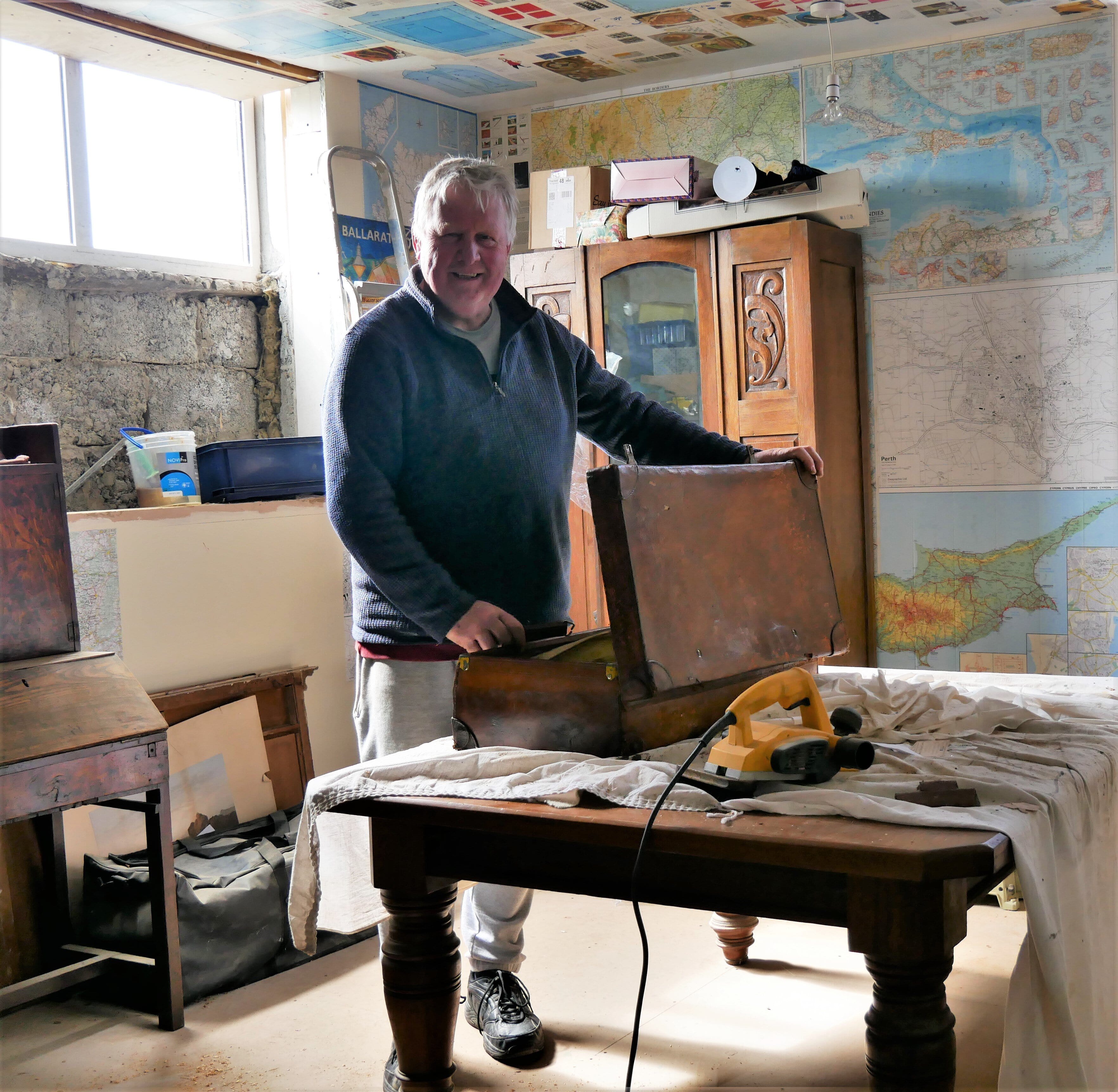 The workshop
To cut a long story short I arrived in Orkney on the 24th January 2004 on Westray to renovate an old house. This was me staying in a small caravan.

Anyhow, after popping home in April then going back, lots of property came on the market on Westray, so we bid and won, then bought Thorn.

In July 2004 Gill, Lee, Stuart and Faye moved up and we started our life on Westray. As life moved on, our three grew up and Lee and Faye left but Stuart settled in Mainland Orkney.

We sold Thorn and bought Sandihall, nearer the village on Westray.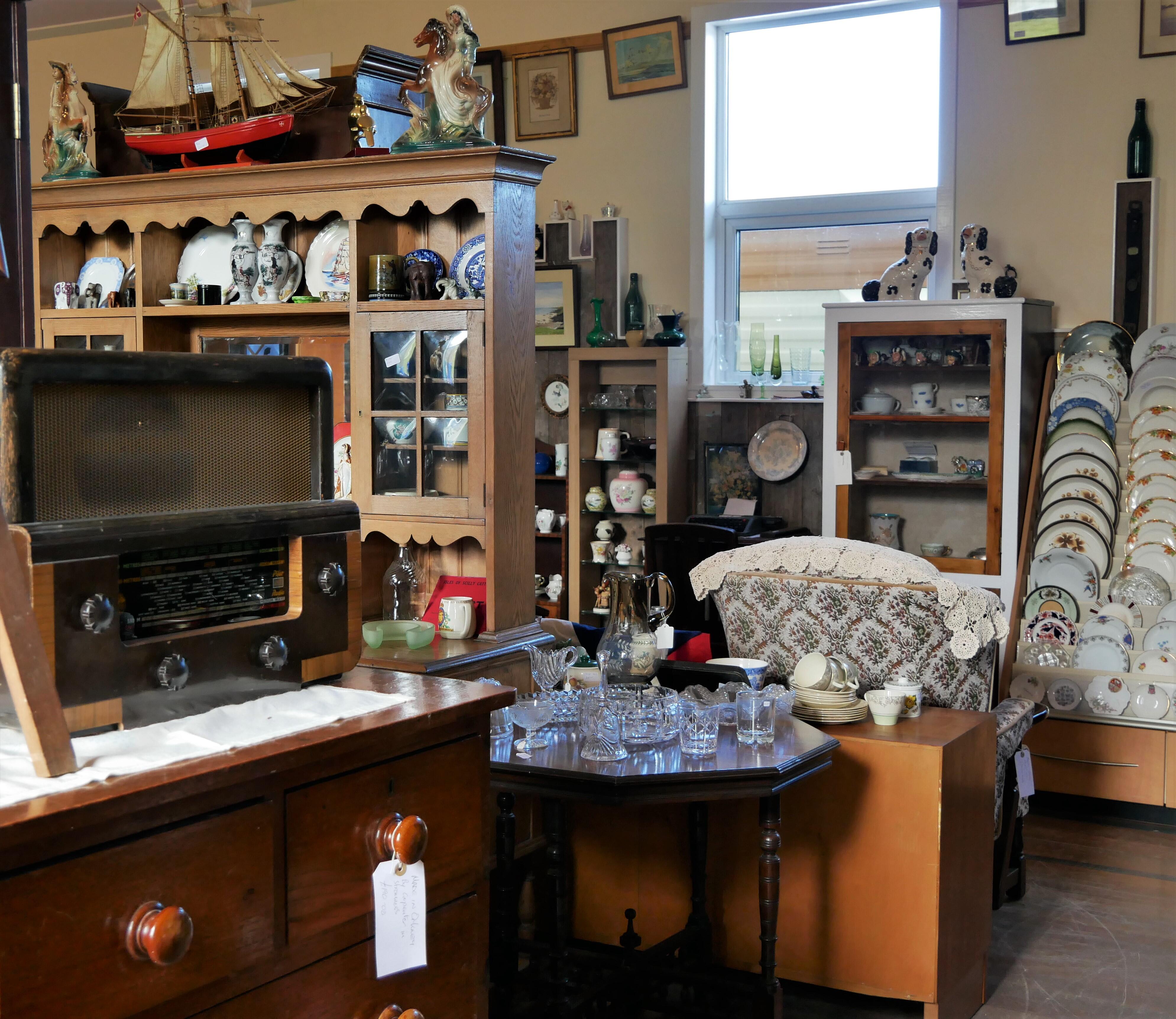 Alec and his "light bulb" moment
After a bad fall while "skimming" a building, I was pretty well smashed up, so not able to continue in the trade.

But, me being me (I don't do resting), I was trimming up a byre in Sandihall and "light bulb moment!" I said to Gill, "I'd like to try a curio/antique shop" - so we did.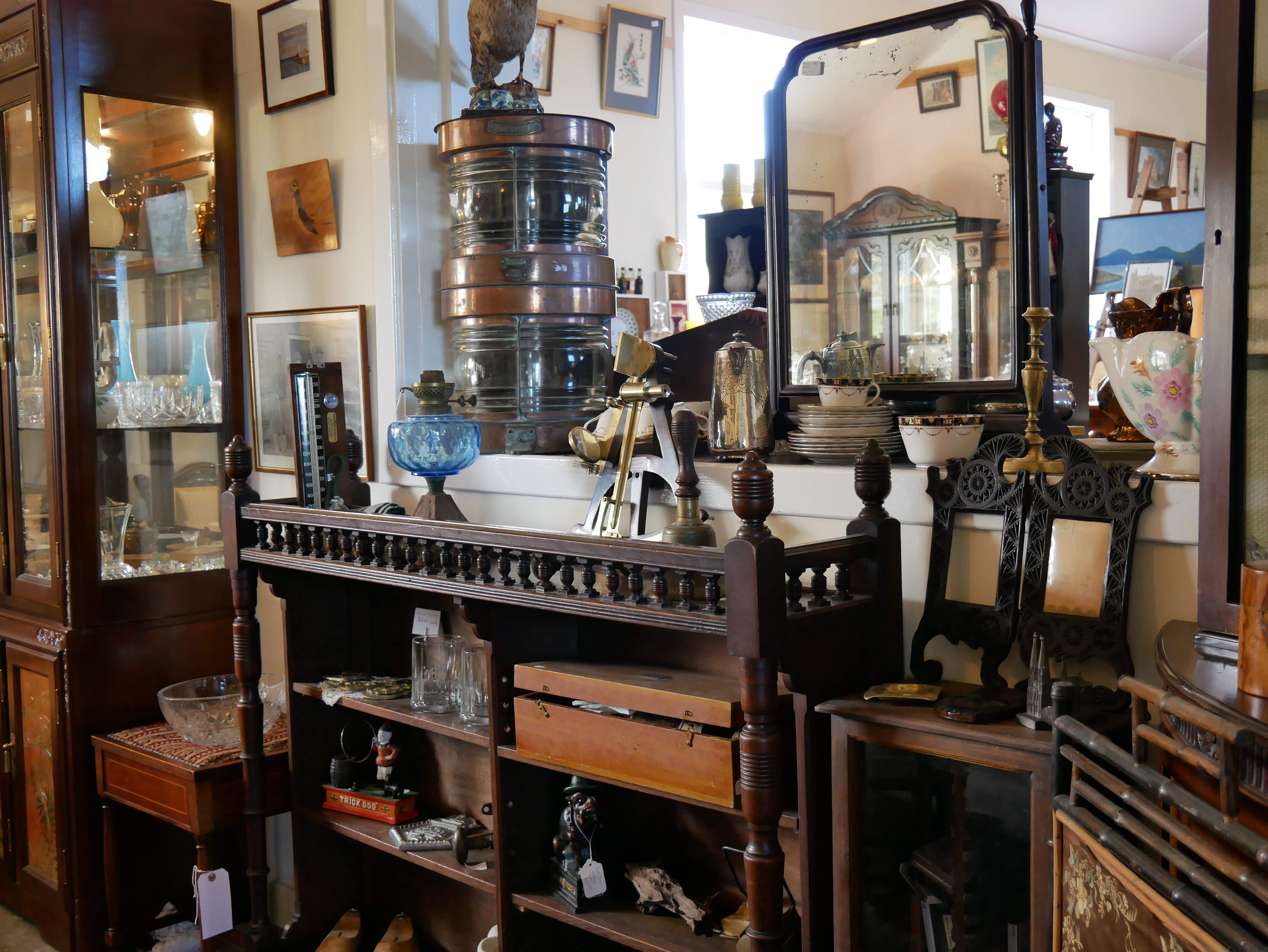 I knew nothing - but learned fast, went to auctions in Kirkwall and Scotland. Oh, I'd found my place in life - but Westray was too small and not enough visitors.
So in 2014 we left Westray and moved to Kirkwall. I'd got better and gone back into the building trade - but the antique trade was in my blood!!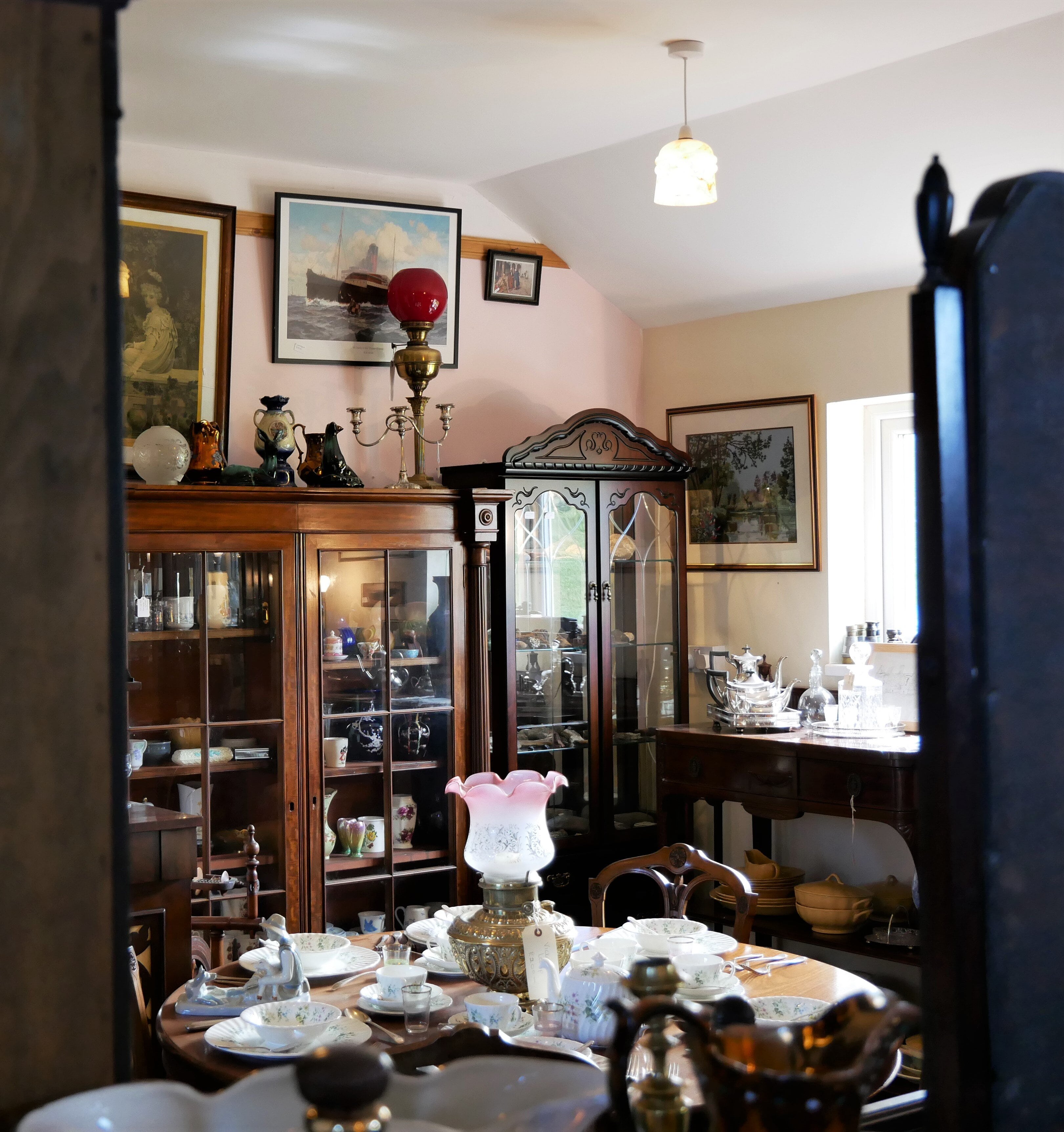 The Hall
While working in Northside, Birsay, I noted the Old Birsay Hall was for sale. So Gill and I viewed it and "wow," what a fantastic building.

We made an offer, subject to planning, and five months later we owned the Hall and we set to work, as the Hall was in a very poor condition.
So during 2014, into 2015, Gill and I worked hard trying to get the Hall ready. It fought us - flooded and leaked - but hey, my dream wasn't to be put off. Then in 2015 Birsay Antique Centre was born.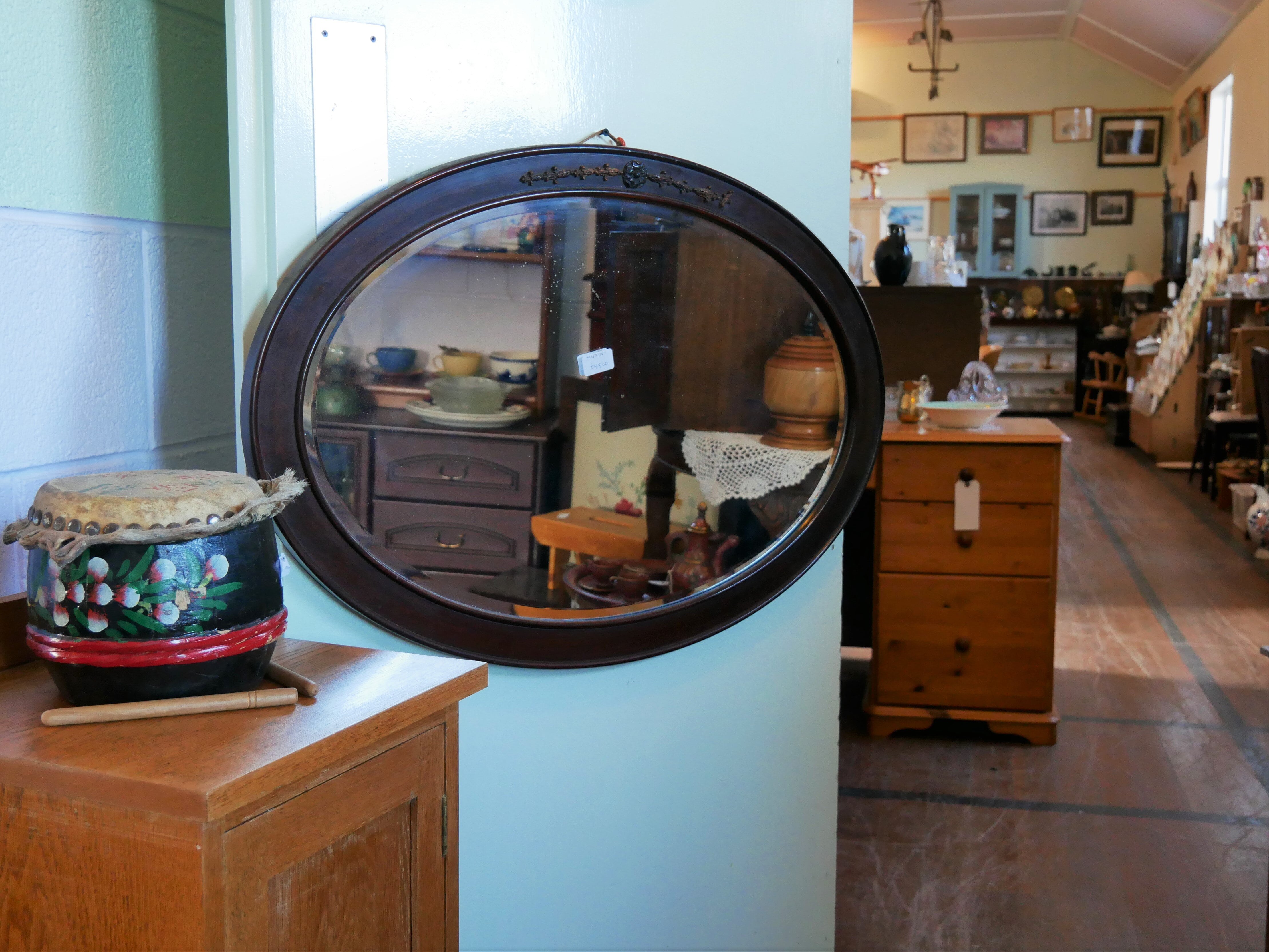 Birsay Antiques/Orkney Antique Centre
We went to auctions, house clearances and buying local - slowly but surely we built up a good following.

On advice, we were told it would be better to call it Orkney Antique Centre, as visitors might not know where Birsay is!!!
Orkney Antique Centre today

So here I am in 2021 - six years on. Things over 2019 till now haven't been easy as Gill left Orkney in November 2018. I had skin cancer, diabetes and not great health in 2019.
But I kept on going and building up the shop, with my friend Mash.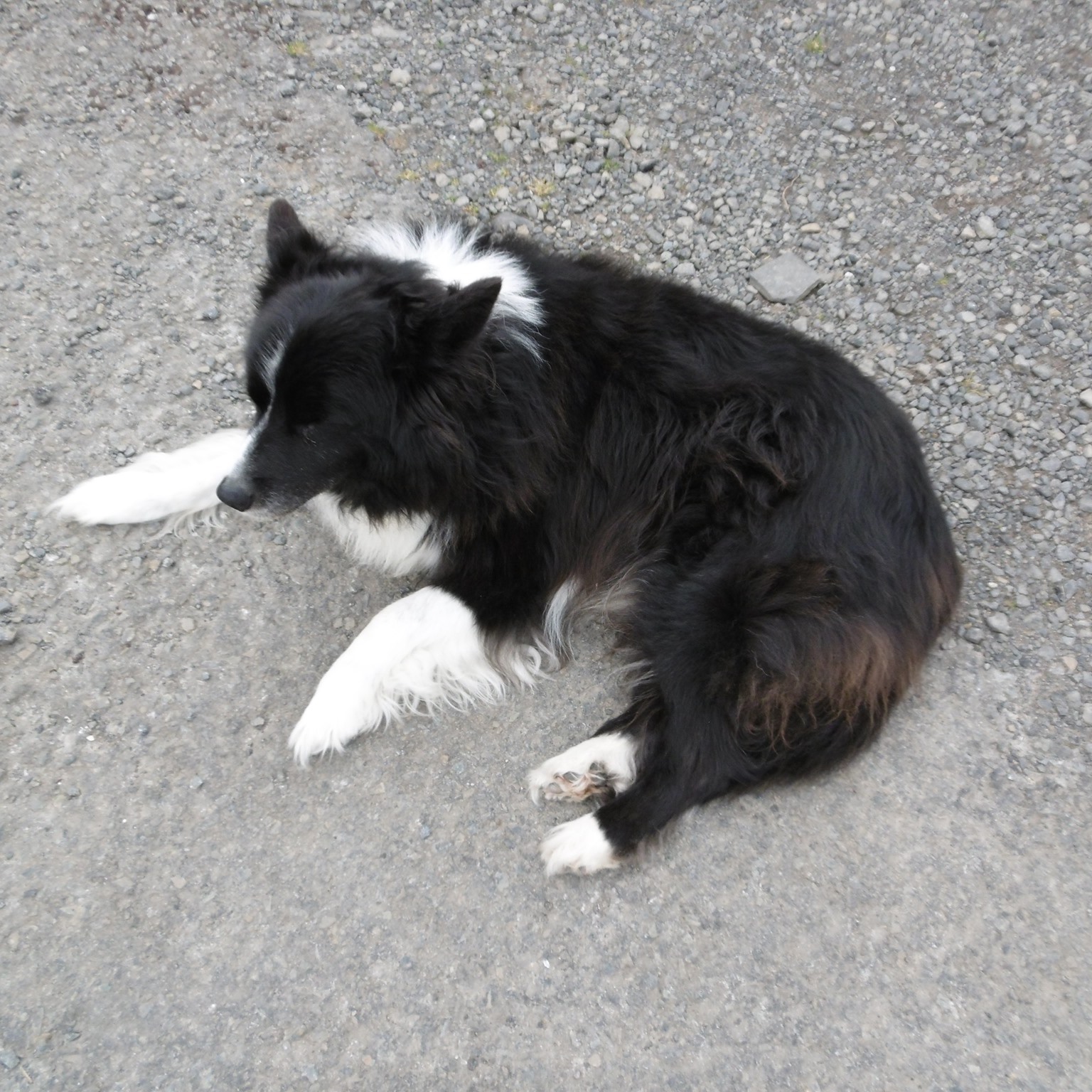 I'm living in a static caravan and am trying to convert the back of the Hall into a flat.
Winter 2019 I converted what was the ladies toilet into a tearoom. Ready for 2020 - ha! - little did we know, Covid.
In March of that year "Bang!" lockdown - total loneliness - will the shop live?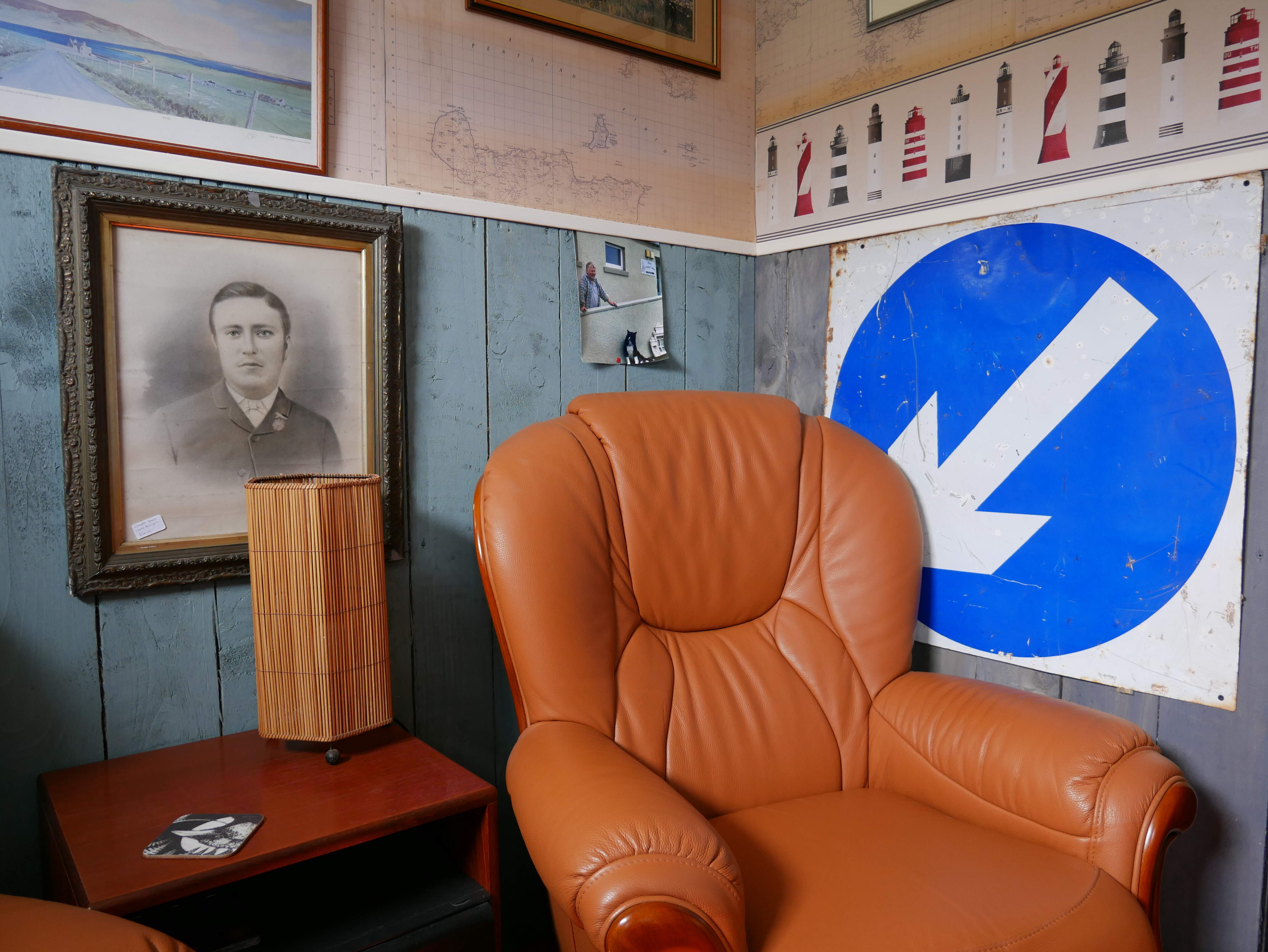 Of course in July we were allowed to carry on, and I did. The numbers were down 60% but Alec is not beaten easy, ha, ha!
Winter 2020/21 I did a lot more to the flat - and fingers crossed for 2021. Covid wasn't/isn't going away, so it's been a worrying time - not just for me but for lots of folks.
But I've a loyal following and lots of peoples' houses are better off due to my shop.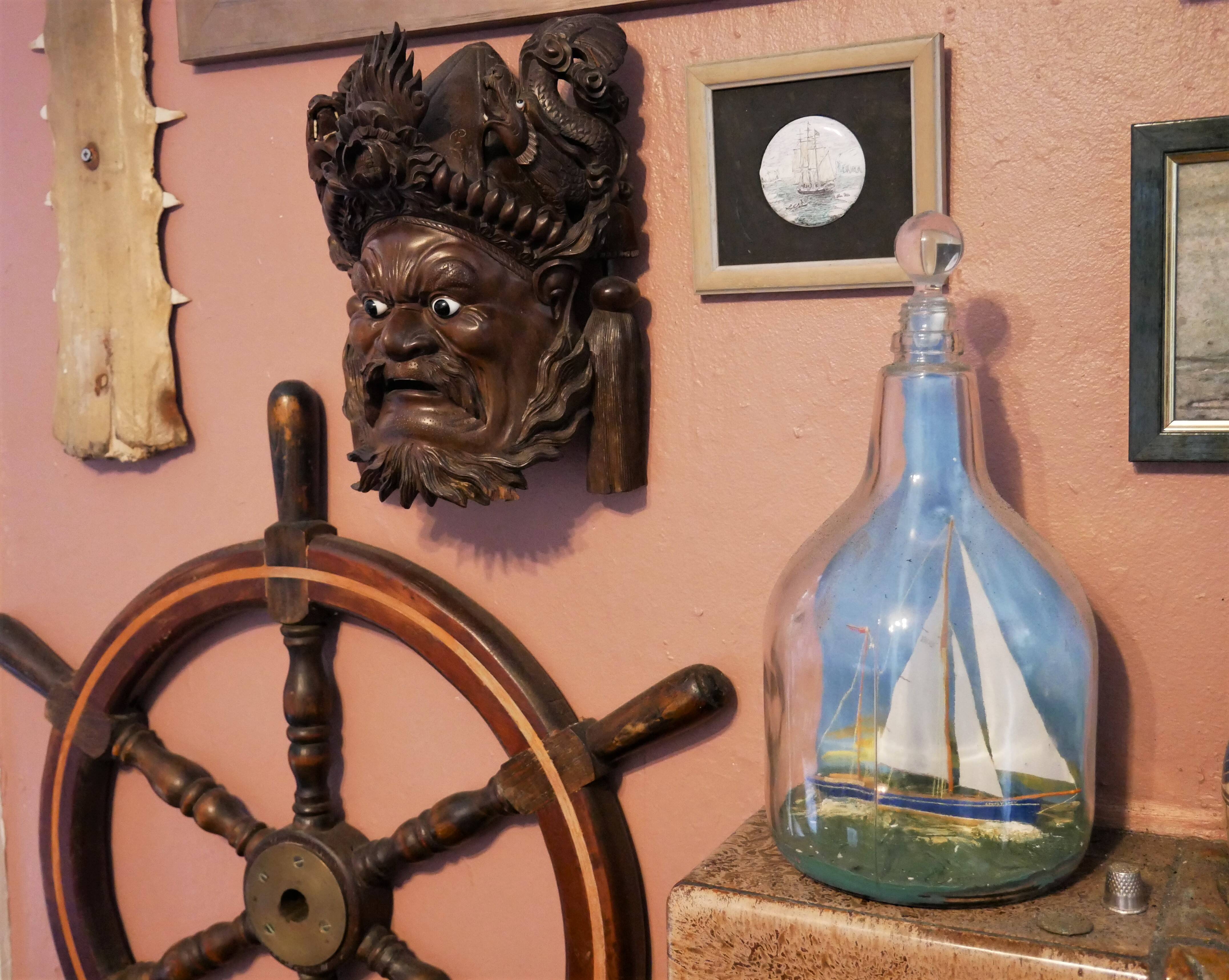 (especially the Muirs' house)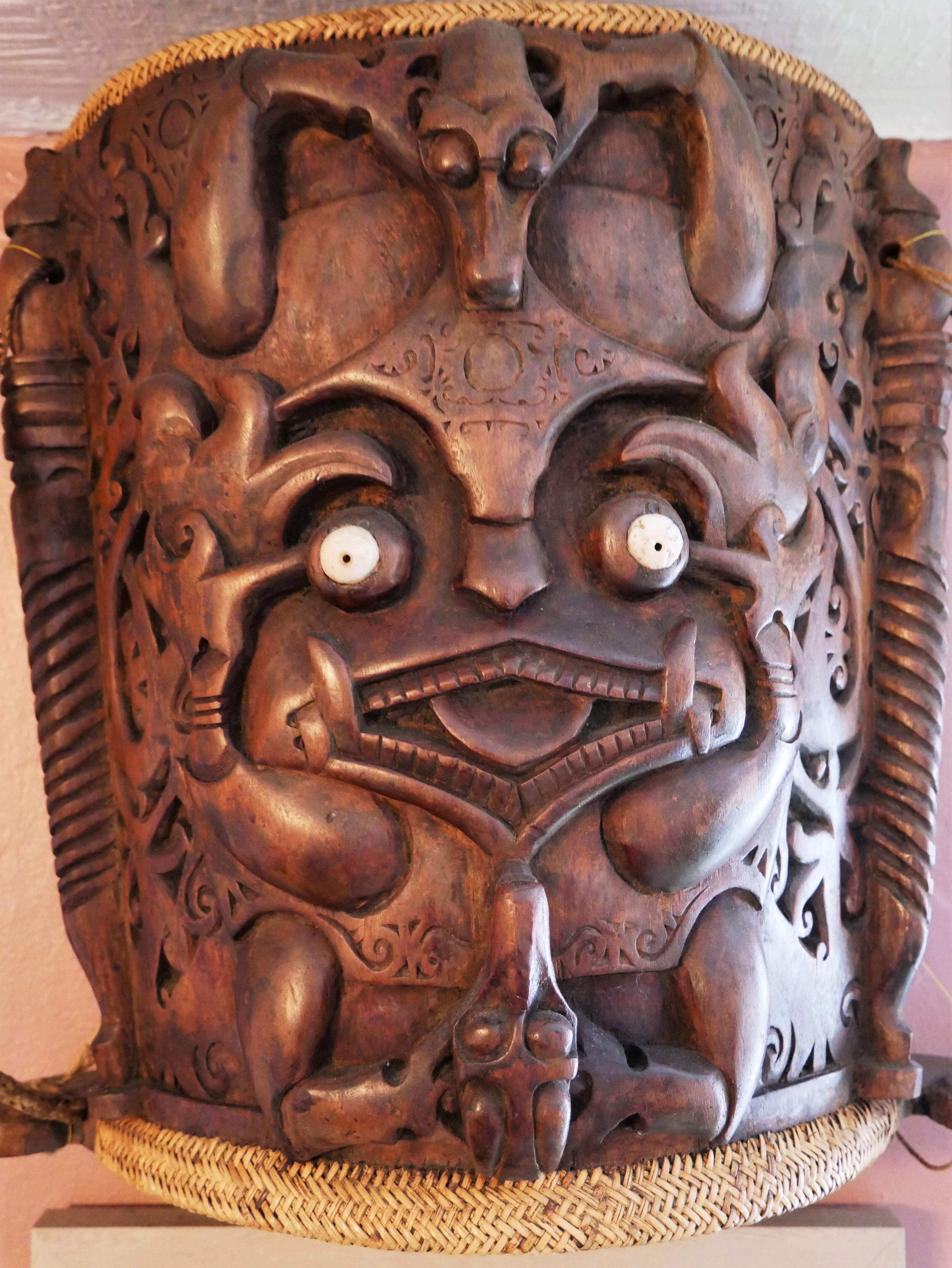 I still buy local - house clearances, and folks bring goodies to the shop. Soon, when all is clear, I will be going to auctions again.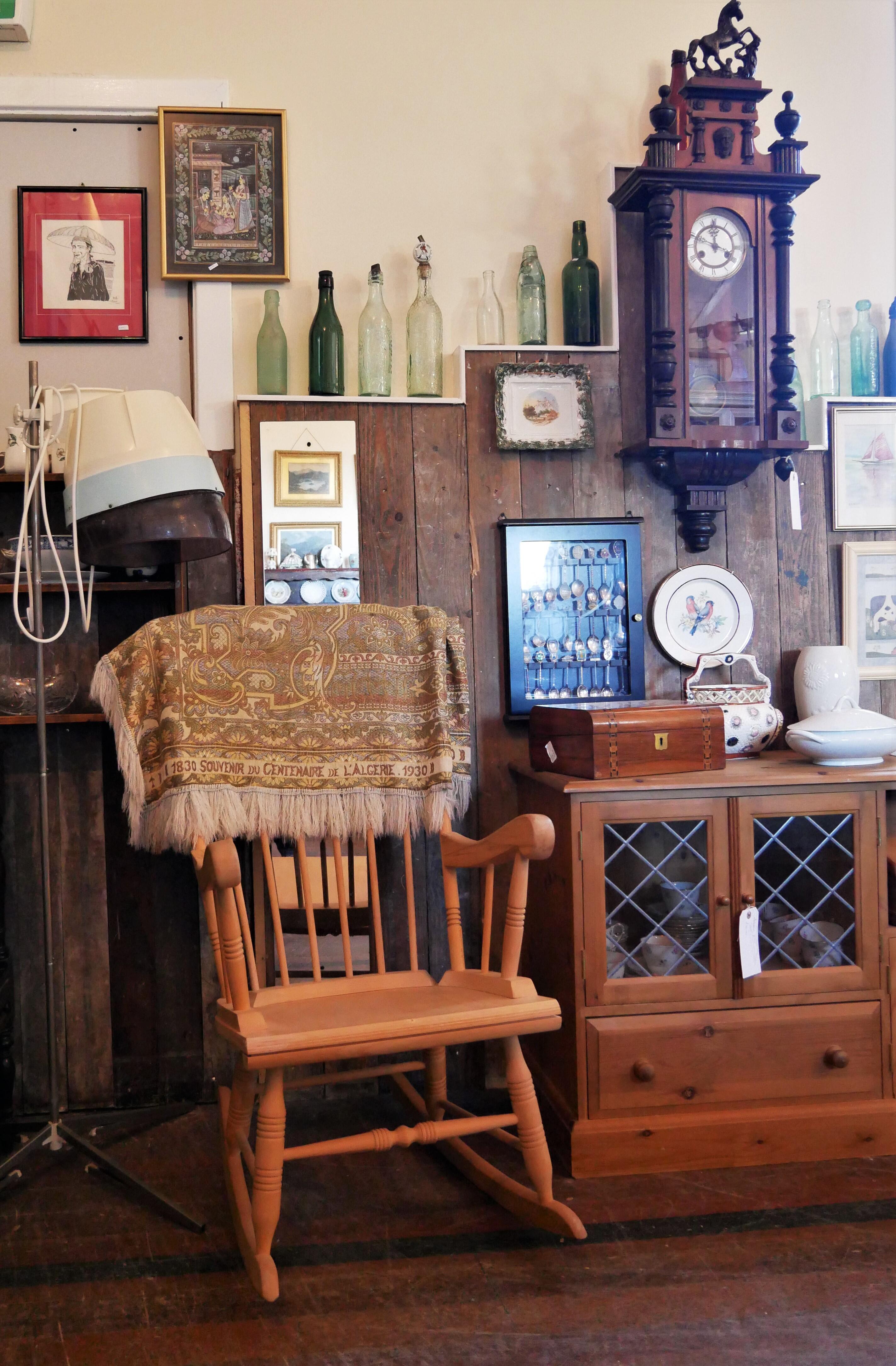 Yes, I've almost given up lots of times and been in some pretty dark places (lost Mash late last year). But I've got some good friends - Orkney is my home, and has been for over 17 years.
Thought of moving, but the Hall is "Orkney Antique Centre". I love it and just want to make it one of "the places to visit in Orkney".

Alec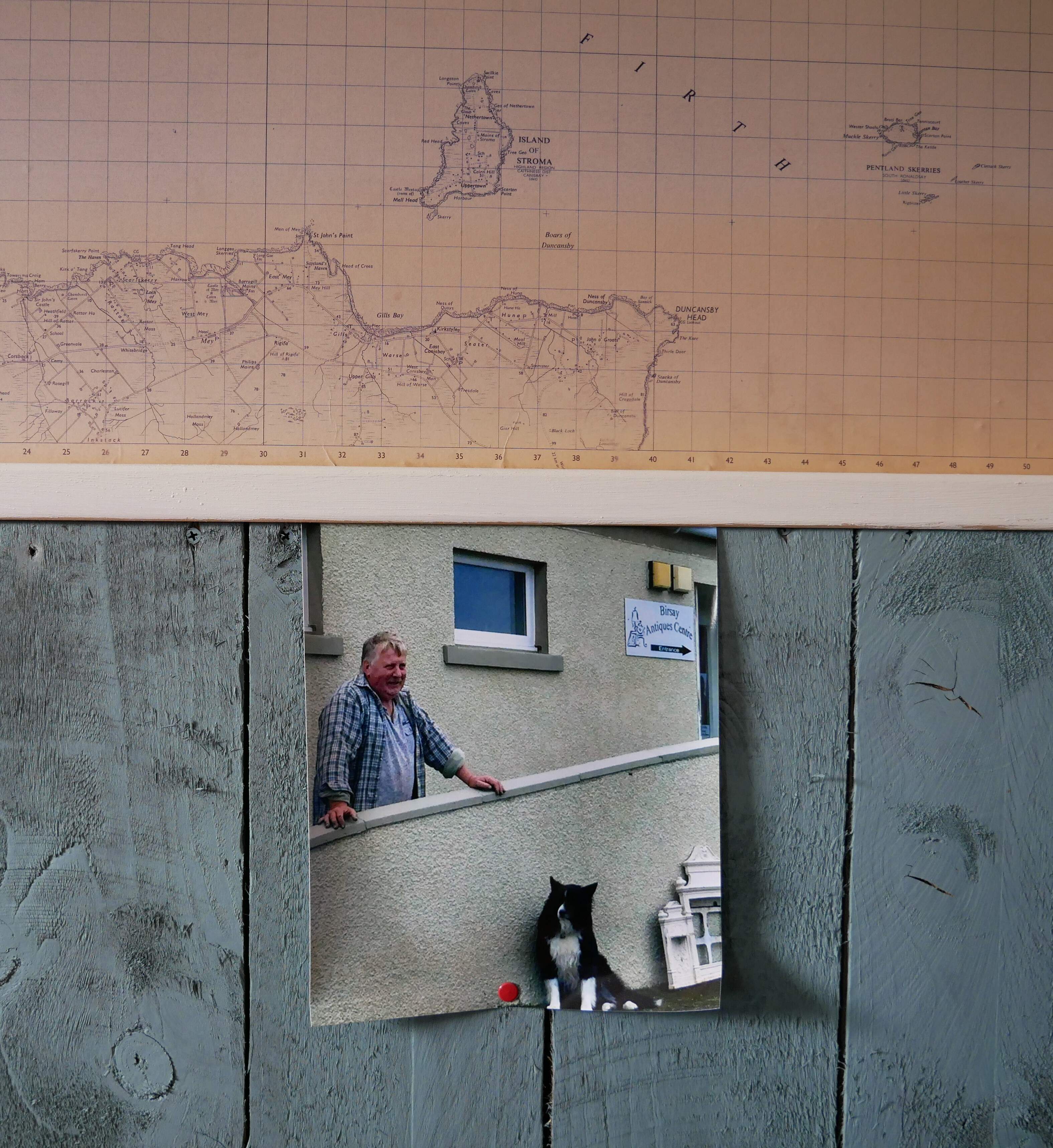 Note from Tom: The Orkney Antique Centre has a fast turn-around of goods and Alec is always keen to acquire more stock.
Not only does he regularly attend auctions in the south (when covid allows), but he also does house clearances, as well as buying pieces that people bring to the shop. He pays fair prices and passes them on at a very reasonable and affordable price.
Alec will also do professional appraisals. If you have things tucked away in sheds or a house that needs to be emptied, give him a call. Better still, call by and see him, and while you're there you can enjoy the many treasures that fill the shop.


~ Contact Alec ~
Email: alecharding123@talktalk.net
Phone: 01856 721332
Mobile: 07985277945

A few more reasons to visit the
Orkney Antique Centre ...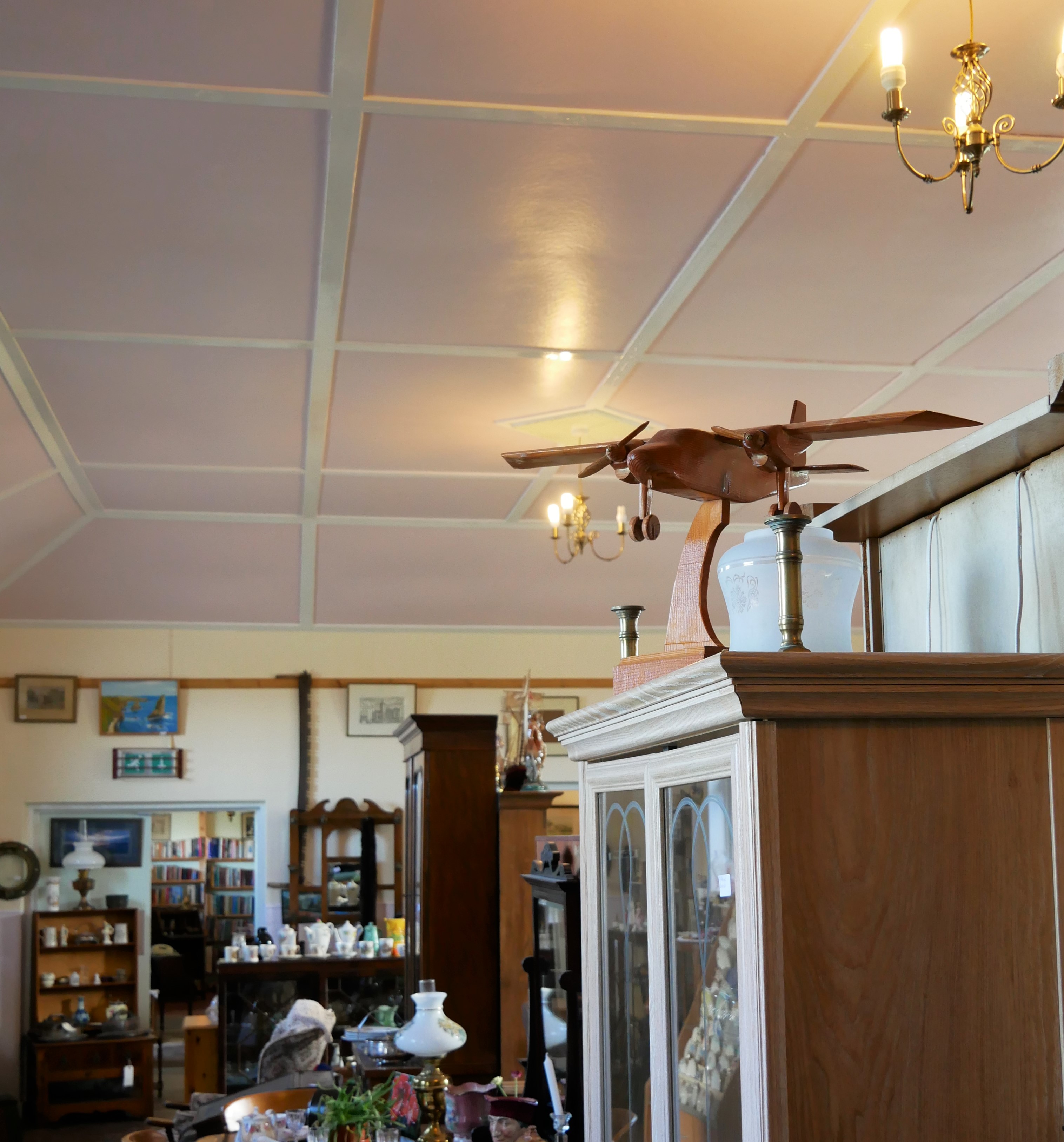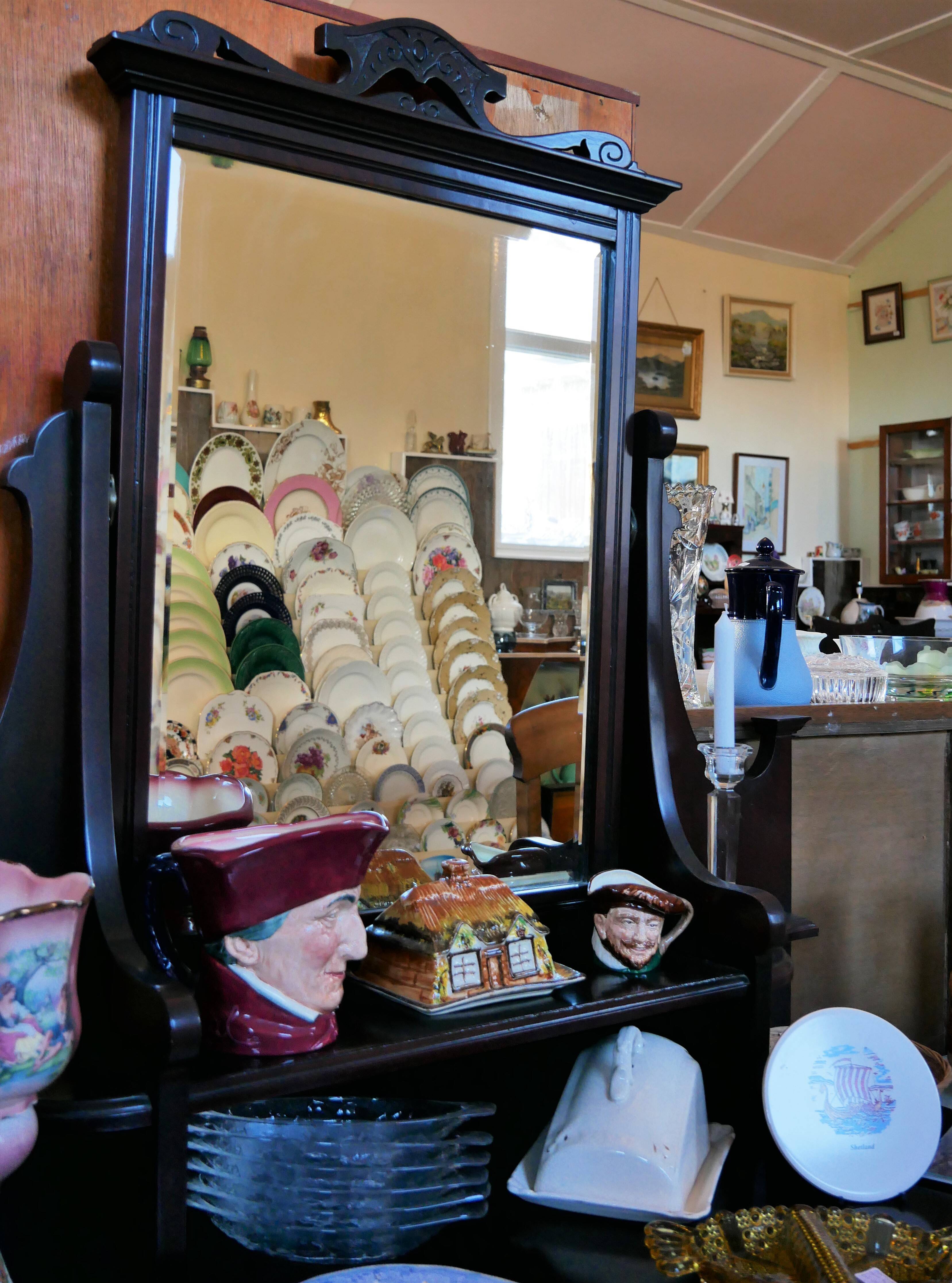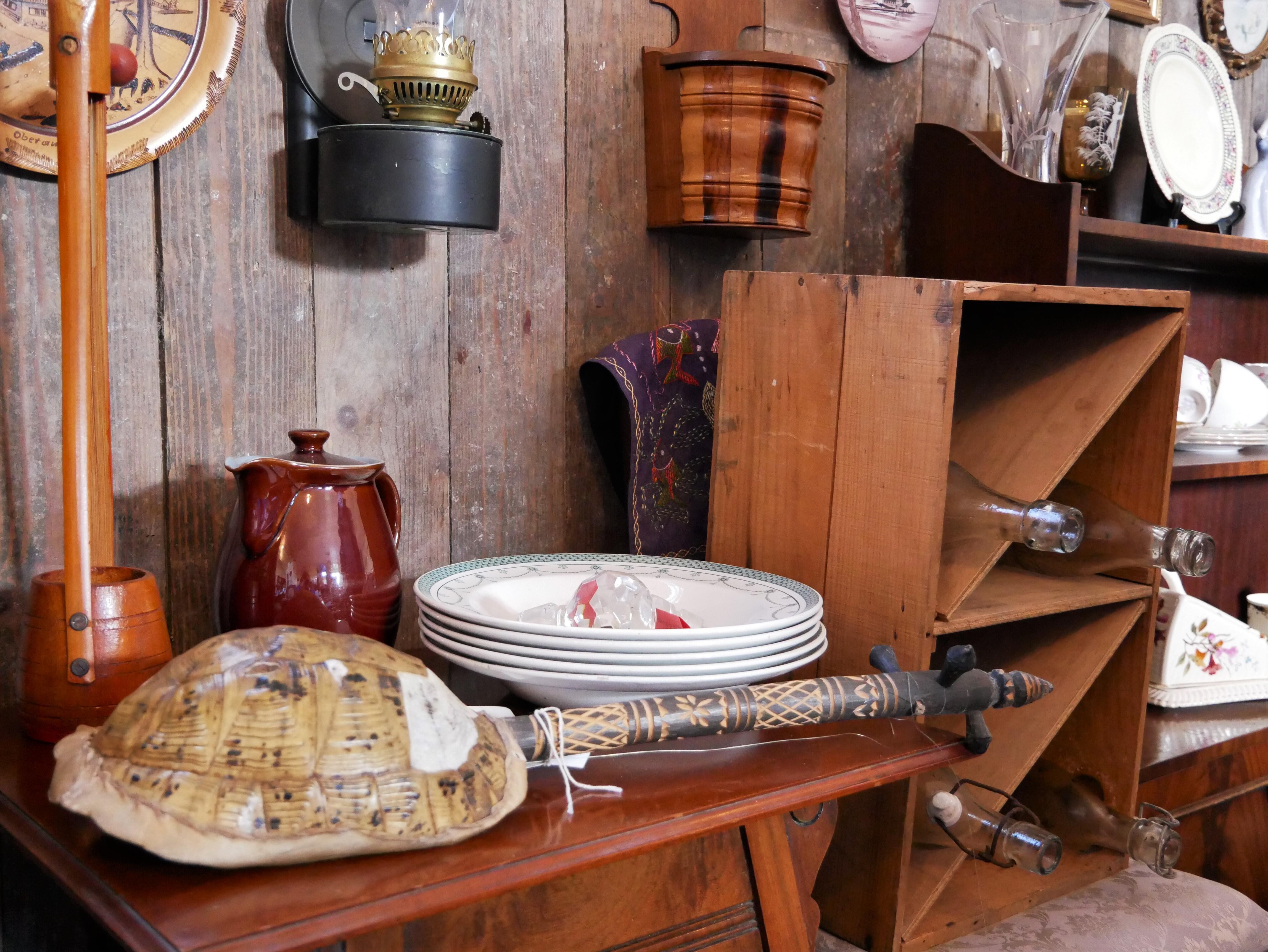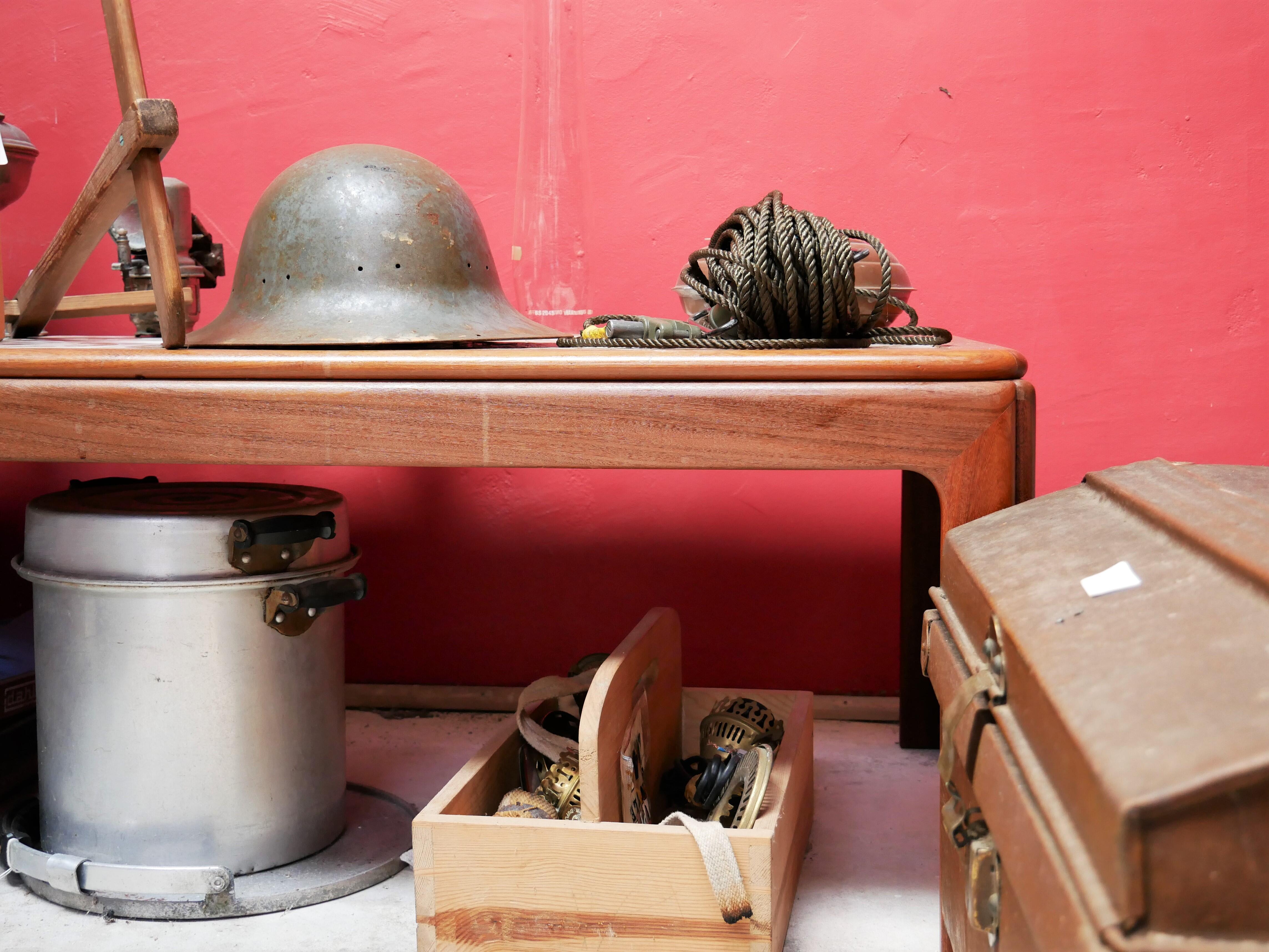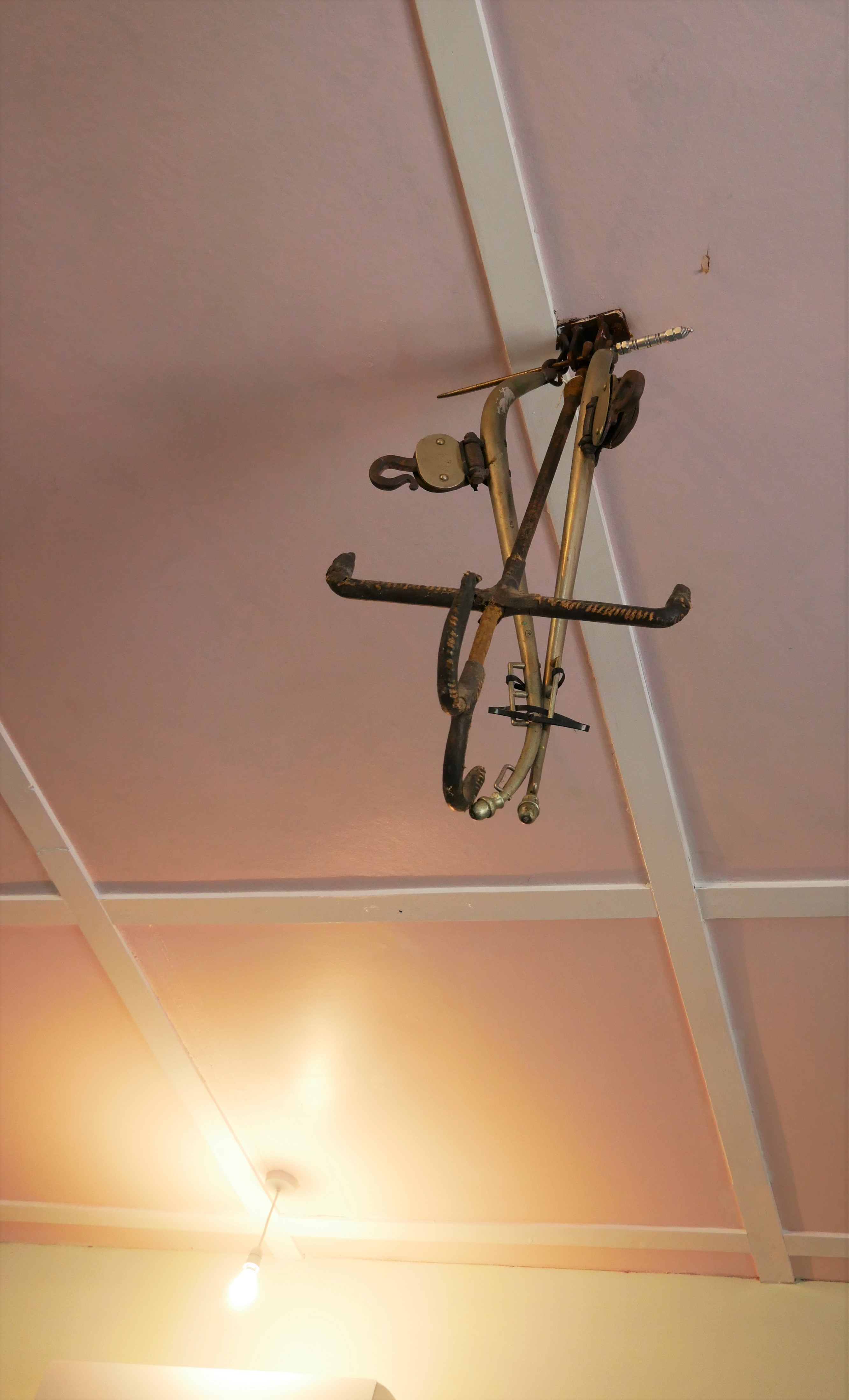 Be sure to look up!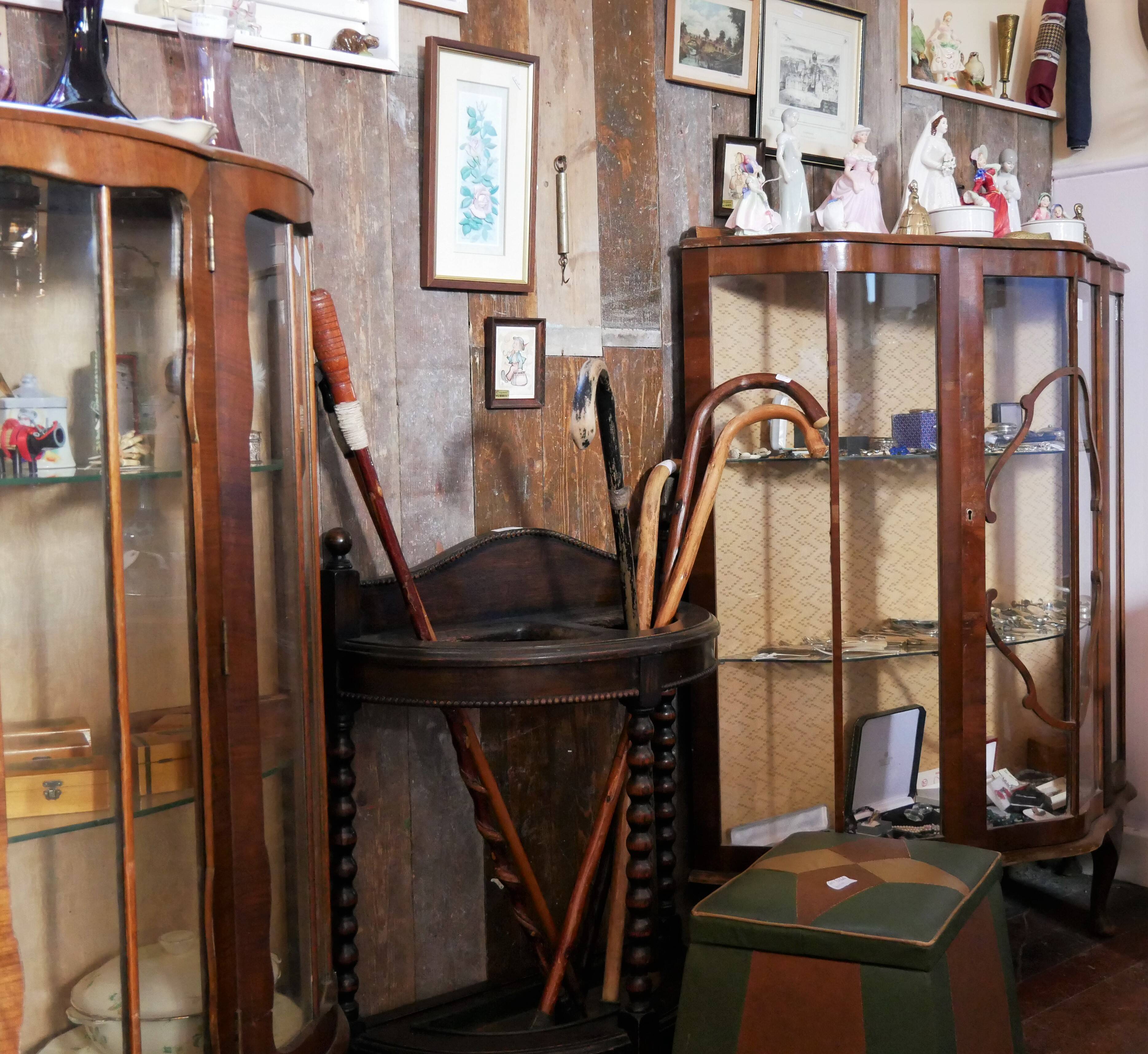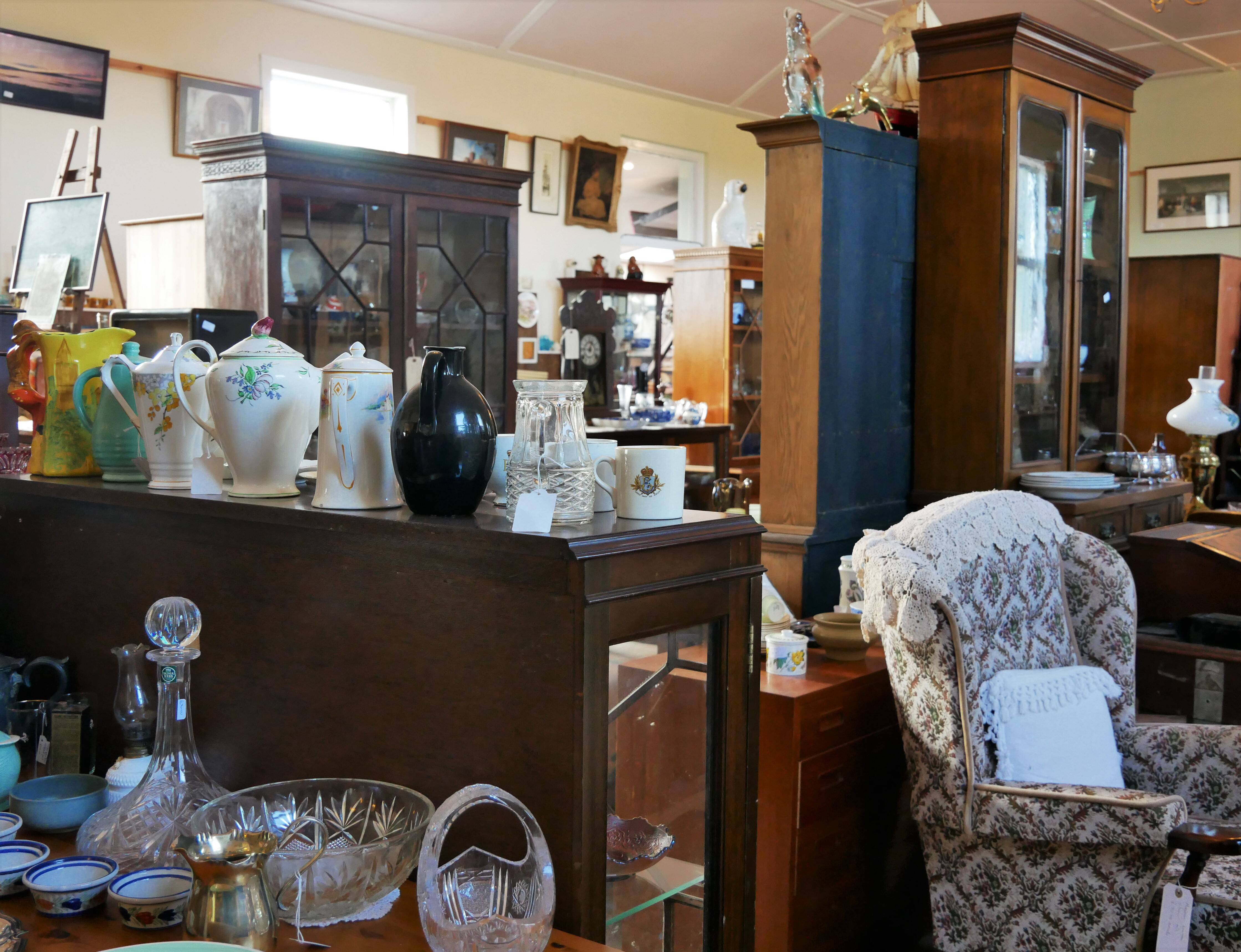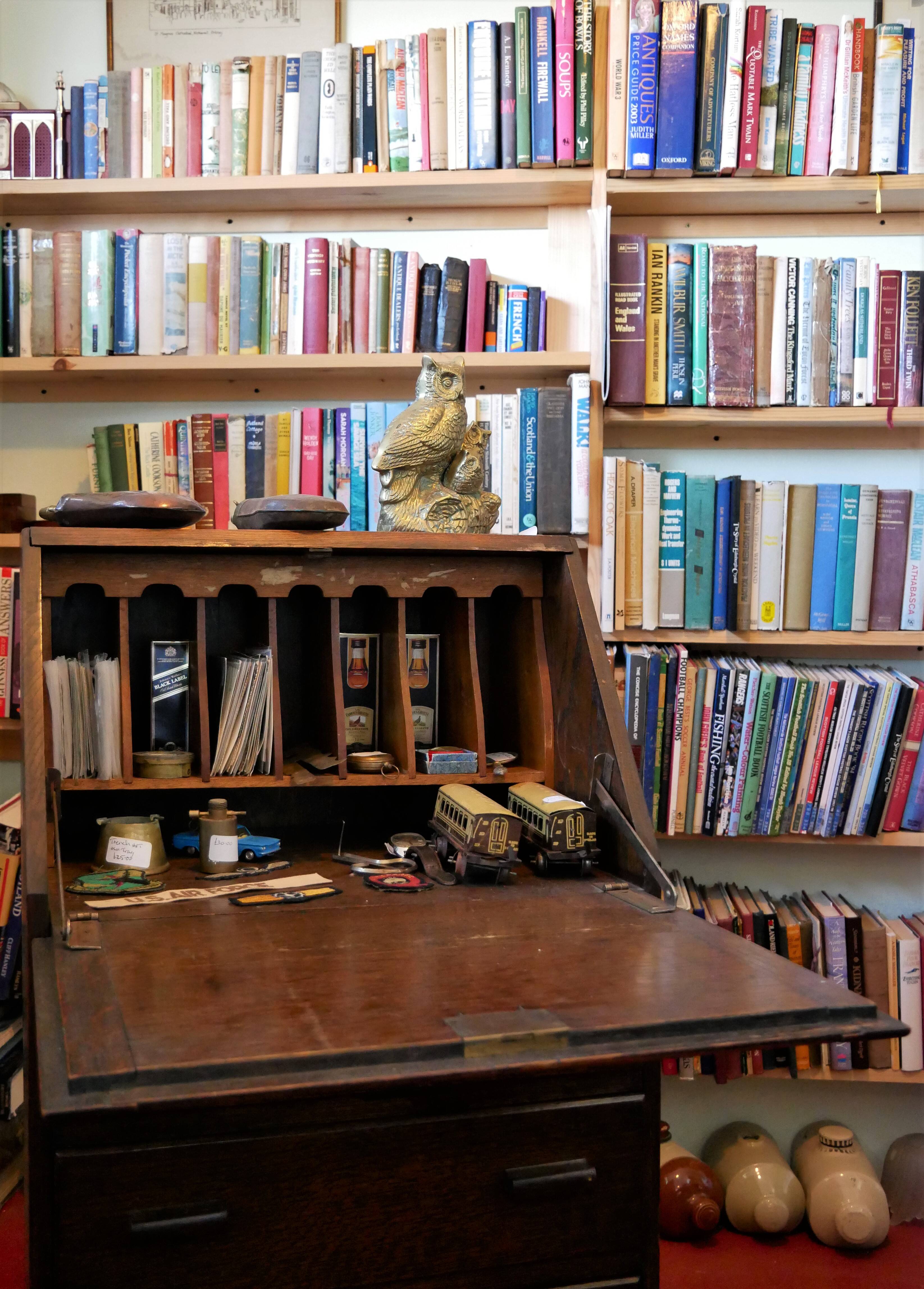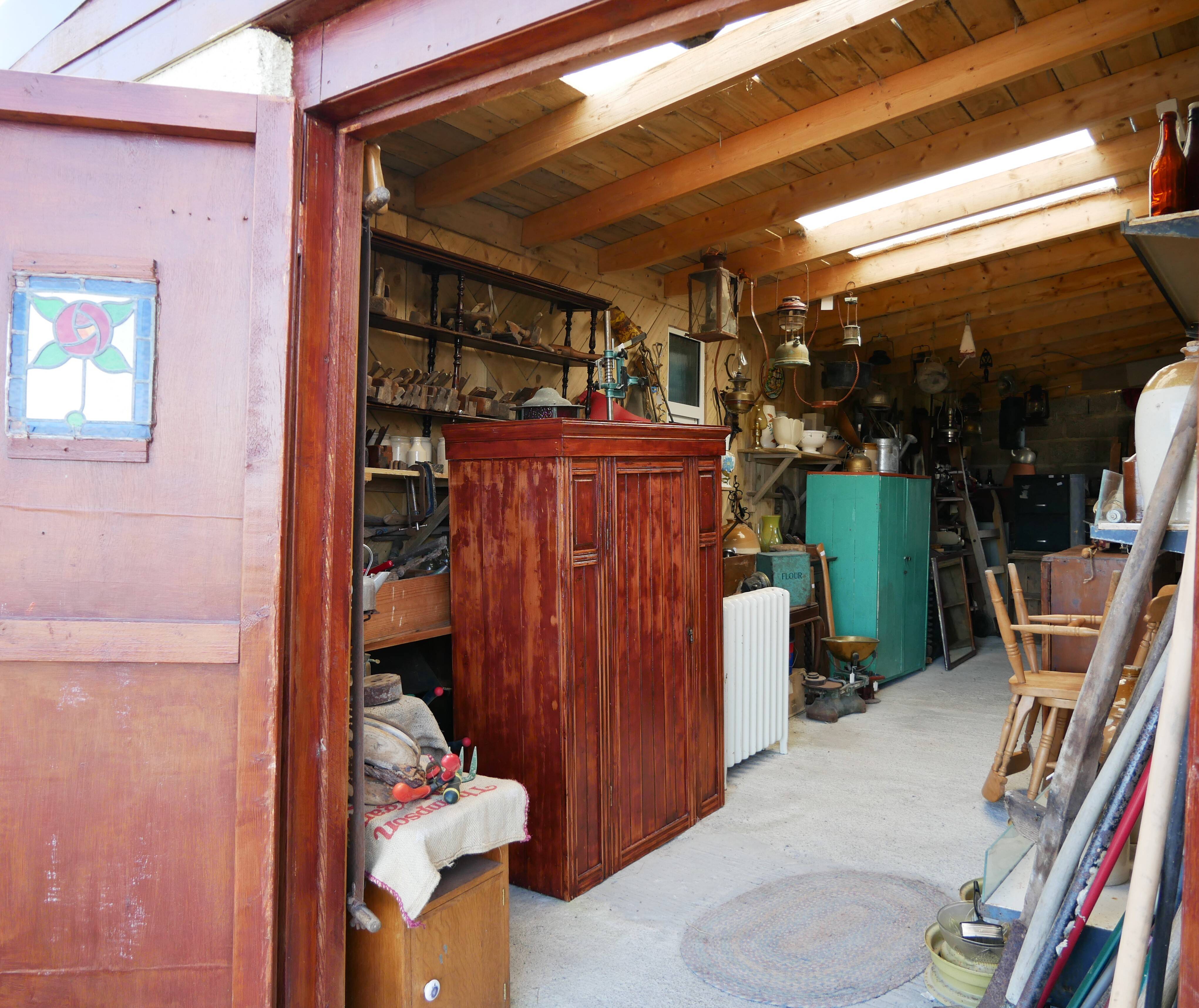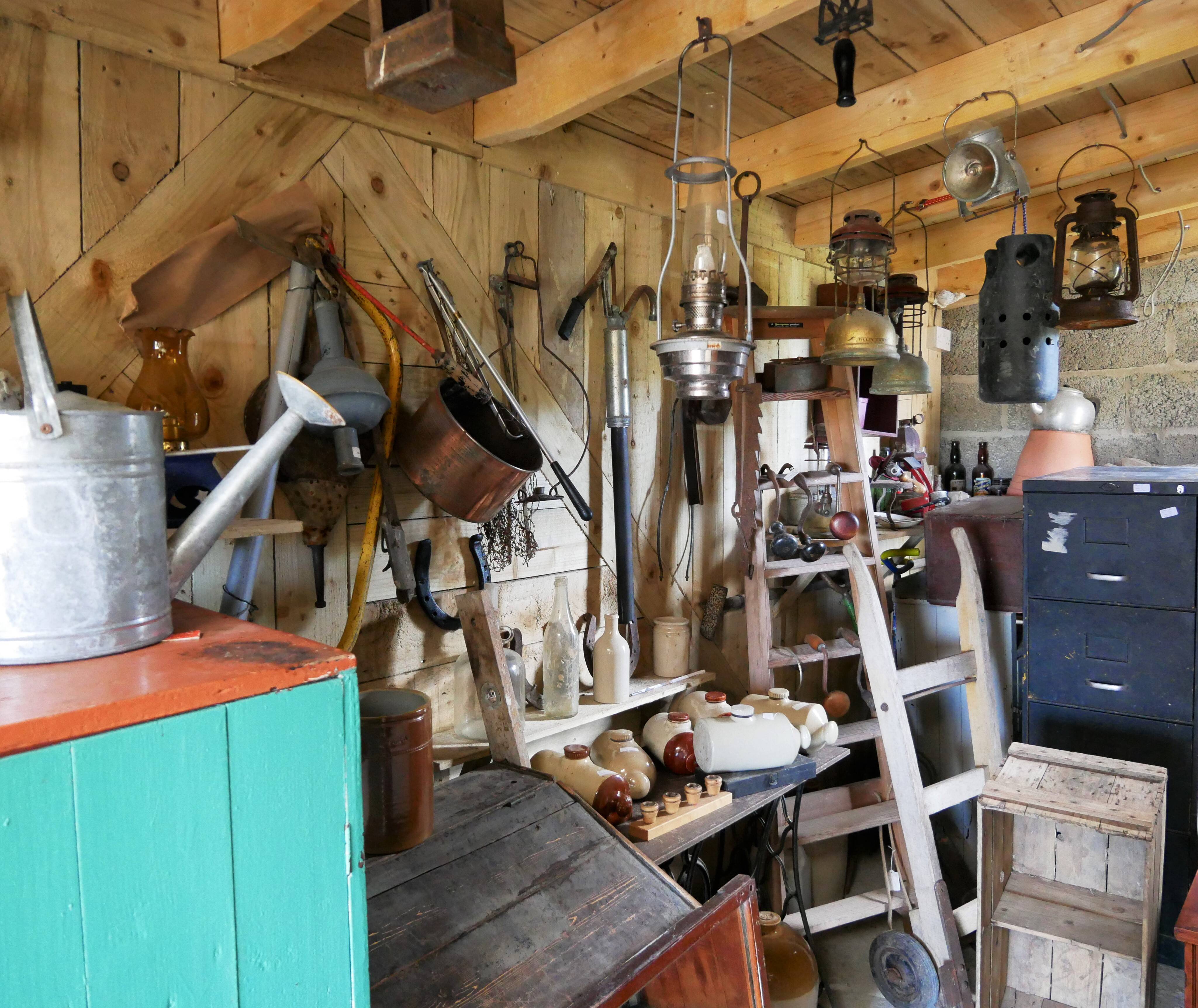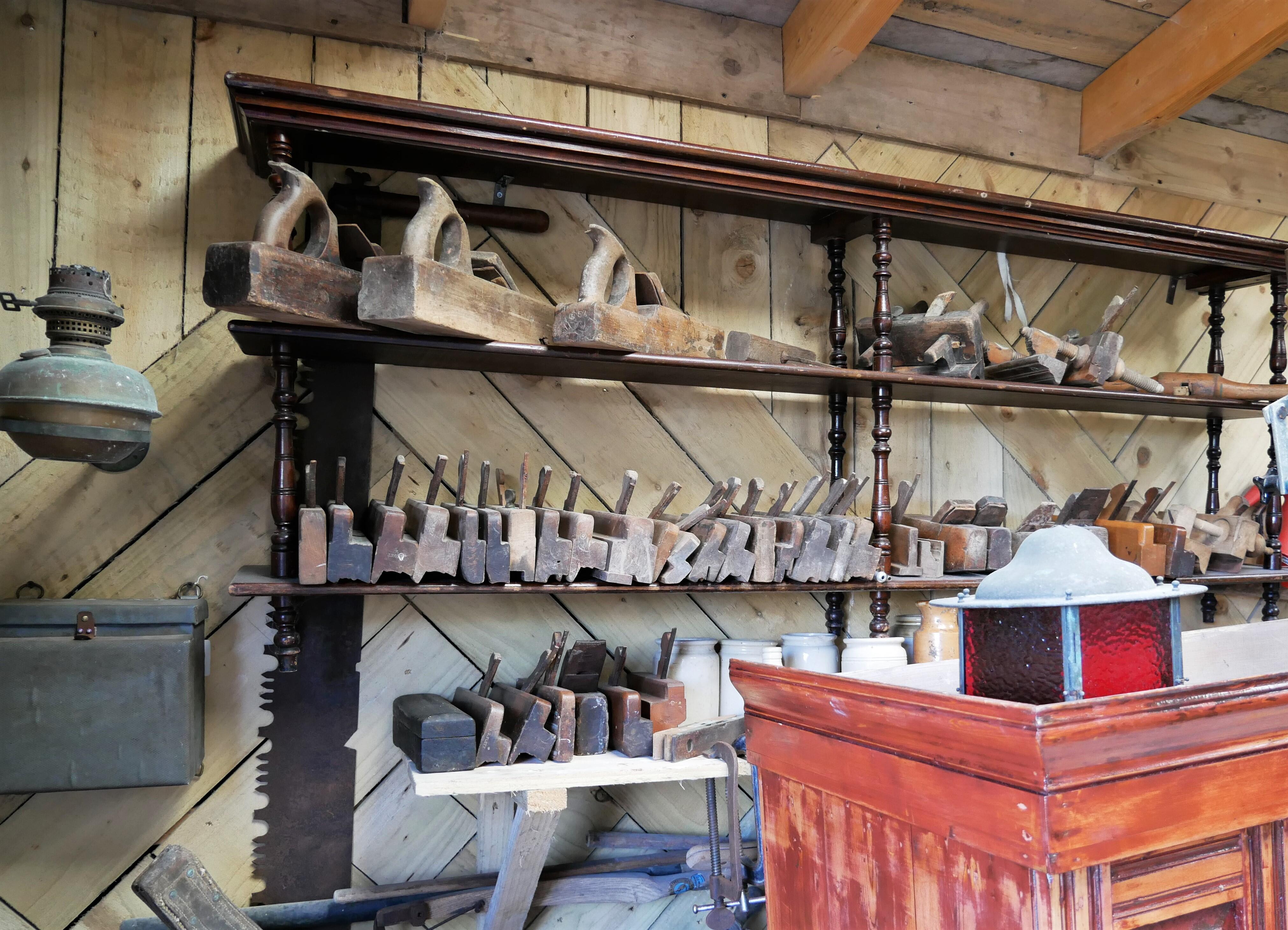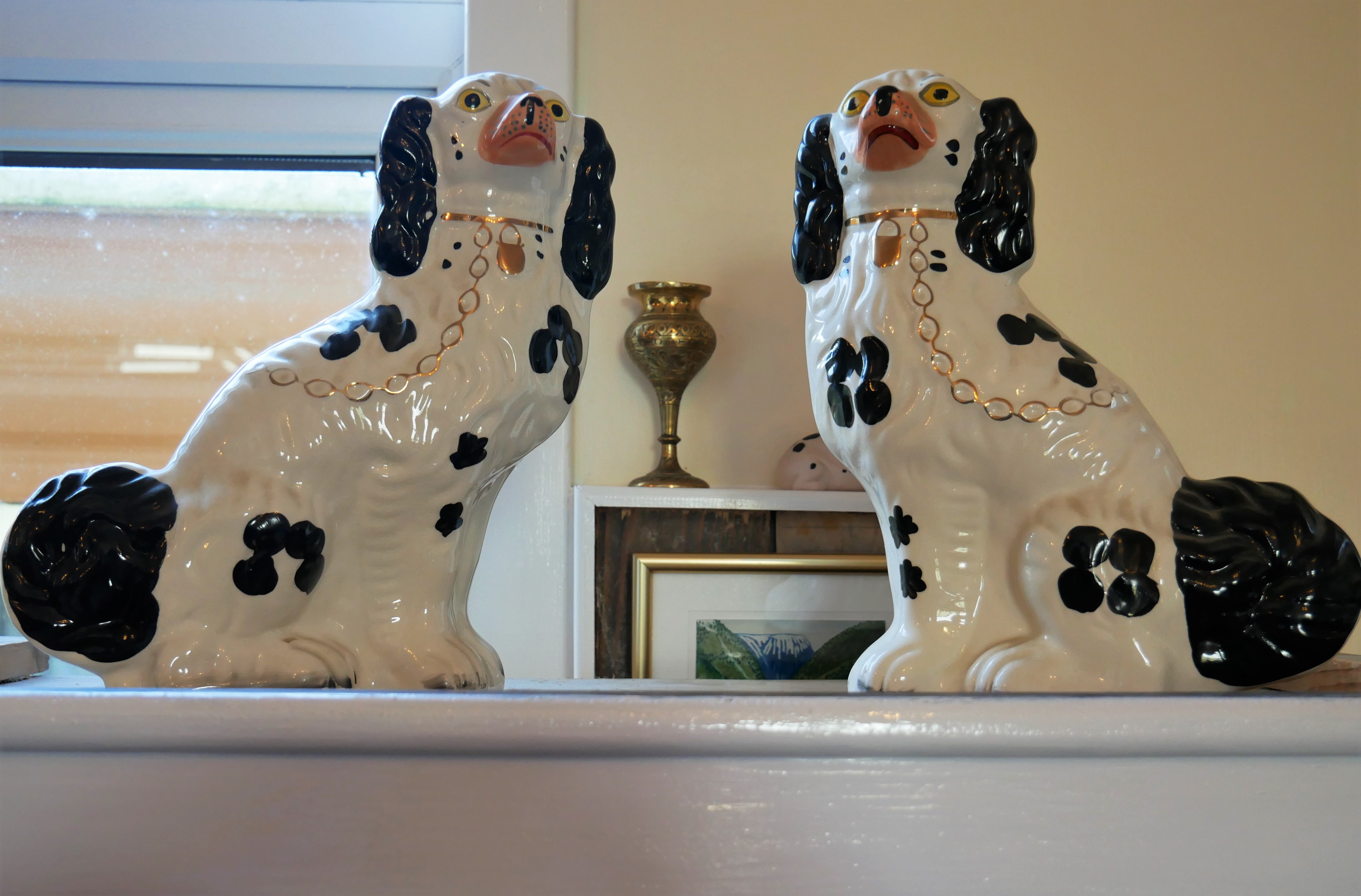 No home is complete without a pair of Wally Dugs.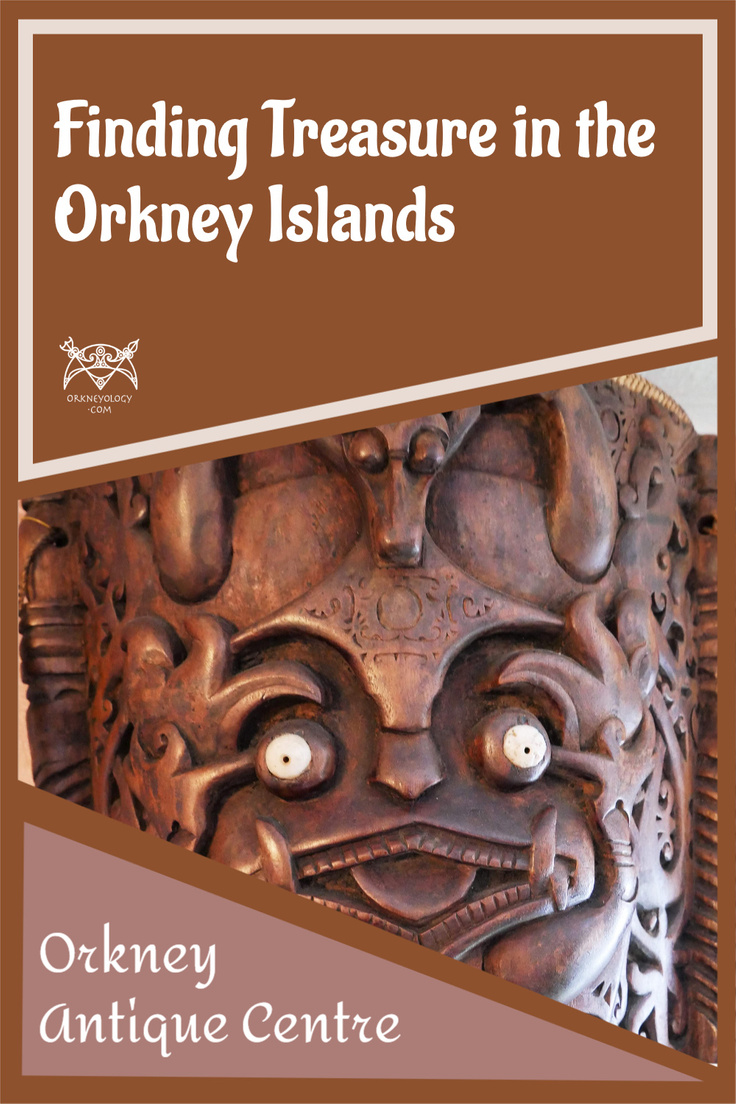 Mermaid image (Rhonda's pages) and storyteller image (Tom's pages), and all other illustrations except where noted are here by the courtesy of our dear friend - Stromness author, artist and historian, Bryce Wilson MBE, who owns all copyrights. Thanks, Bryce!