Visiting Orkney Tips from a
Local Expert


~ Meet Jo Jones ~
Personalised Orkney Tours


Jo at one of her favourite restaurants, the Foveran
We're so thankful to our dear friend, local tour guide Jo Jones, for agreeing to share a few of her Orkney experiences and insider tips.


Orkneyology: Please tell us a bit of your story.

Jo: I have been privileged to live and work in Orkney on and off since 1979, and have been told by native Orcadians that I'm an "Honorary Orcadian".
I met my husband-to-be in the Staff Room of Kirkwall Grammar School in 1982 and we were married in St Magnus Cathedral in 1983.
All the family has a passion for Orkney and we love sharing that love with others.
O: What do you most enjoy about your work as an Orkney tour guide?
Jo: My husband describes me as a sponge, able to absorb random bits of information and regurgitate it at will.
I have always loved history and geography, and guiding allows me to indulge my favourite hobbies!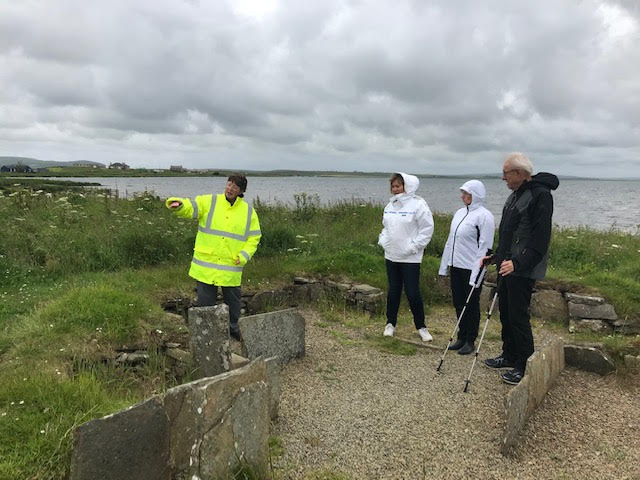 Jo (in high visibility jacket) guiding a group of Norwegians - photo by Erling Opdal
O: What's your favourite time of the year in Orkney?

Jo: I have so many favourite times of year – enjoying a dance after a concert at the Orkney Folk Festival in May, watching archaeologists digging at our amazing sites in the summer, attending the County Show at the culmination of Show Week in August, listening to local folk tales in the Orkney Story Telling Festival, or watching the Aurora Borealis on a clear winter's night.
Orkney has so many delights all year round!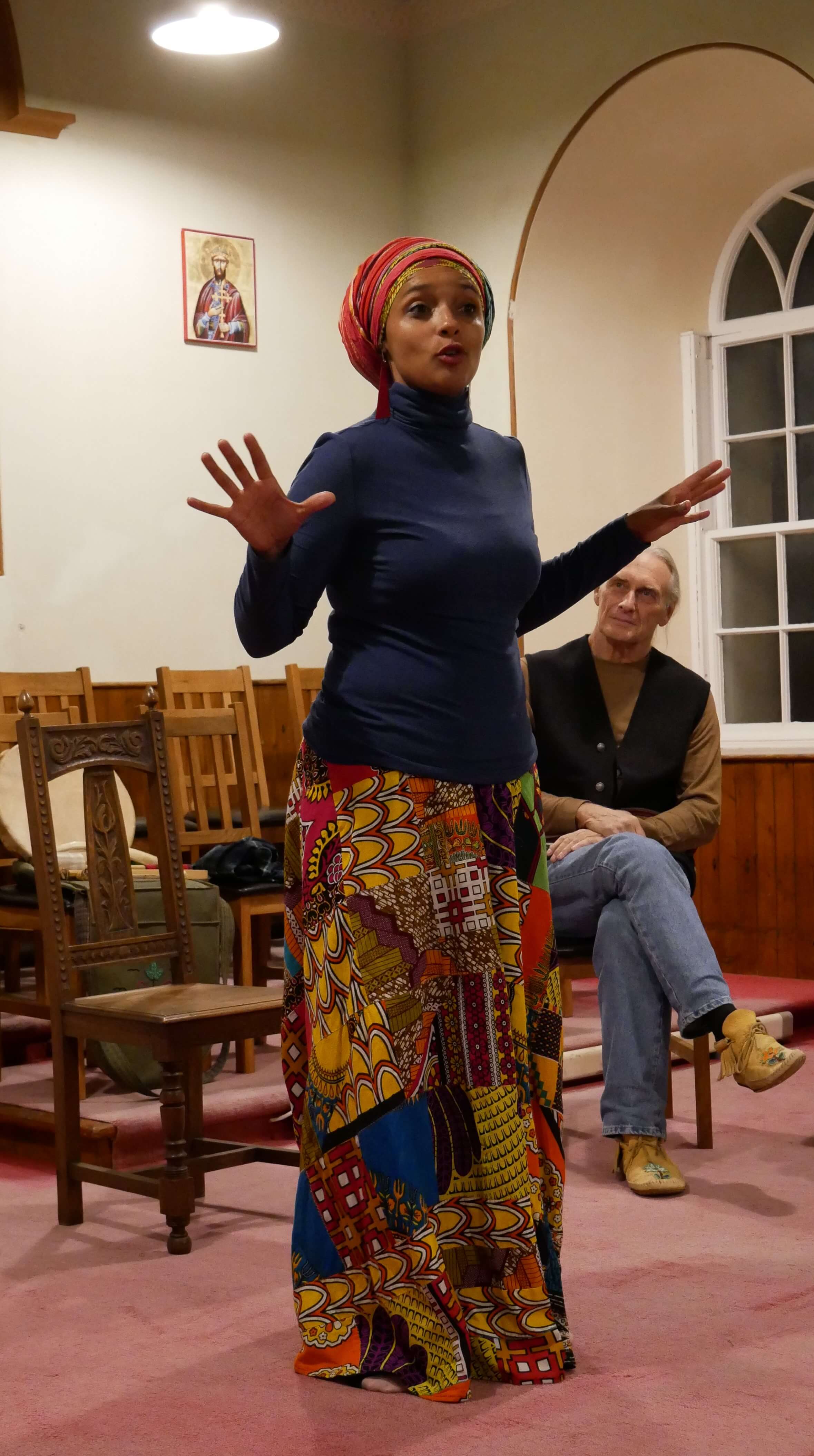 O: Tell us about one of your favourite places in Orkney.

Jo: One of my favourite places on a warm sunny day is the Cra'as Nest Museum, overlooking Rackwick on the west coast of Hoy.
Did you know that the suspender-belt was invented by an Orcadian crofter who lived in this simple homestead?
O: Can you recommend a beautiful Orkney walk?
Jo: My favourite Orkney walk is around the Broch of Gurness, near Evie on the east coast of West Mainland, especially when there are seals and lots of birdlife just below the Pictish ruins.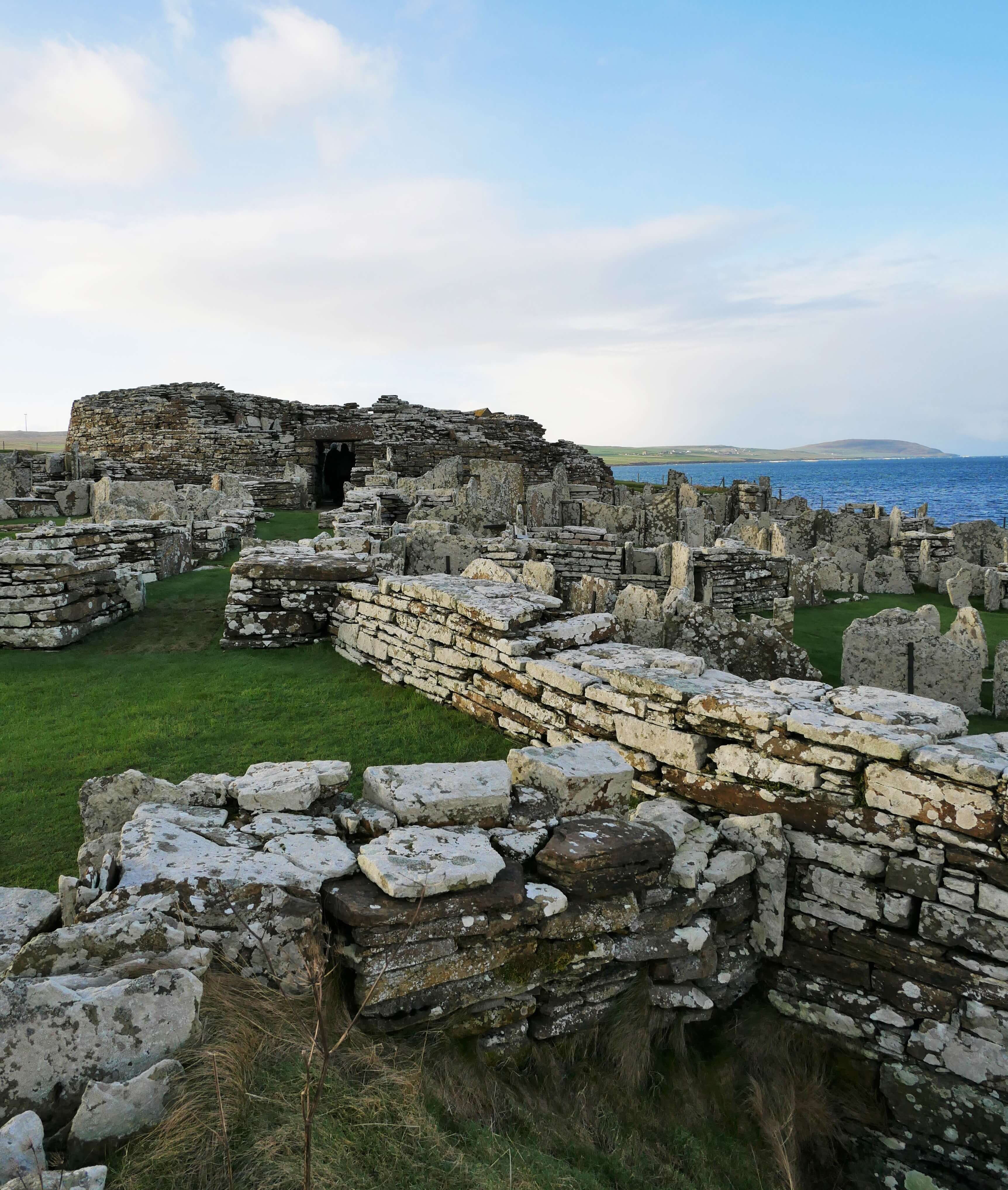 O: Tell us about one of your most interesting guiding experiences.

Jo: Perhaps my most unusual guiding experience was being asked to guide the Domesday Morris Dancers who visited Orkney on tour, staying in Burray, and performed in the courtyard at Skaill House.
I was asked to guide them round Skara Brae and Skaill House which drew lots of glances courtesy of their amazing costumes!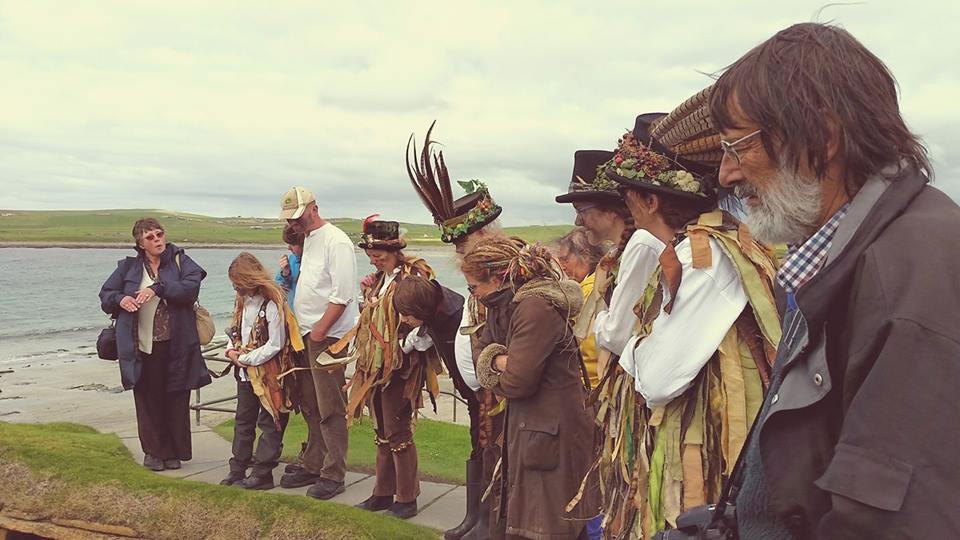 Jo guiding the Domesday Morris Dancers following their performance at Skaill House

O: Do you have any special tips for visitors?
Jo: If you are visiting Orkney in the Summer, we have long hours of daylight.
Conversely, in Winter, the daylight hours are far shorter, and fewer sites are open – but you will encounter fewer folk, and be able to encounter more of the locals!
O: What is your unique area of expertise?

Jo: I specialise in taking visitors to the 'out of the way' places that make Orkney so special – and that the tour buses can't reach!
Personalised Orkney Tours has several recommended routes. I know all the best places for photographs, the best places to stop for tea and the best places to see Orkney's wildlife.
I also schedule stops for you to go off and explore.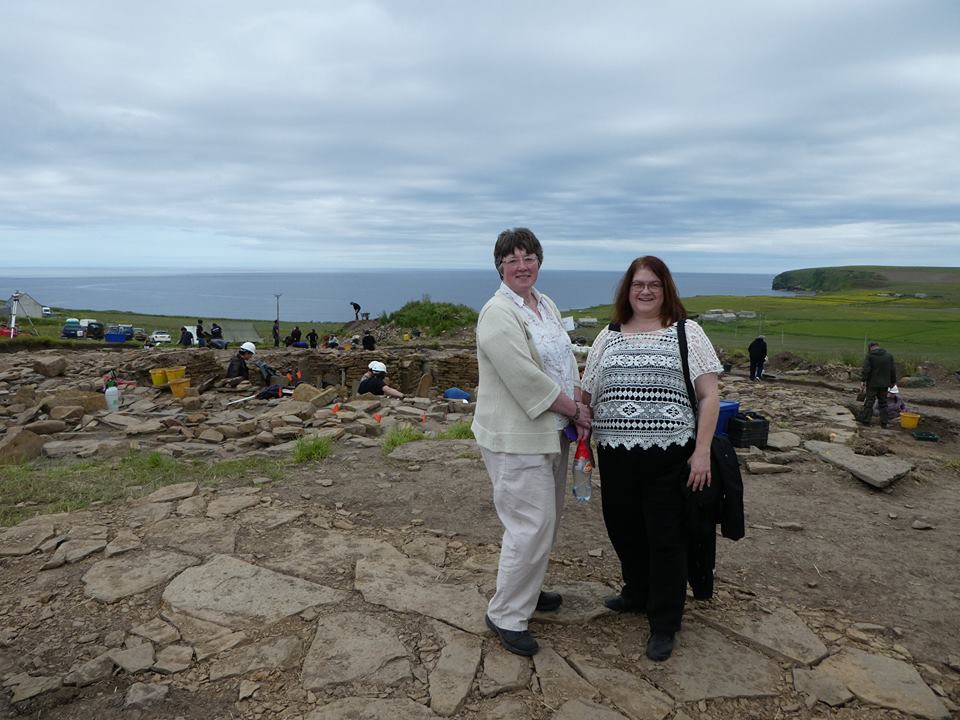 Jo with Lynne Jungman [USA] at the Cairns Dig, South Ronaldsay
If you have already seen Skara Brae, Maeshowe or St Magnus Cathedral then let me show you Orkney's better-kept secrets. I know the places that should be on the Trip Advisor top-ten, but for some reason are not!
Enjoy a tour with Personalised Orkney Tours, and you'll return home with some very precious memories indeed! Whatever your interests, we have something to offer you, whatever your level of activity, throughout the year.
I can either act as a Step-On Guide with you driving your vehicle, or as a Driver Guide in my Toyota Prius.

I look forward to welcoming you to and guiding you around our wonderful homeland.


Jo with her Driver Guiding Vehicle – a Toyota Prius T4 Spirit Hybrid licensed to take up to 4 passengers

Contact Jo Jones
Jo Jones is an accredited STGA (Scottish Tourist Guides Association) Green Badge Guide for Orkney, both qualified and insured to guide in English and French, with World Host accreditation. Trading as Personalised Orkney Tours, Jo is also licensed as a Private Hire Driver by Orkney Islands Council.
For ideas of different types of tours to cater for all interests, Email me: PersonalisedOrkneyTours@googlemail.com
We are based west of Finstown – with the Heart of Neolithic Orkney on our doorstep. Find us here:
https://goo.gl/maps/P9W7bQpqe481z2eC9
Facebook: https://www.facebook.com/TouristGuide.JoJones/
Scottish Tourist Guides Association: https://app.stga.co.uk/guides/josephine-jones
Orkney Tourist Guides Association: https://www.otga.co.uk/jo-jones/4593897645
Orkney.com: https://www.orkney.com/plan/tours/personalised-orkney-tours