Orkney Farming Memories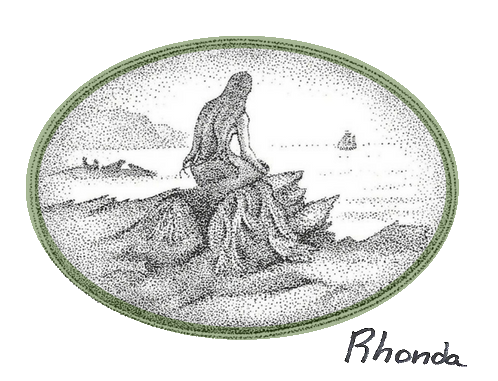 Tom's eldest brother, Jim Muir, was kind enough to write a piece for us reflecting on Orkney farming in his youth.
Thank you, Jim.
Reminiscences About Orkney Farming ~ 1950s and Onward

Written by

Jim Muir of Valdigar
Tankerness, Orkney

When I was a boy, I lived with my parents and family on the farm of Valdigar, Tankerness.
My father, John Muir, cultivated the land and looked after the cattle and sheep. My mother, Lizzie, looked after the business side of things.
Elizabeth and John Muir with their four oldest sons around 1953
We still have a photograph from about 1950 of my father with his two working horses, one male horse and one mare. I have no recollection of the male, but the mare called Jean was later joined by another mare called Ruby.
They did all the ploughing and harrowing in spring, and hay work and harvest later.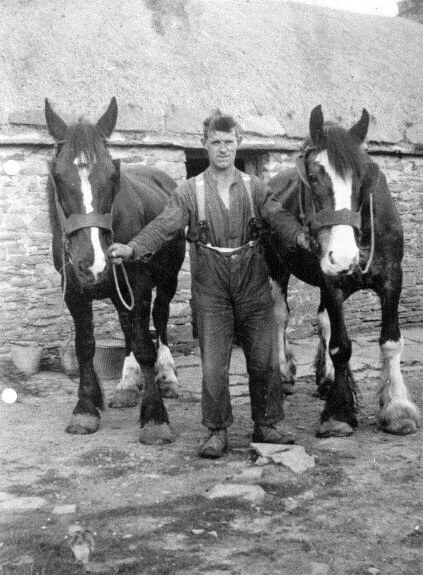 Jim's father, John Muir of Valdigar
I have few memories of working horses because although I am the oldest of the family, I was at primary school then, and my mother, being understandably aware of danger, would not let us kids anywhere near horses.
I remember when Jean died, somewhere around 1955. She was buried in the top corner of one of our fields. So we were down to one working horse.
When Ruby died in the late 1950s my parents decided that, as tractors were getting increasingly common in Orkney, they would buy a tractor. Good working horses were getting more difficult to find, which was also a factor.
Photo courtesy of the Orkney Library & Archive, Tom Kent collection
The first tractor to arrive at Valdigar was a Ferguson Brown, which even in those days, I looked on as being a very uncommon make of tractor, mainly because I had never heard of it!
My father used it for a few years, which was a notable effort because I don't think he had driven a tractor before.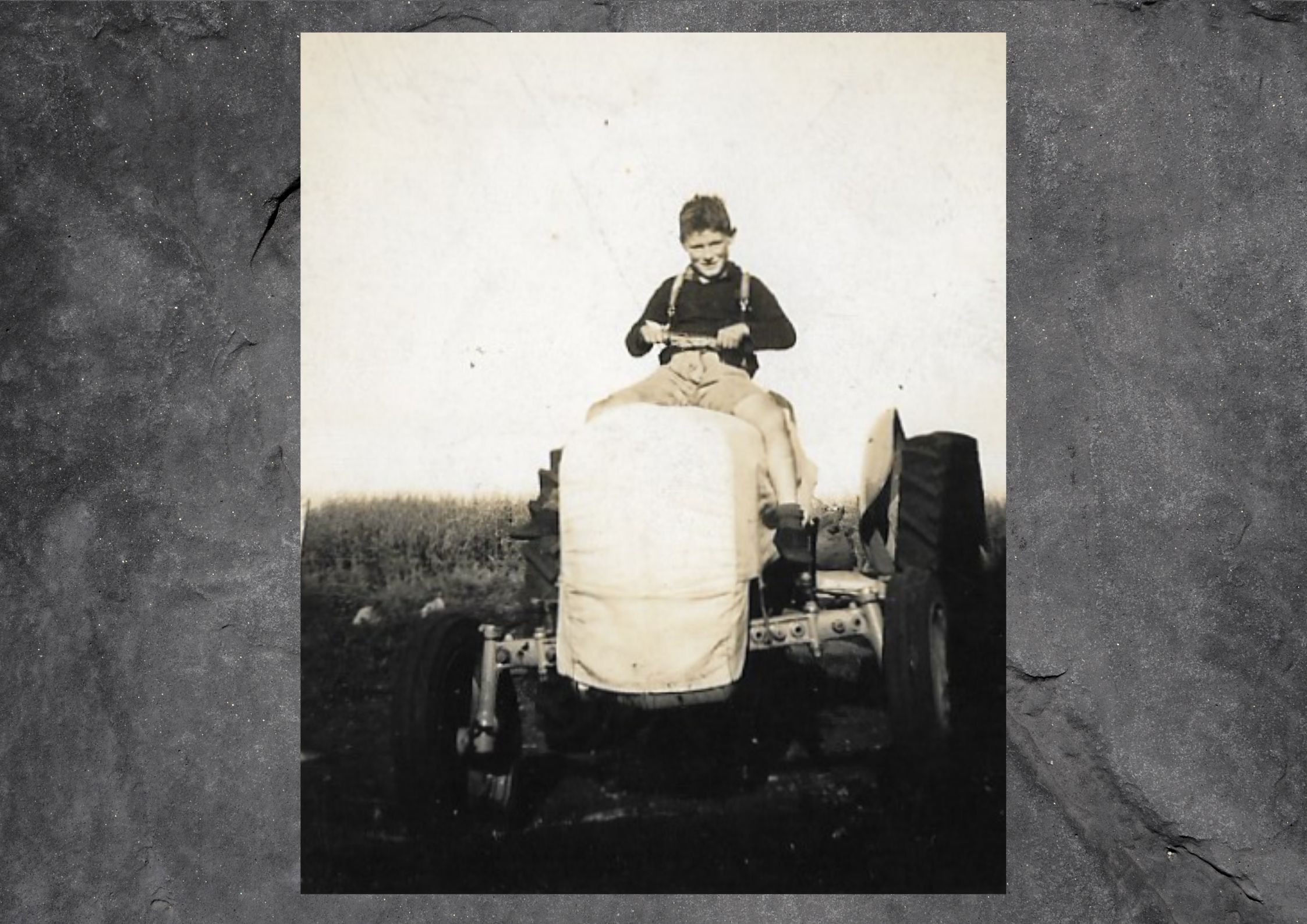 Cecil Muir on the farm tractor around 1960
I can't remember if we had any more tractors between the Ferguson Brown and the time in the 1960s when we bought our first Ferguson TE 20, known in more recent times as "the peedie grey Fergie." This was the first tractor I drove after leaving school.
I must admit that every time I see a grey Ferguson at a vintage rally or motor show, I still feel a bit nostalgic.
As the years went past, I drove a variety of different tractors. At Ellenfield, I drove Jim Cursiter's blue Ford, and at Woodside, Arne Flett's International.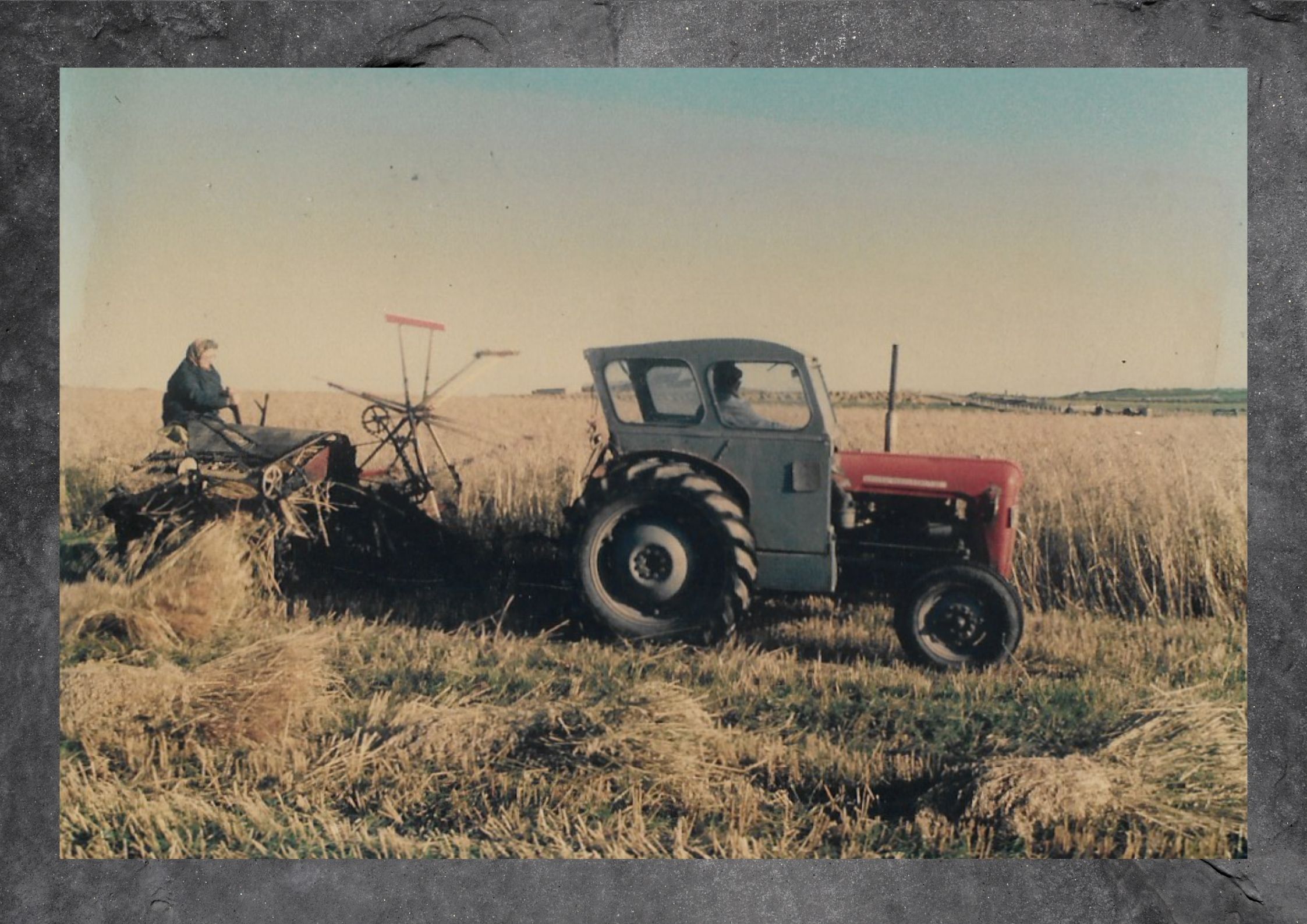 A more recent tractor circa 1990s on the island of Westray, making oats into sheaves
The worst thing that happened at Valdigar was in December 1960, just after I left school. Foot and mouth disease had arrived in Orkney a few weeks earlier.
Valdigar was the last farm to go down with this terrible disease. We lost 19 cattle and 4 sheep. The byres were disinfected to kill any infection.
Father received government compensation to replace the stock. When I took over the farm in 1981, the breeding cattle numbers had increased from 6 to 14.
"Types of farm crops have changed over the years."
When I was a boy, we worked loose hay, which were built into stacks, and oats, which were cut by a binder and turned into sheaves, built later into stacks to be used for winter feeding.
Photo courtesy of the Orkney Library & Archive, Tom Kent collection
More recently, the hay crop was turned into oblong bales and, in the 1960s and later, big, round bales.
Cereal crops were changed from oats to barley, cut by combine harvesters, which threshed the grain. Later, the grain was collected and carted back to the farm. The straw was left until it was dry enough and turned into big, round bales to be used in the winter, either for bedding or feeding.
"Over the decades, and as the fields got bigger, the tractors have increased in size to the point where you almost need mountaineering equipment to climb into the driver's seat!"
Another big change in farming recently has been environmental schemes to hold back the decline in the natural world, especially the serious drop in the numbers of native birds.
This might not be to everybody's taste, but I have been very pleased to take part in those schemes. I realise it is a balancing act between saving native species for future generations and producing food to feed the people.
I hope this balance works, and everything turns out for the best.
Jim Muir

Peedie Jim Muir, aged 2 or 3

The following article, written by Tom and Jim's mother in 1997, complements Jim's piece.

Originally printed anonymously in The Centenary of the Royal Scottish Agricultural Benevolent Institution, 1897 – 1997.
The Horror of Foot and Mouth Disease in Orkney

Written by

Elizabeth Muir, Valdigar
The Muir family around 1969: Cecil, John, Jim, Tom (in front) Davey, Lizzie, Elizabeth, John
In autumn 1960 foot and mouth disease in animals found its way to our islands. It had never reached us before, which meant everybody was afraid of it and had no idea what to look out for.
All ideas were listened to as symptoms were discussed. The disease was darting from one parish to another so fast we surmised that all farms in the end would be wiped out.
The school attendant at the school our family attended got it at his farm. The teacher advised pupils whose parents were in farming to keep their children at home until the all clear was given.
We kept our children at home, we stayed at home, all grocery vans, mail vans, all outside transport and visitors were advised to stay away. Nothing had been coming in or going out for two weeks.
The Muir family circa 1957
On 6th December 1960 we went out to do the morning feeding of cattle and sheep to discover one breeding cow was unhappy at moving over but was eating normally and it seemed she had perhaps slipped and twisted her ankle.
We went inside to have our own breakfast before cleaning the byre.
That cow seemed more lame by dinner-time. We decided to call in the vet.
It was a ministry vet who arrived. He looked in her mouth and scraped on her tongue to reveal a small bit of skin lifting. He then lifted up the lame leg and scraped between the cloves which also showed signs of tender skin. He left it for a short time then checked again when he was able to confirm another case of foot and mouth.
"He set the wheels in motion and by 5pm that night the digger had dug a massive grave near our house."
The children being so young they did not understand what was going on.
We decided to pull the curtains and turn up the TV loud to muffle the sound of shooting and we would leave the vets to carry on with the disposing and we would stay inside.
Soon after we made our plans a knock came to the door, a vet asking if my husband would help them and lead out the animals to the place of slaughter as they knew him and would follow him better.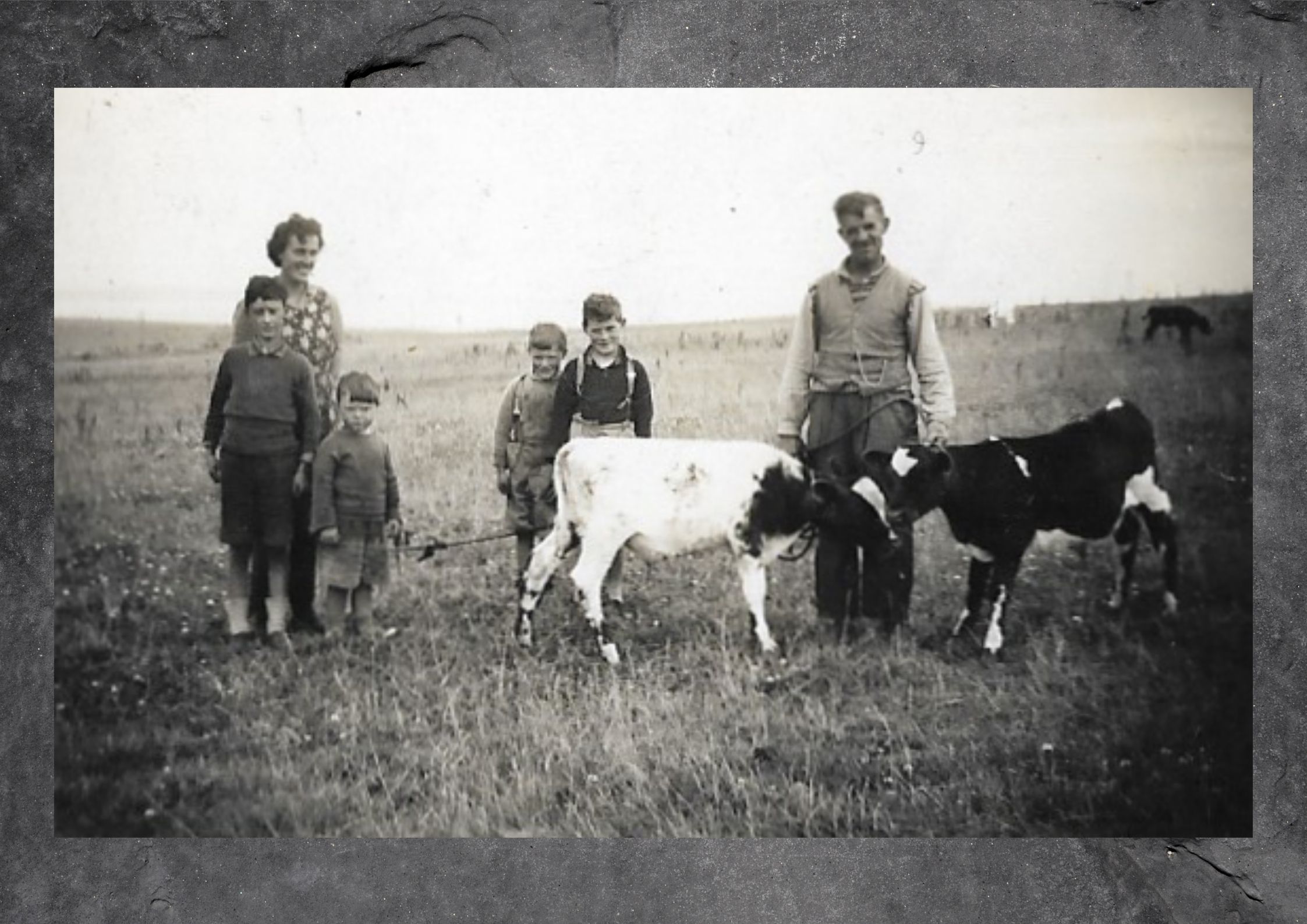 The Muir family with calves, late 1950s
"He was very reluctant to do it but gave in, but it left him very upset and unable to sleep for quite a while."
I hoped I would be spared the agony of seeing our stock wiped out but that was not to be.
The Department of Agriculture office always phoned up and asked me to go and get a ministry vet in to speak to them. It was really a nightmare having to go to the graveside where the digger was pulling cattle into the grave and others were being shot on site. I had to go on that errand quite a few times and call the vet to the phone!
Instead of my husband and myself keeping clear of the ordeal, we had to be very much involved which was most distressing.
The two weeks which followed were taken up by a team of men employed to clean out and disinfect the outbuildings, our work clothes etc, as well as burning all contact with the animals such as ropes, feeding stuffs, wood or anything involved.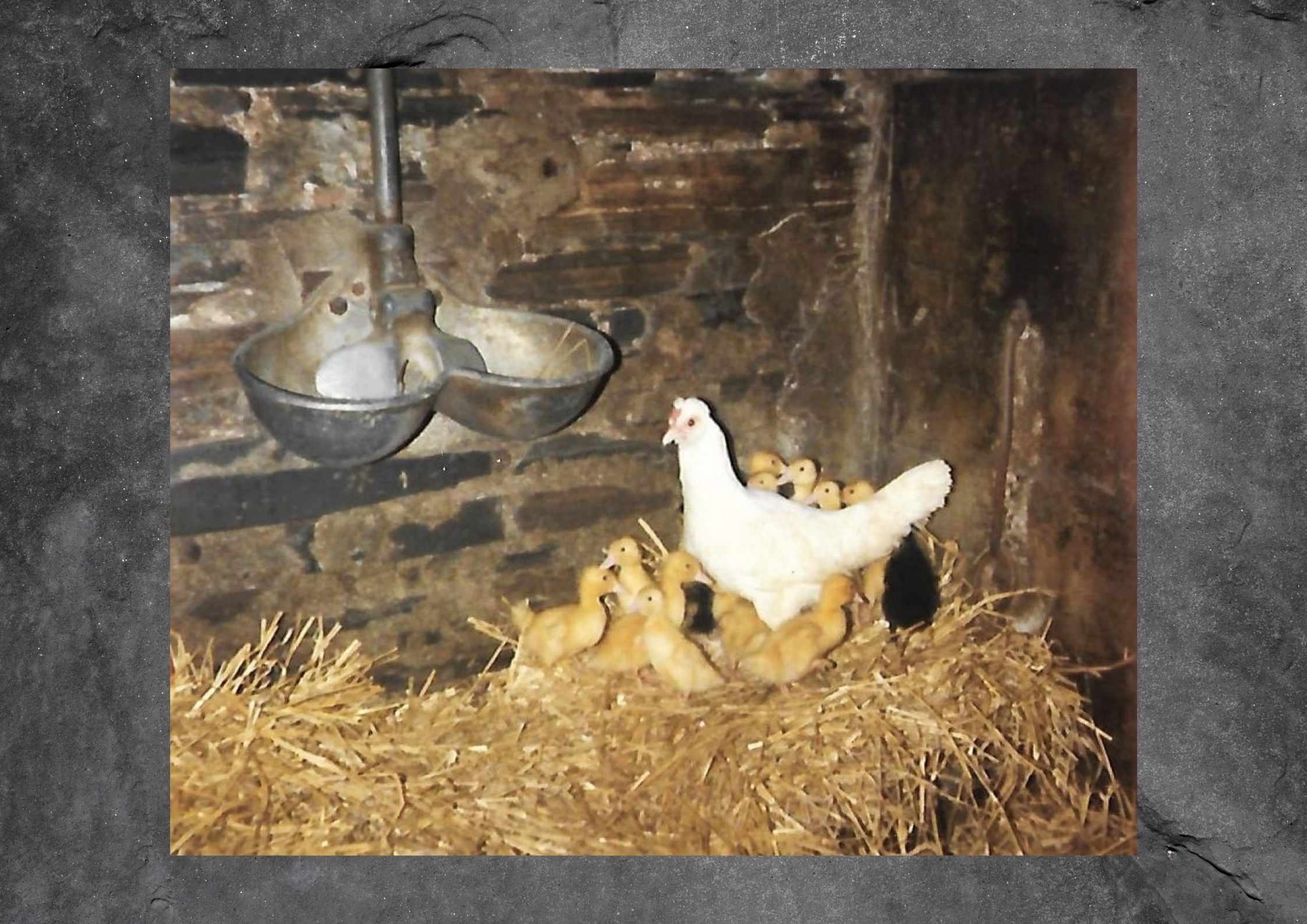 Sometimes duck eggs would be given to hens, who made conscientious adoptive mothers.
"We were all in quarantine for six weeks."
In all we had been tied to the farm for two months.
Luckily this was the last case. We spread it to nobody and by February 1961 we got the all clear to restock.
The prices we had to pay far outstretched the compensation we got for restocking. Also it took years to get the cattle back to the standard of the ones we lost.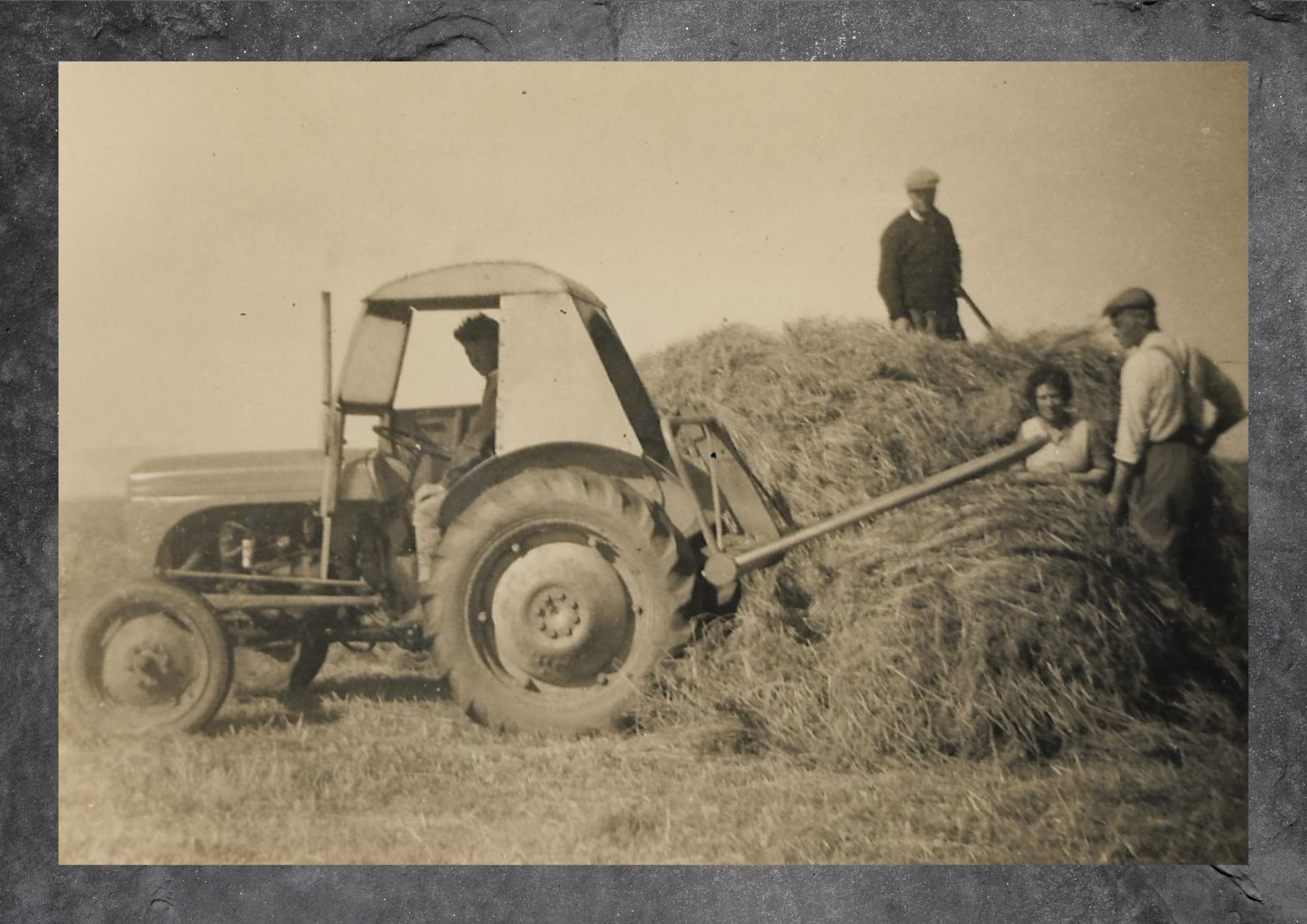 Hard work on the farm - a Fergie carting oat sheaves to the stack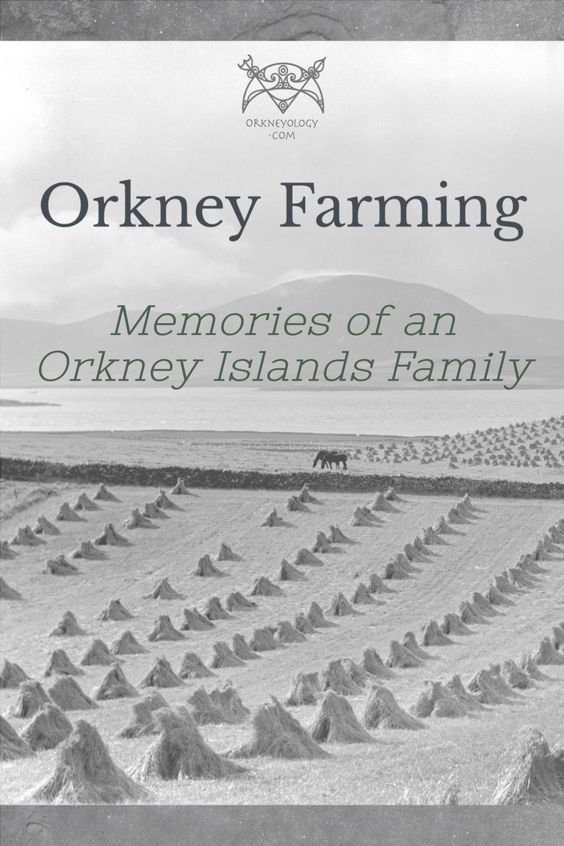 Mermaid image (Rhonda's pages) and storyteller image (Tom's pages), and all other illustrations except where noted are here by the courtesy of our dear friend - Stromness author, artist and historian, Bryce Wilson MBE, who owns all copyrights. Thanks, Bryce!